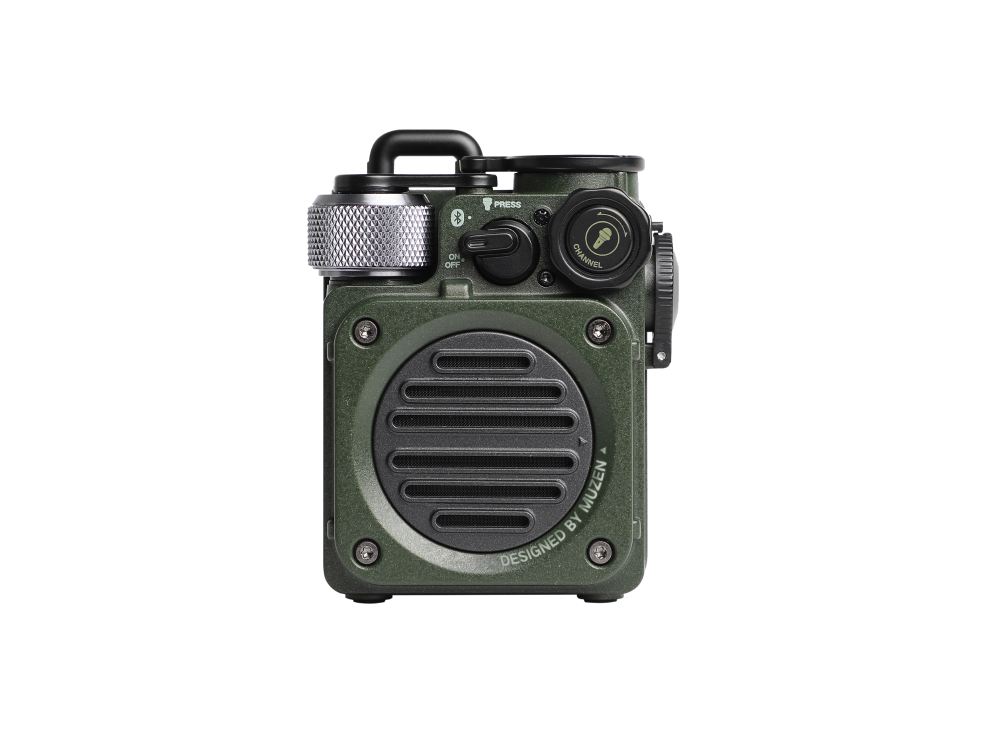 MUZEN Wild Mini Rugged Outdoor Portable Bluetooth Speaker
$70.99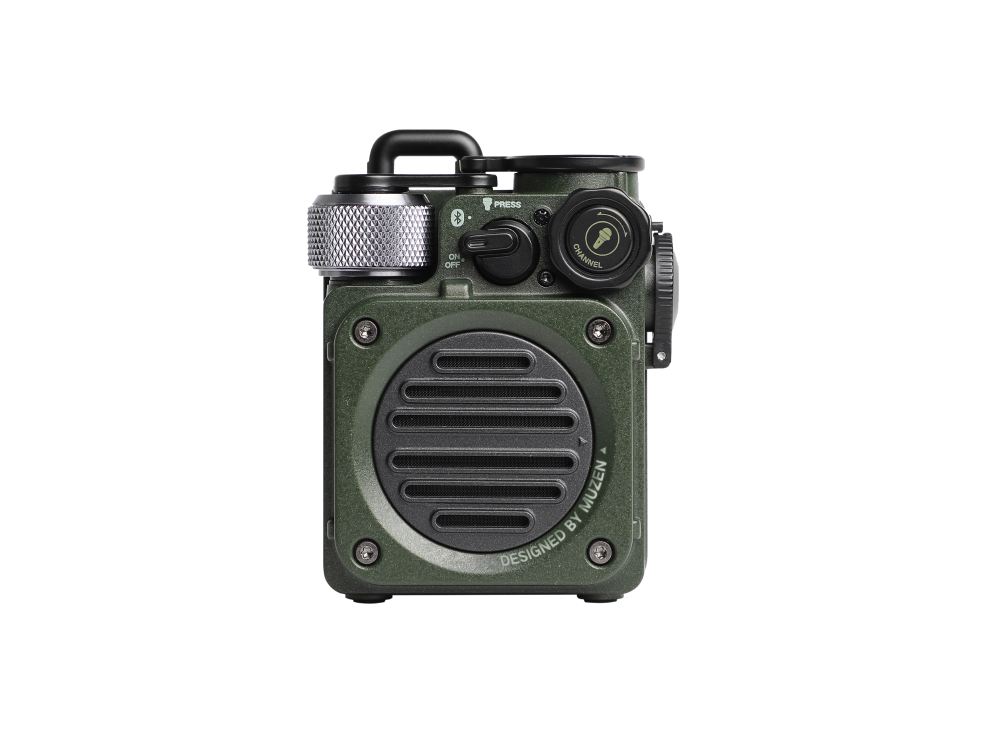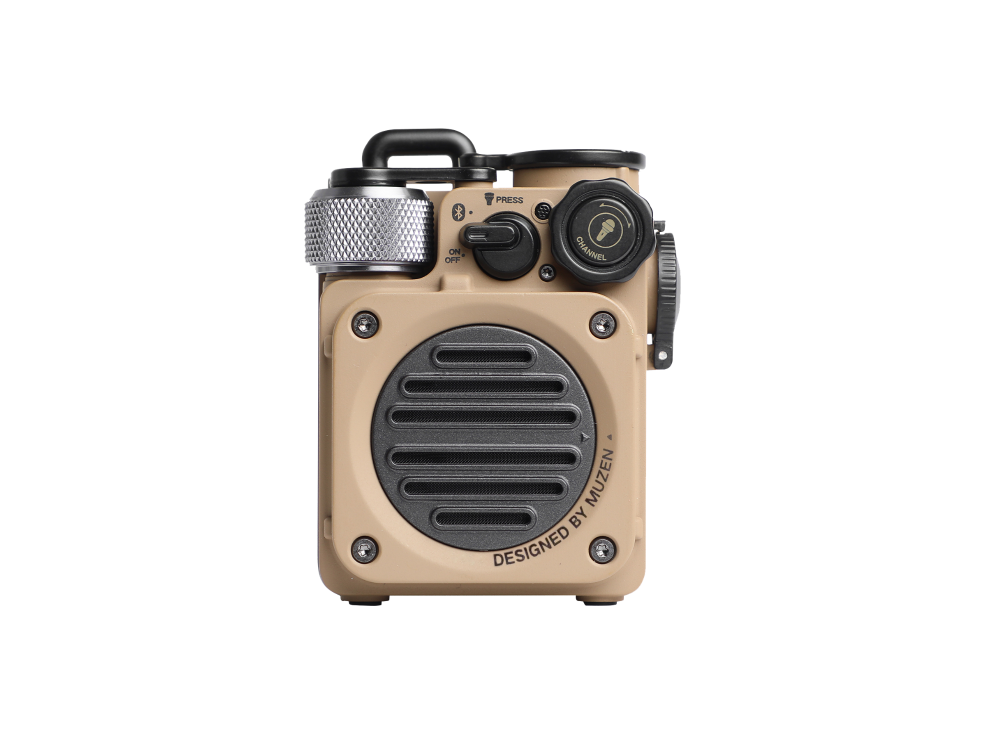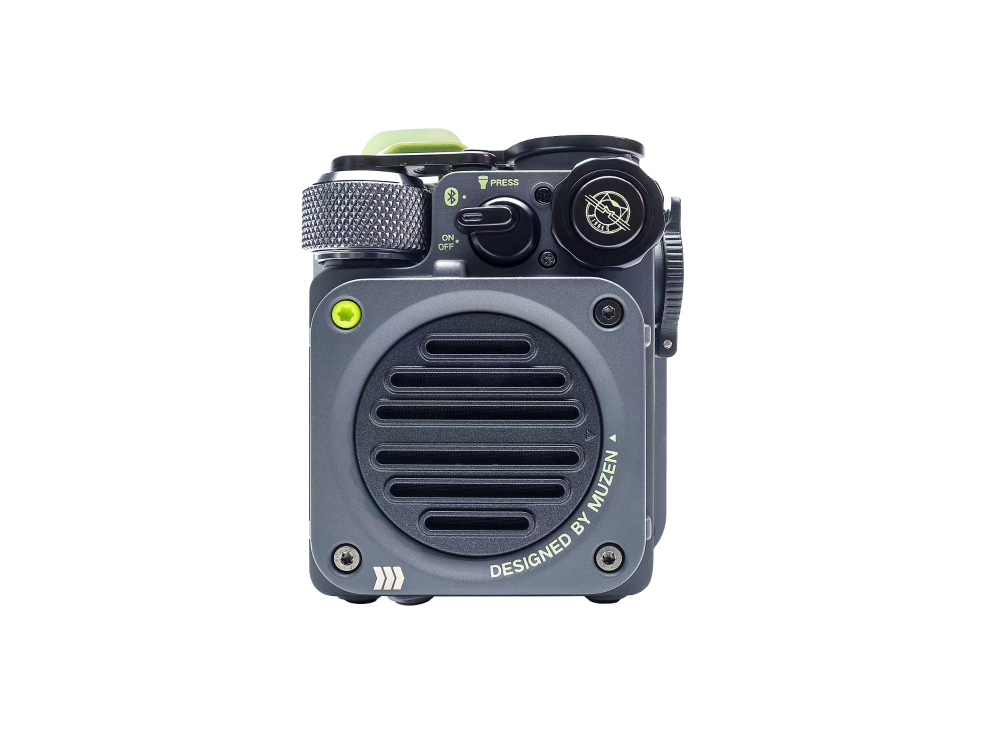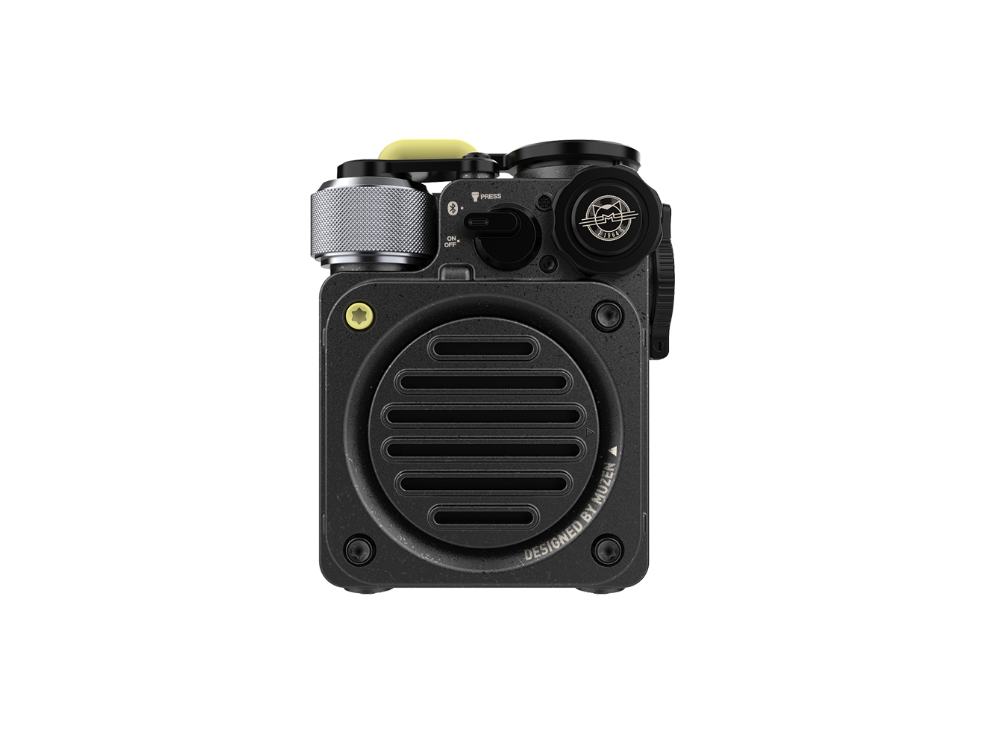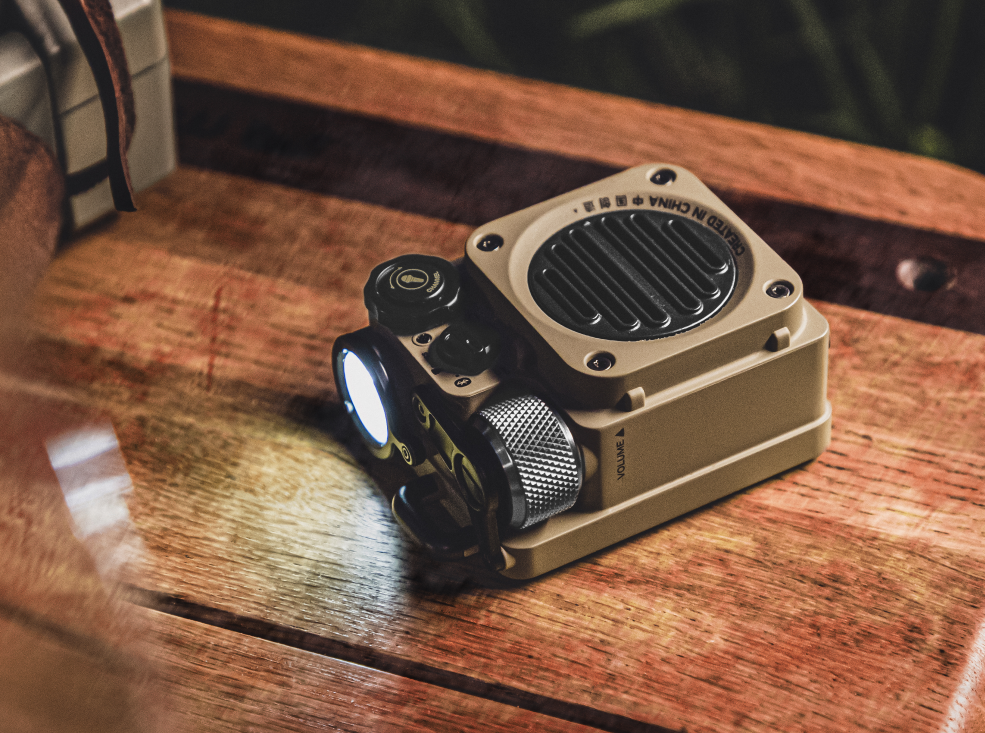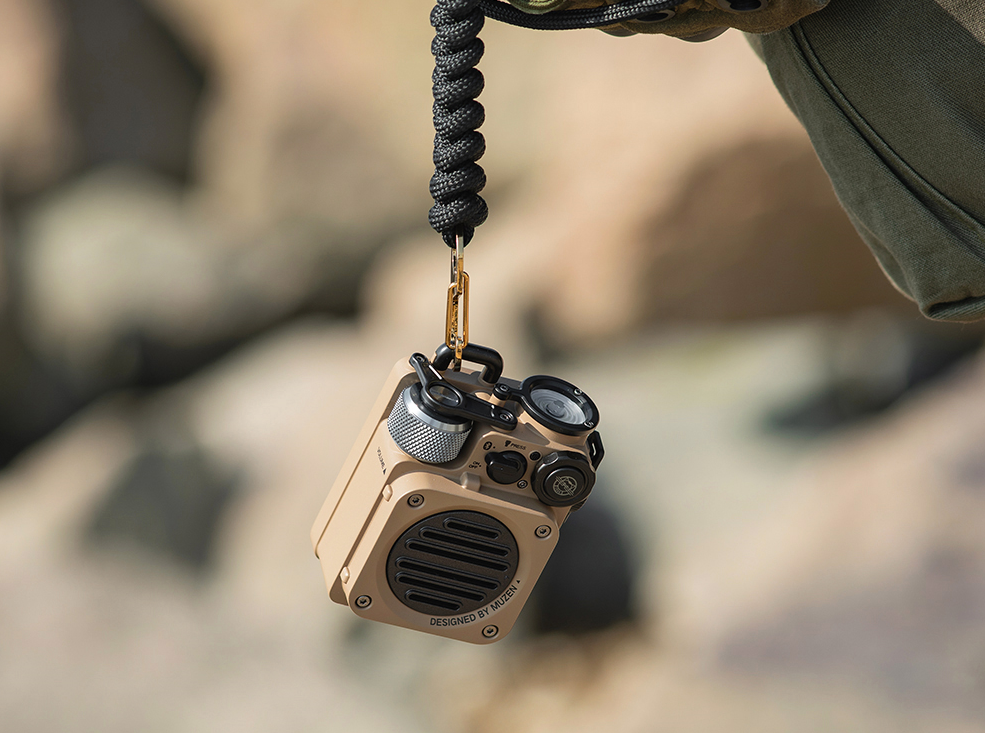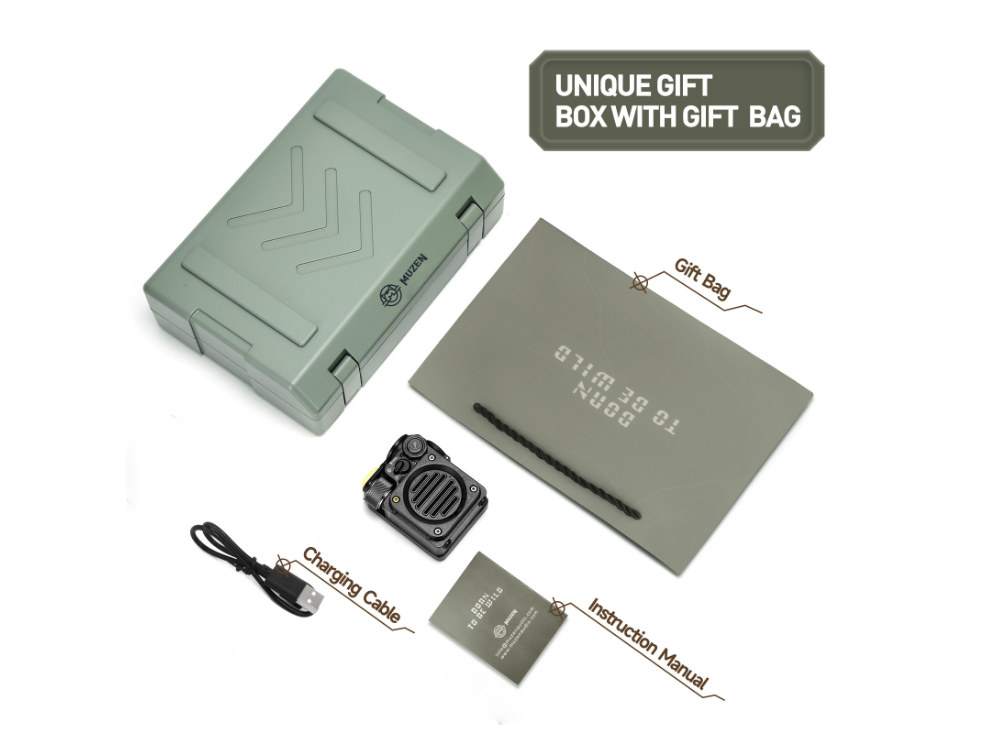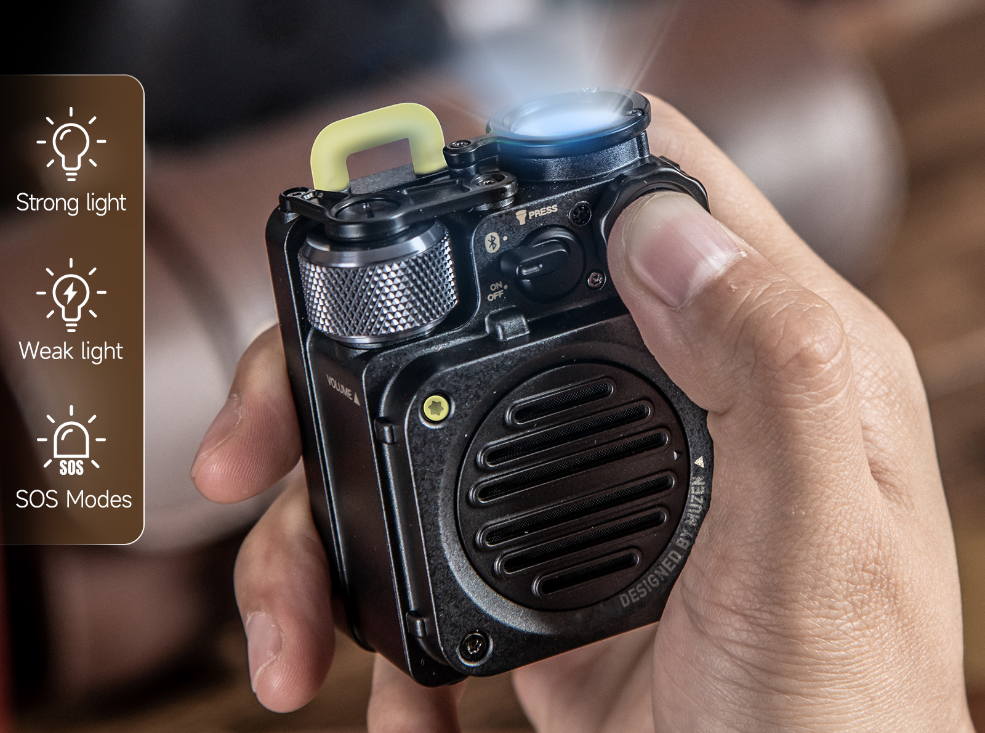 MUZEN Wild Mini Rugged Outdoor Portable Bluetooth Speaker
Free Fast Shipping
Price match promise
1:1 Expert Support
Financing Options
Rugged and durable: The zinc alloy body makes it durable enough to withstand drops and shocks.
Clear and loud sound: Despite its compact size, it delivers exceptional audio performance, producing rich and powerful sound using a rare-earth magnet speaker driver. This speaker is a testament to great sound quality, ensuring a superior listening experience even in its compact form.
Compact and portable size:It is small enough to fit in the palm of your hand but still produces loud and clear sound. It can be easily attached to backpacks, bike handles, etc.
Military-Style Look:Stand up to the demands of the outdoors and subverts the traditional aesthetics of the typical.
Outdoor flashlight:Three flashlight modes (high, low, SOS) can be useful in the dark outdoors.
Long battery life:The built-in 800mAh battery offers a long battery life, providing up to 8 hours of playtime.
Waterproof design:It is IPX5 water resistant and can withstand splashes of water, making it suitable for outdoor use.
Bluetooth 5.0 Excellence:Experience instant, effortless connections in under 5 seconds. Enjoy enhanced speed, stability, and energy efficiency for uninterrupted music anytime.
Made for outdoor adventurers:It is your perfect companion for hiking, camping, and cycling trips. Its rugged design and portability, coupled with its ability to play music with rich sound quality, enhance your outdoor experiences.
Speaker x 1
Product manual x 1
USB charging cable x 1
No repairs/service from US warehouses.
12 month warranty:
Missing parts/minor faults: Partial refund

Function issues (won't charge, Bluetooth faults): Replacement
After 12 months:
50% discount code for new purchase.
No repair or replacement.
Please see our warranty page for full details on warranty coverage, exclusions, and limitations.
Home Delivery: US and Canada
US: Free 3-10 working days
Canada: Free 5-10 working days
International: 30-60 working days. Freight forwarder required.
Please see our shipping page for more details.
Returns
Free returns for 30 days from delivery.
Free return only if product is defective upon receipt.
For other refund requests, customer pays return shipping. Shipping costs are non-refundable.
Check our returns page for full policy details.
Wild Mini: Your Compact Waterproof Bluetooth Speaker
03
Military-Inspired Design
05
Multi-Function Flashlight
06
Rugged & Weather Resistant
The Wild Mini rugged outdoor Bluetooth speaker delivers powerful 360° sound from its compact zinc alloy body built to withstand adventure. The military-inspired design is water resistant, durable
and weighs just 248g for portability while attaching to backpacks and bikes. The IPX5 rating, 8hr battery life, and 3-mode flashlight. It offers durability and utility for your wildest outdoor experiences.
Wild Mini Speaker for Authentic Outdoor Adventures
A versatile speaker designed for adventure. Enjoy powerful sound at pool parties, hikes, and picnics,
while its waterproof design and flashlight modes ensure safety and convenience wherever you roam.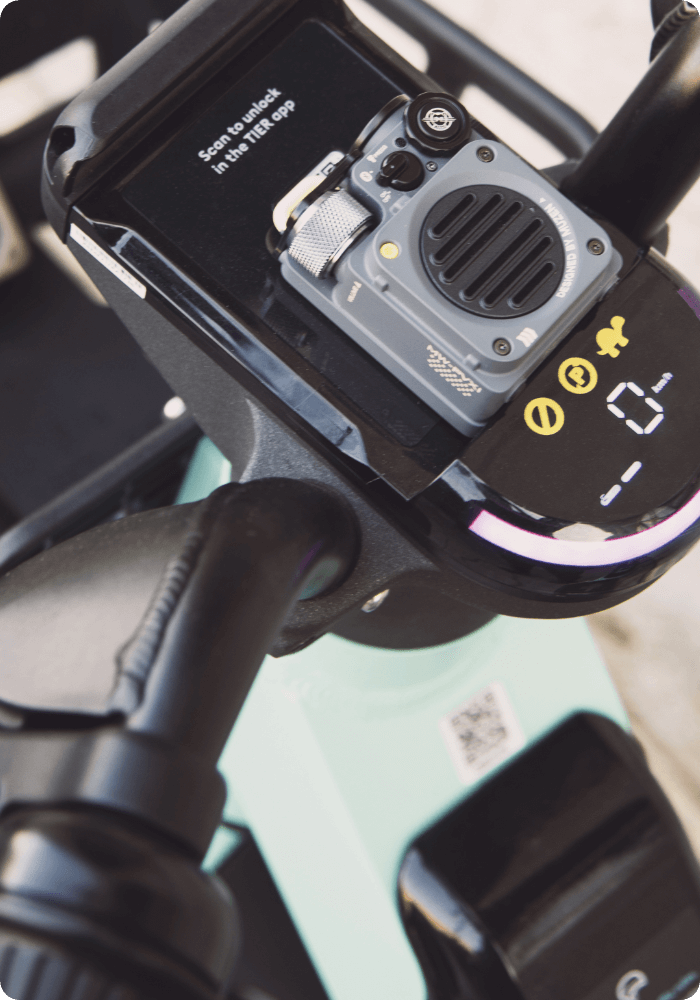 01
Compact, Rugged, and Powerful Bluetooth Speaker-Wild Mini
The Wild Mini is a compact, rugged, and powerful Bluetooth speaker, designed with outdoor enthusiasts in mind. Its prominent speaker, coupled with a rare-earth N40 NdFeB magnet, produces stereo sound with great audio quality. The Wild Mini's military-inspired design features a full-metal, zinc-alloy body, enabling it to withstand falls and the rigors of outdoor use. Despite its compact size, it delivers big on power, ensuring that your outdoor adventures are always accompanied by rich, robust sound.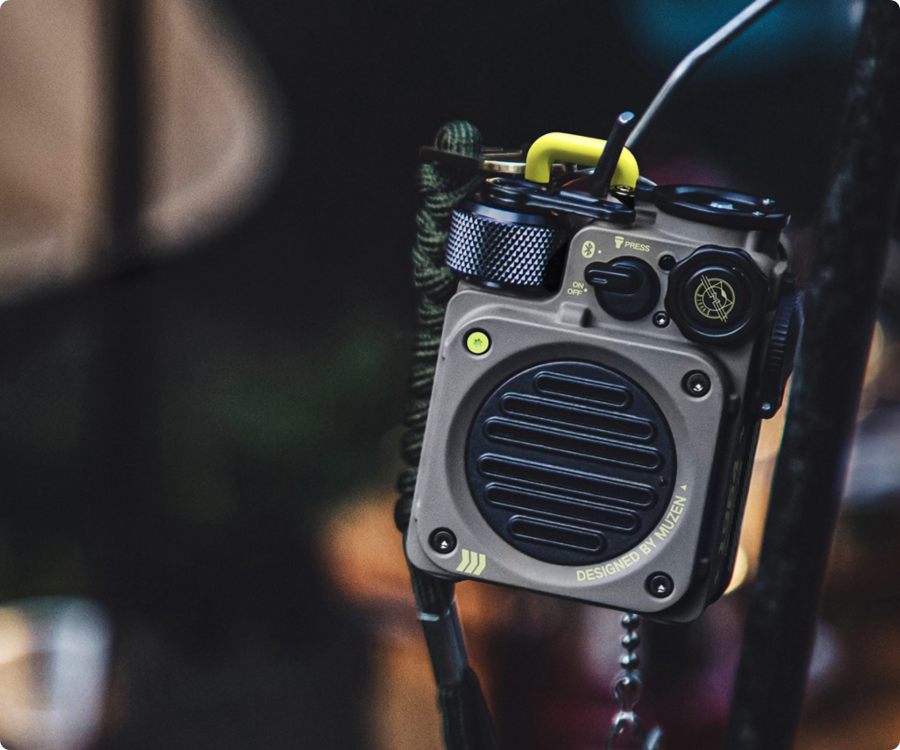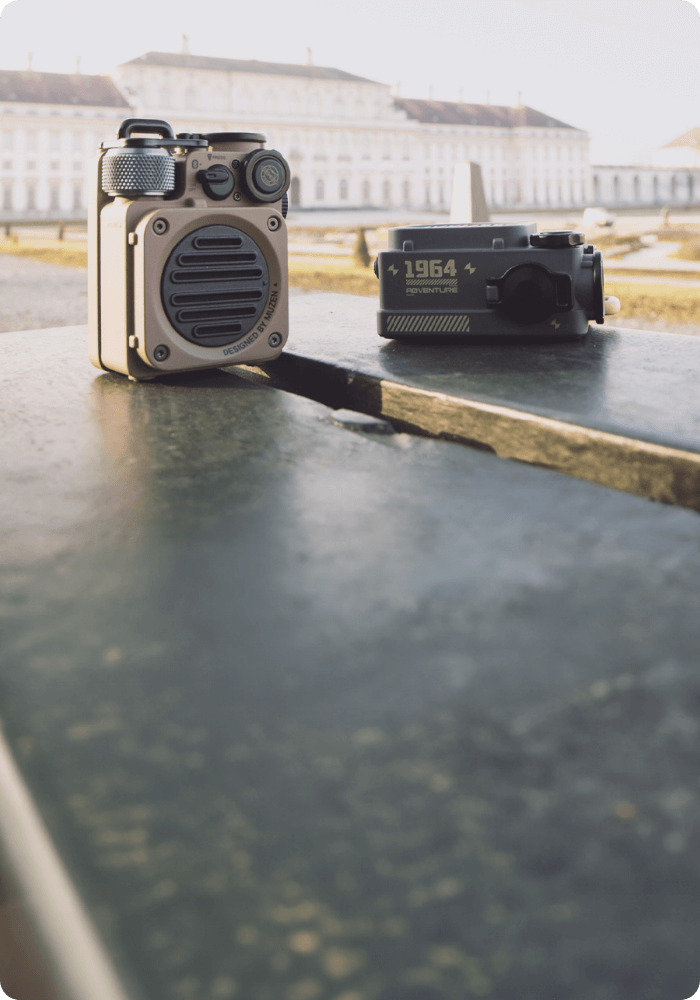 02
The Ultimate Rugged and Multi-Functional Outdoor Bluetooth Speaker
The Wild Mini is a powerful, portable Bluetooth speaker for outdoor enthusiasts. It combines high-quality audio, a rugged military-style design, and practical features like IPX5 water resistance and a durable zinc alloy body. With three flashlight modes for safety, it's not just for great sound but also for keeping you safe on your outdoor adventures. Discover the ultimate outdoor listening experience with the multifunctional Wild Mini.
Choose Your Wild Mini
The Wild Mini comes in three eye-catching colors to match your style and mood. 
Pick the perfect hue for your outdoor escapades!
01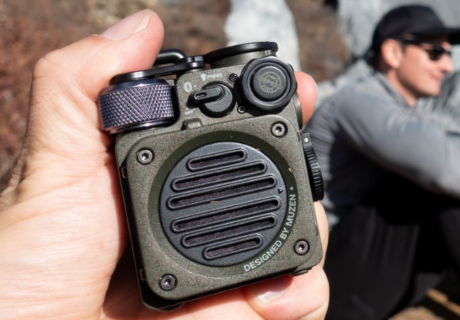 Robust and Ultra-Portable
A full-metal zinc alloy body inspired by military-spec equipment. Engineered for rugged durability and resilience, this ultra-portable speaker is perfect for travel, hiking, and outdoor excursions.
02
Exceptional Sound Quality
Despite its compact build, the Wild Mini Outdoor waterproof speaker is renowned for its exceptional sound quality. Equipped with a large-diameter speaker and a rare-earth N40 NdFeB magnet, it is designed to deliver loud, clear, and immersive sound, making every outdoor adventure an aural delight.
03
Military-Style Look
The Wild Mini reinvents the trend of portable speakers, featuring a design that stands up to the demands of the outdoors and subverts the traditional aesthetics of typical devices.
04
Three Outdoor Flashlight Modes
Stay safe and visible with high, low, and SOS flashlight modes, designed to help you navigate dark trails and signal for help when needed.
05
IPX5 Waterproof
Boasting an IPX5 waterproof rating, the Wild Mini is adeptly shielded against splashes and even resistant to sand invasion - all qualifying it as the perfect ally for your pool parties.
06
Long Battery Life
The built-in 800mAh lithium battery allows you to enjoy up to 8 hours of playtime at 2/3 volume on a full charge.
07
Advanced Bluetooth 5.0
Offering faster connection speeds, more stable signal transmission, and lower power consumption, this speaker connects to Bluetooth devices in under 3 seconds at distances up to 33ft. 
08
Precise Knob Control
Enjoy effortless adjustments with the Wild Mini's user-friendly, textured knobs, designed for precision and a comfortable grip.
Utility
With a rugged design and IPX5 water resistance, this speaker is a perfect companion for hiking, camping, or biking. It provides an elevated outdoor experience with your favorite tunes, delivering crisp sound and a decent bass that amplifies your adventures.
Water-resistant and sand-proof, this speaker is ideal for beach outings or poolside gatherings. It offers crystal clear sound for relaxation by the water, and its decent bass adds depth to your favorite tunes, creating a lively atmosphere.
Compact and durable, with an impressive wireless range, the speaker is a great travel companion, ready to soundtrack your explorations or road trips with crisp sound. The wireless range allows you to roam freely without losing your connection.
Despite its rugged exterior, this speaker is equally suited for indoor use, enhancing any room with quality sound.
With a built-in flashlight and LED lighting feature, this speaker can offer critical light during emergencies or nighttime adventures. It's dust resistance and durability ensure it stands up to harsh conditions.
Attachable to your belt loop or workout equipment, this speaker can withstand intense workouts while delivering motivating tunes or podcasts.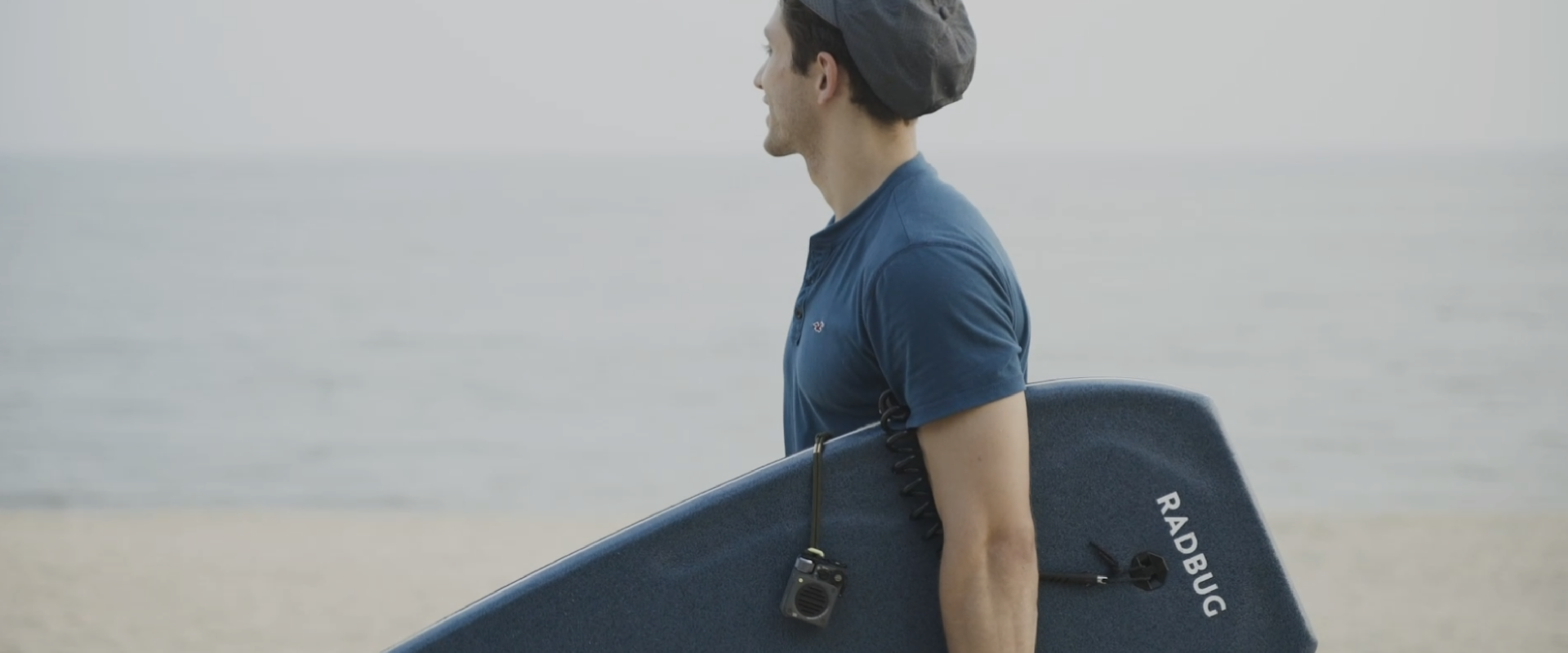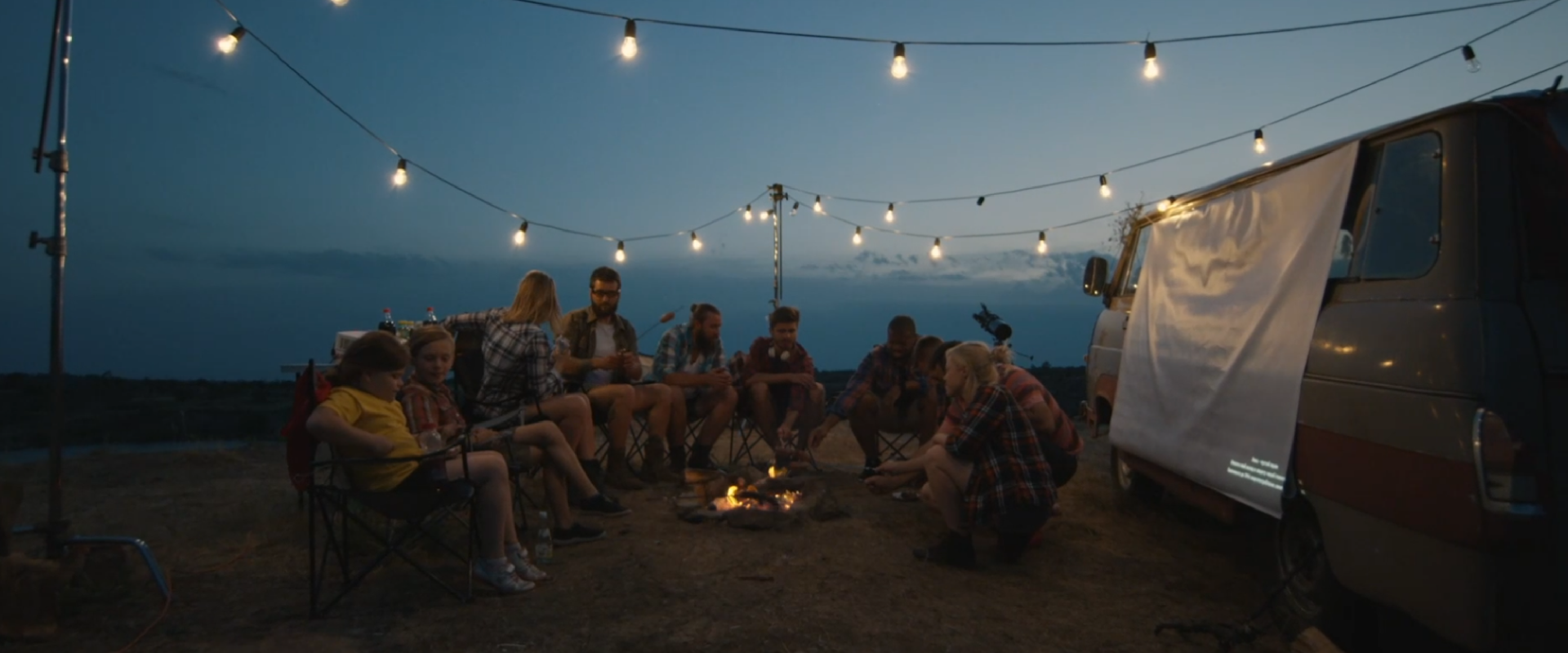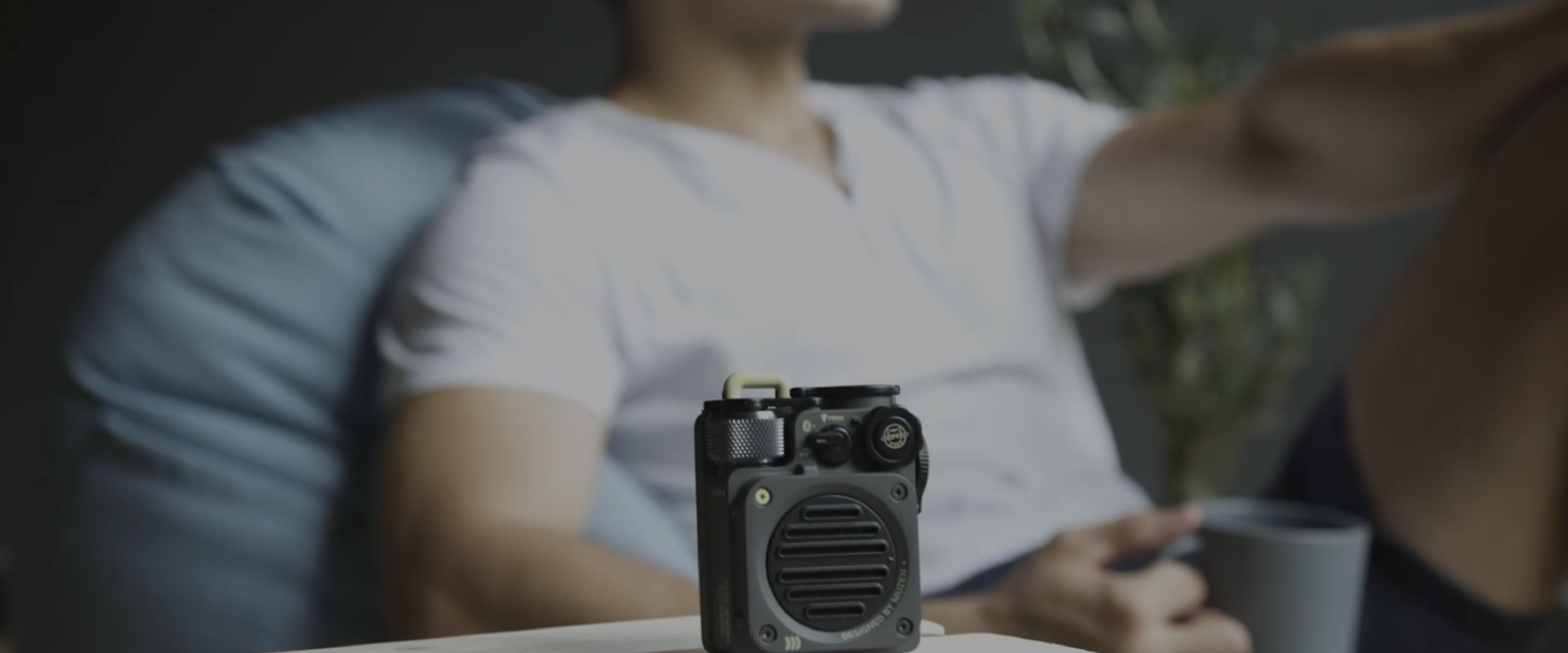 Outdoor Adventures
Beach or Pool Parties
Travel
Home Use
Emergency Situations
Workouts
SHOW
Explore our 'Influencer Reviews'! Learn from popular influencers who've tried our products. Their insights can guide your purchase. Don't miss their candid reviews!
Product size
2.4in (L) x 1.5in (W) x 3.1 in (H)
Net weight
about 248q / 0.55lbs
Bluetooth transmission range
distance ≤ 10m / distance < 32.8ft
Bluetooth Maximum EIRP
<10Dbm
System frequency response
80Hz-18kHz
Charging voltage
DC 5V --1A
Battery
Features
FM Radio
Item Weight
Item Size
Package
Recommended For
Use scene restrictions
Connectivity Technology
Li-ion 3.7V 800mAh, Up to 10 hours
IPX5 Waterproof

0.55 lbs
9.45 * 6.5 *3.54 inches
Gift Box
Outdoor Gift
unlimited
Bluetooth5.0
Li-ion 3.7V 1000mAh
Technological aesthetic design

0.54 lbs
2.39*1.62*3.06 in
Gift Box
Outdoor Gift
unlimited
Bluetooth5.0
800mAh/7.4V
Amazing Stereo Sound & Loud Volume

about 834g
144mm*87mm*66mm
Gift Box
outdoor Gift
Unlimited
Bluetooth /AUXINPUT 8W FM 4.5W
Li-ion 3.7V 1000mAh
Cool light effects

0.55lbs
2.39*1.44*3.06 in
Gift Box
Outdoor Gift
unlimited
Bluetooth5.0
li-ion 3.7V 500mAh
waterproof capabilities and lightweight

0.41lb
2.97 * 1.40 * 2.32 in
Gift Box
Outdoor Gift
unlimited
Bluetooth5.0

6
Multi-functionalTYPE-C socket (Charging,AUX in,Antenna in)

7
Charging status indicator light
The MUZEN Wild Mini Speaker features multiple flashlight modes designed to enhance its utility for outdoor use. Here's how these modes generally work, though, for specific instructions, you should refer to the user manual.
Normal Flashlight Mode: This mode can be activated with a specific button or sequence of buttons on the speaker. Once activated, the flashlight will emit a steady light, useful for navigating in the dark or illuminating a small area.
SOS Flashlight Mode: This mode is usually activated by pressing and holding the flashlight button for a few seconds. The flashlight will then flash in an SOS pattern (three short flashes, three long flashes, and three short flashes), which can be used in emergency situations to signal for help.
Strobe Flashlight Mode: This mode might be activated by pressing the flashlight button twice or three times in quick succession. The flashlight will flash rapidly, which can be useful for attracting attention in emergency situations or for specific outdoor activities.
The MUZEN Wild Mini is designed to be rugged and durable, with an IPX5 waterproof rating to protect against water damage. It is also shockproof and dustproof to withstand outdoor adventures.
The MUZEN Wild Mini Rugged Outdoor Portable Bluetooth Speaker comes with the following accessories:
• Bluetooth Speaker * 1
• Color Box * 1
• Gift Bag * 1
• Charging Cable * 1
• User Manual * 1
• Stickers * 1
The MUZEN Wild Mini Bluetooth speaker is a perfect companion for all your outdoor activities and comes with all the necessary accessories to enhance your listening experience.
A waterproof speaker is completely impervious to water, while a water-resistant speaker can resist the penetration of water to some degree but not entirely.
Yes, as long as the speaker has a sufficient waterproof rating, it can be used in the shower. The Wild Mini, with its IPX5 water resistance rating, is suitable for use in such conditions.
The Wild Mini distinguishes itself as one of the best waterproof Bluetooth speakers available, thanks to its unmatched sound quality, robust durability, and advanced IPX5 waterproof rating. Despite its compact size, it's designed to deliver loud and clear sound in all weather conditions, making it the ideal companion for your outdoor adventures.
The Wild Mini perfectly blends portability and wireless design, offering convenient connectivity wherever you go. Its rugged build speaks to its durability, ensuring it's up for any outdoor challenge. This combination of standout features firmly places the Wild Mini among the best waterproof Bluetooth speakers on the market.
Wireless Bluetooth speakers like the Wild Mini offer a hassle-free listening experience by eliminating the need for cables. They allow for easy connectivity and mobility, letting you enjoy your music anywhere, anytime.
The Wild Mini, a standout among portable Bluetooth speakers, is specifically tailored for outdoor use, setting it apart from other outdoor waterproof speakers. Its military-inspired design, featuring a full-metal, zinc-alloy body, is built to withstand harsh conditions.
With an IPX5 waterproof rating, it's equipped for all-weather use, ensuring your adventures are accompanied by excellent sound, rain or shine. The Wild Mini's wireless Bluetooth functionality provides an added layer of convenience, making it not just a powerful audio device, but an exceptional choice for portable and outdoor-friendly sound.
Listen In
Hear how others are rocking out with our speakers.
Leonard H
Feels solid. Great sound for the size. Easy to use. Great aesthetic.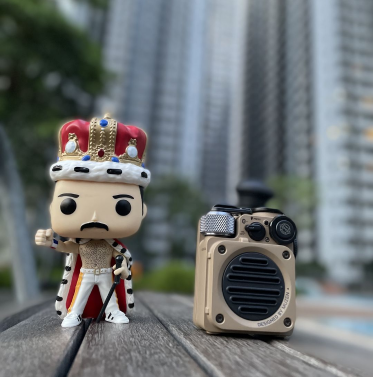 Sandy
Bass rocks. Small sized big sound. Materials used are obviously of high grade. Sturdy.
Aj N
Excellent design, innovation to the fullest, thanks amigos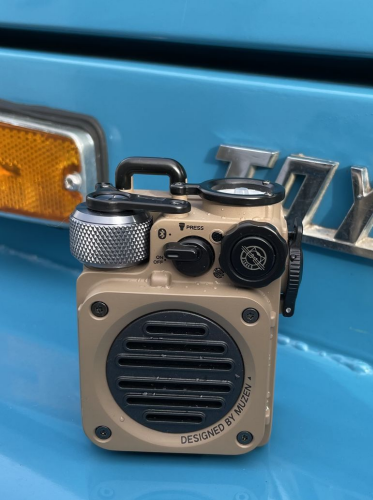 David S
Great fishing companion!!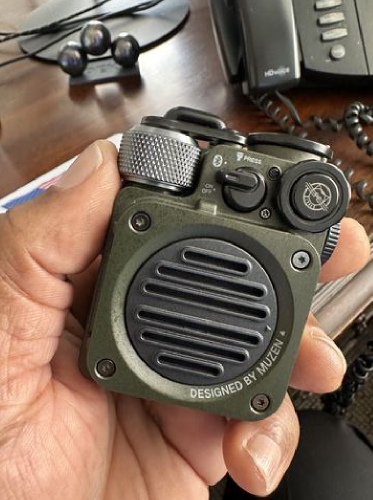 Troy C
Bass rocks. Small sized big sound. Materials used are obviously of high grade. Sturdy.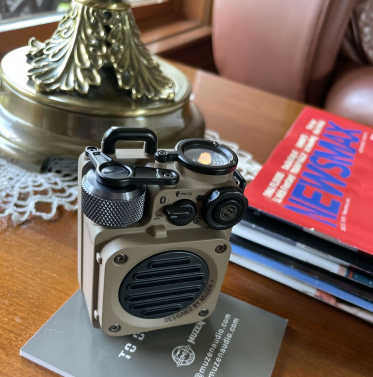 Jim B
Great Speaker generates very good sound for the size. We look forward to taking it with us on vacations and listening to it by the pool. Small size lends itself well to easy packing for travel.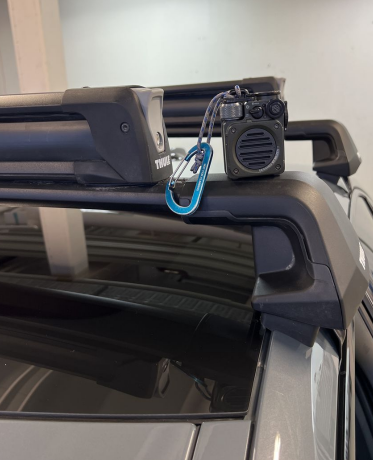 Frode H
Great sound in a little box!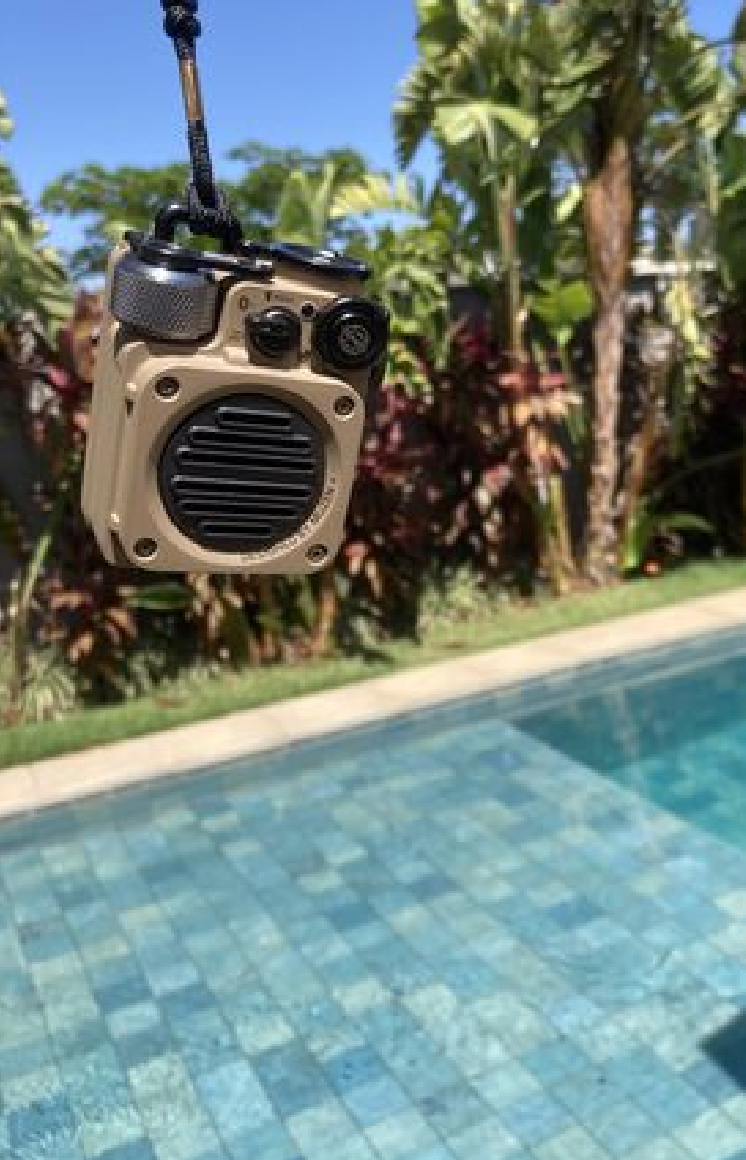 Carlos E
Fantastic , good sound , anfortunally we pay a lot of impostos in Brazil