MUZEN Wild Jeep Portable FM Radio & Bluetooth Speaker
$169.99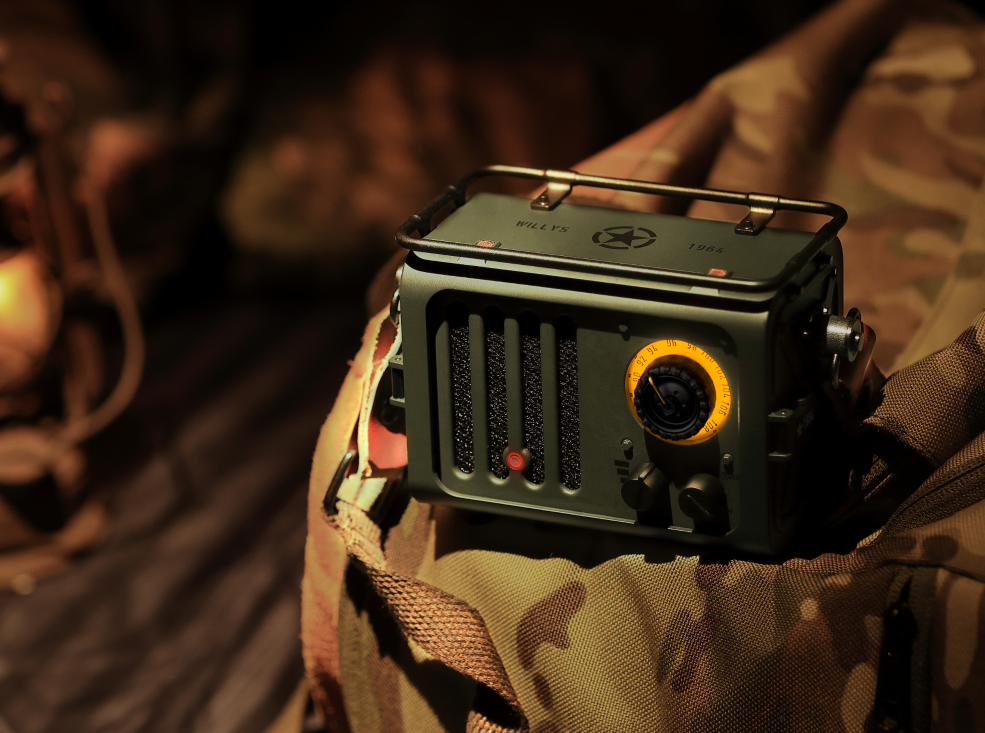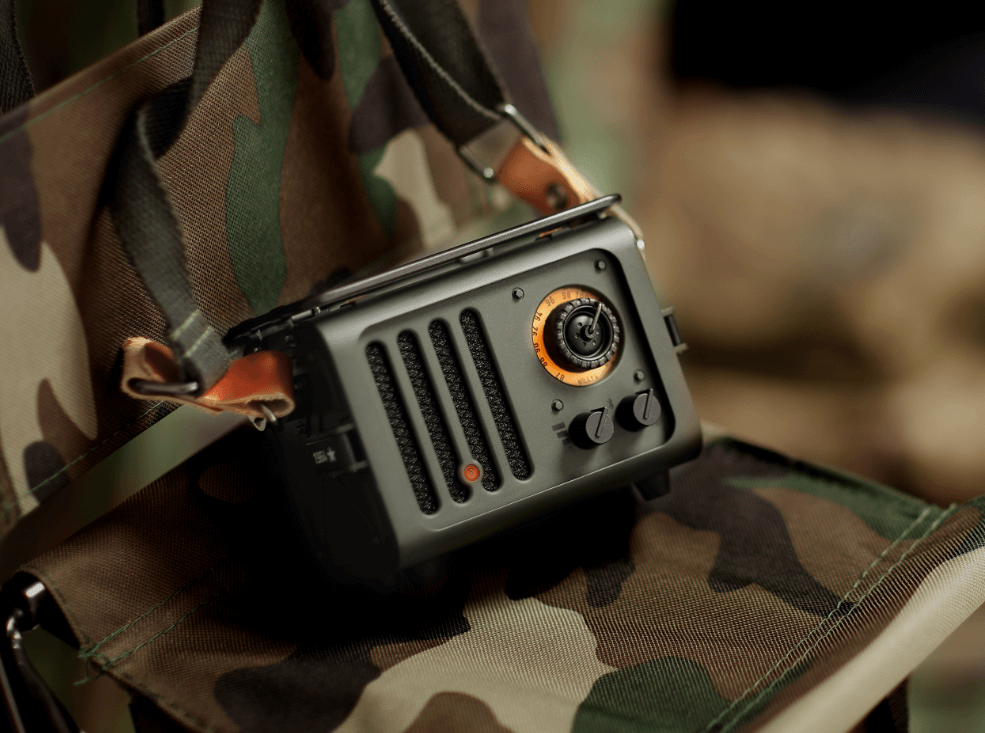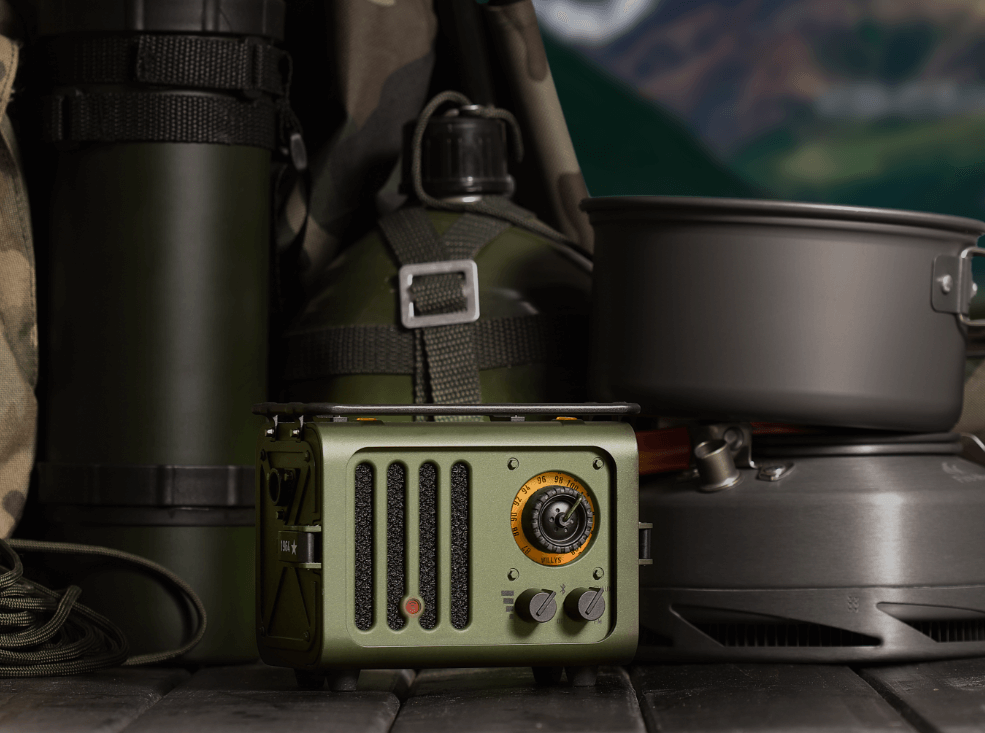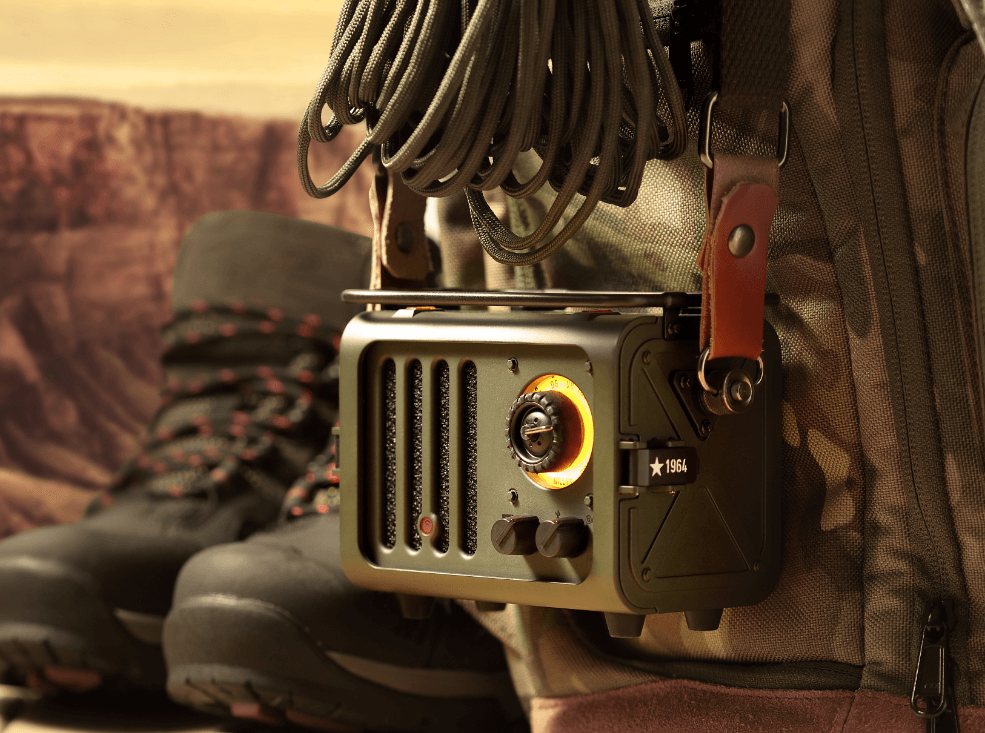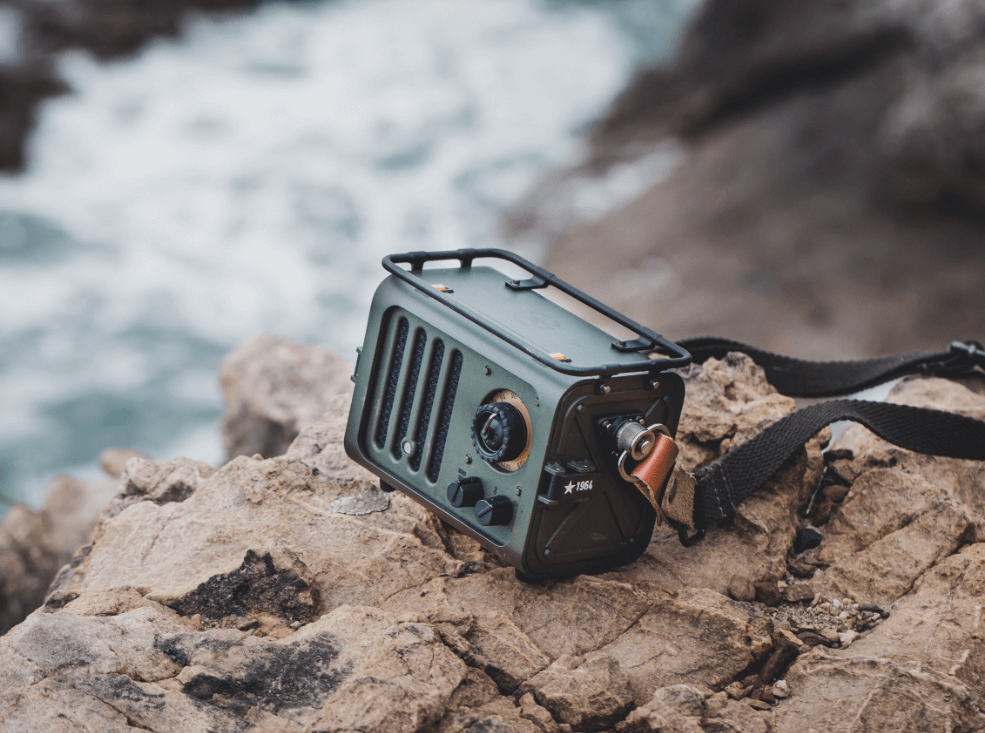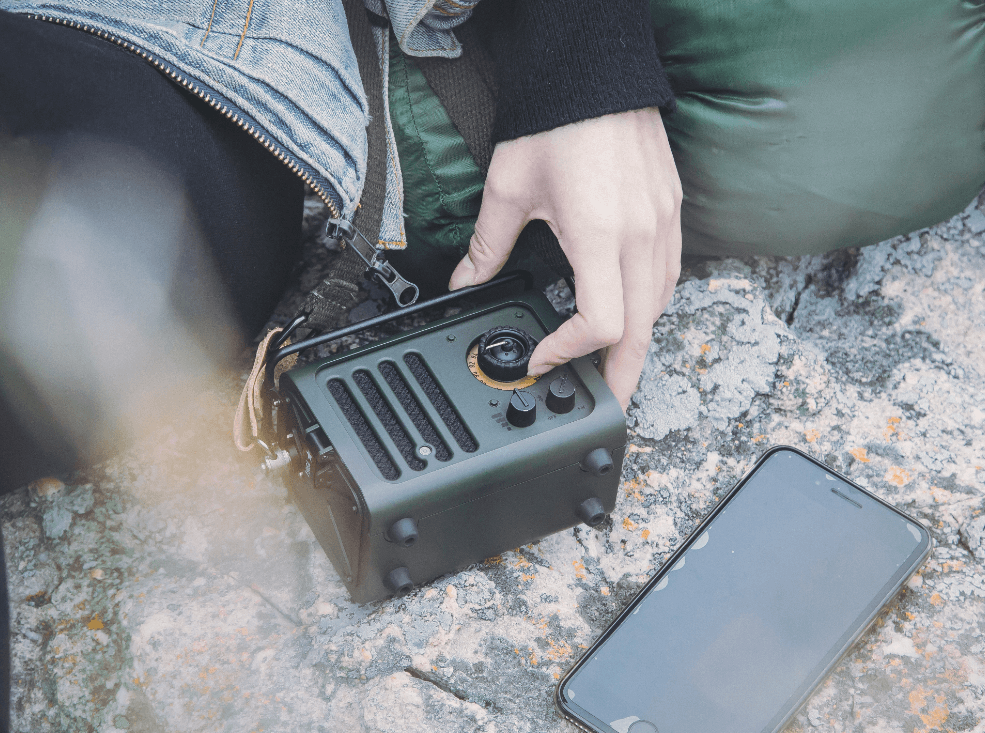 MUZEN Wild Jeep Portable FM Radio & Bluetooth Speaker
Free Fast Shipping
Price match promise
1:1 Expert Support
Financing Options
Military-inspired Styling:This speaker has a rugged aesthetic with a design inspired by classic Jeeps,military straps,and a tuning konb resembling a firearm trigger.
Premium Sound Quality: The Wild Jeep ensures top-notch sound quality. MUZEN audio engineer designed the speaker's acoustics and fine-tuned the components to play sound with minimal distortion accurately .
Compact & Durable: Sized at 144mm x 87mm x 66mm and weighing 0.84kg, this rugged speaker is constructed with impact-resistant materials, perfect for sophisticated outdoor activities like picnics and camping trips with family, friends, or partners.
Modular Design and Customization: The Wild Jeep speaker's Lego-inspired design allows for interchangeable shells and personalization, adding a playful edge to the classic radio design. Only one colour is available, but stay tuned for the upcoming shell replacement feature.
Versatile Connectivity: Works as a 3-in-1 speaker with stable Bluetooth, AUX cable or FM radio connections.
Long Battery Life: The built-in 800mAh battery provides up to 10 hours of FM radio or 6 hours of Bluetooth streaming on a single charge. Fully recharges in 3 hours via USB.
User-Friendly: With a combined power/mode knob, dedicated FM tuning, and clear indicators, it offers an intuitive user experience.
Strong FM Reception: The high-quality radio chip and included antenna ensures excellent FM radio signal reception and performance. 
Speaker x 1
Product Manual x 1
USB x 1
AUX Audio cable x 1
FM antenna x 1
No repairs/service from US warehouses.

12 month warranty:
Missing parts/minor faults: Partial refund
Function issues (won't charge, Bluetooth faults): Replacement
After 12 months:
50% discount code for new purchase.
No repair or replacement.
Please see our warranty page for full details on warranty coverage, exclusions, and limitations.
Home Delivery: US and Canada
US: Free 3-10 working days
Canada: Free 5-10 working days
International: 30-60 working days. Freight forwarder required.
Please see our shipping page for more details.
Returns
Free returns for 30 days from delivery.
Free return only if product is defective upon receipt.
For other refund requests, customer pays return shipping. Shipping costs are non-refundable.
Check our Returns page for full policy details.
Compact and Versatile Audio Solution: The Ultimate Outdoor Radio with Bluetooth
01
Robust and military-style Design
04
Bluetooth, Aux, FM Mode
06
Suitable for refined outdoor activities
The Wild Jeep portable speaker combines military-style aesthetics and functionality, offering superior sound quality due to its professionally tuned electro-acoustic design.
Compact, robust, and portable, this speaker provides user-friendly controls and a premium radio chip, allowing seamless switching between Bluetooth, AUX, and FM modes for versatile, uninterrupted audio.
Your Outdoor Portable Sound Companion
Discover a new level of audio quality and versatility with the portable speaker. Take advantage of redefining your audio journey - make the Wild Jeep personalized Bluetooth speaker your outdoor mobile sound companion today.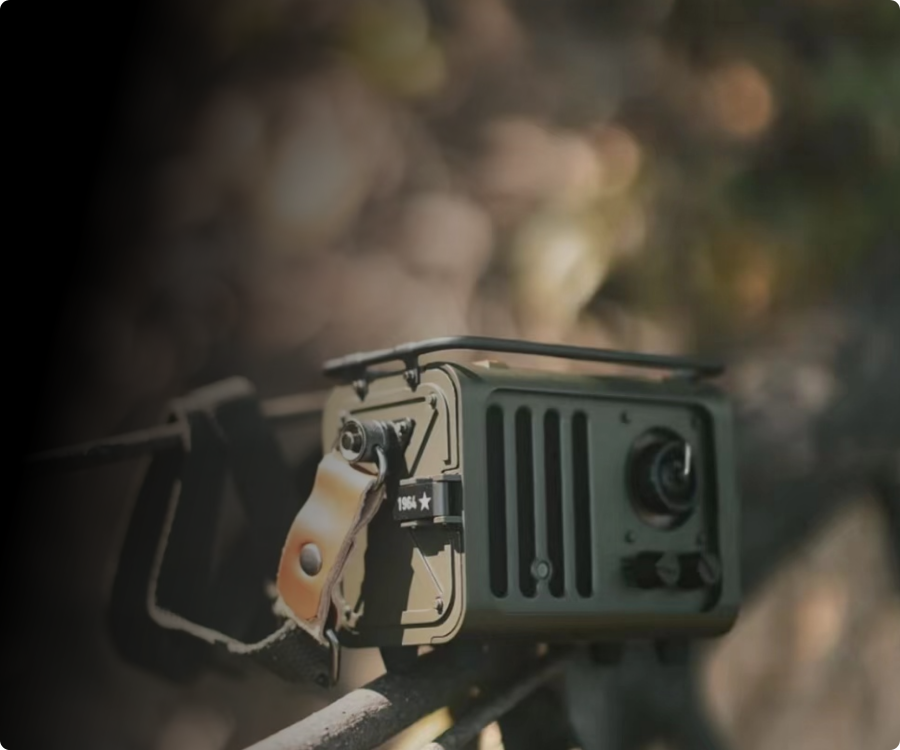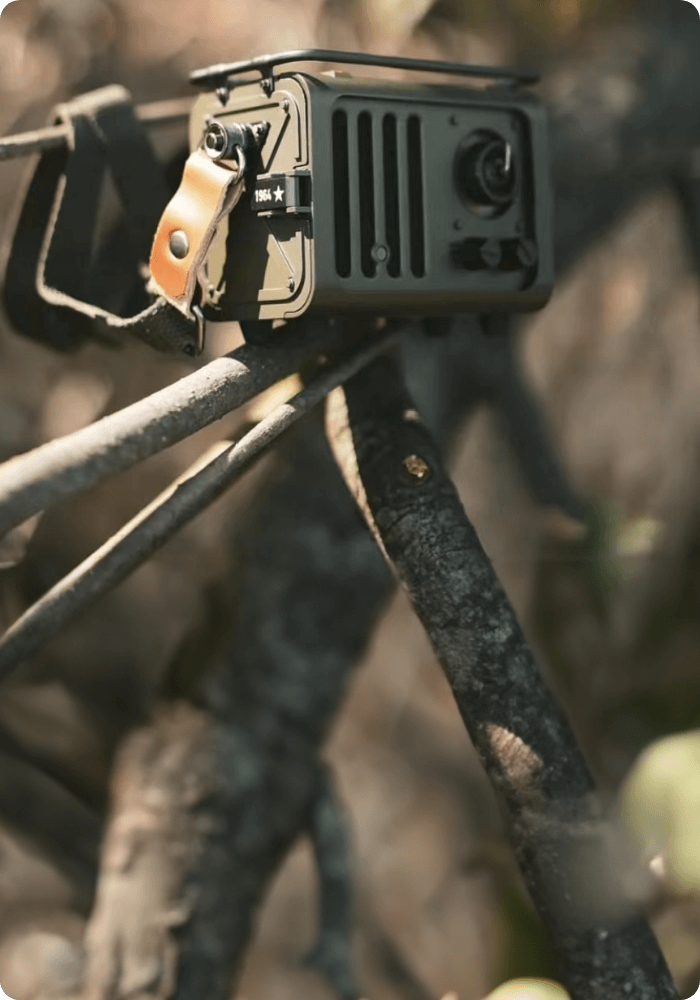 01
Rugged Design Meets Superior Sound
This speaker blends a rugged style with robust audio and artistic appeal. Classic jeeps inspire it and feature a "firearm-like" knob, military strap, and armored elements for a powerful aesthetic. Its modular design hints at future customization possibilities. More than just an audio device, it's a versatile, durable collectible piece that is a testament to the power of design and superior sound.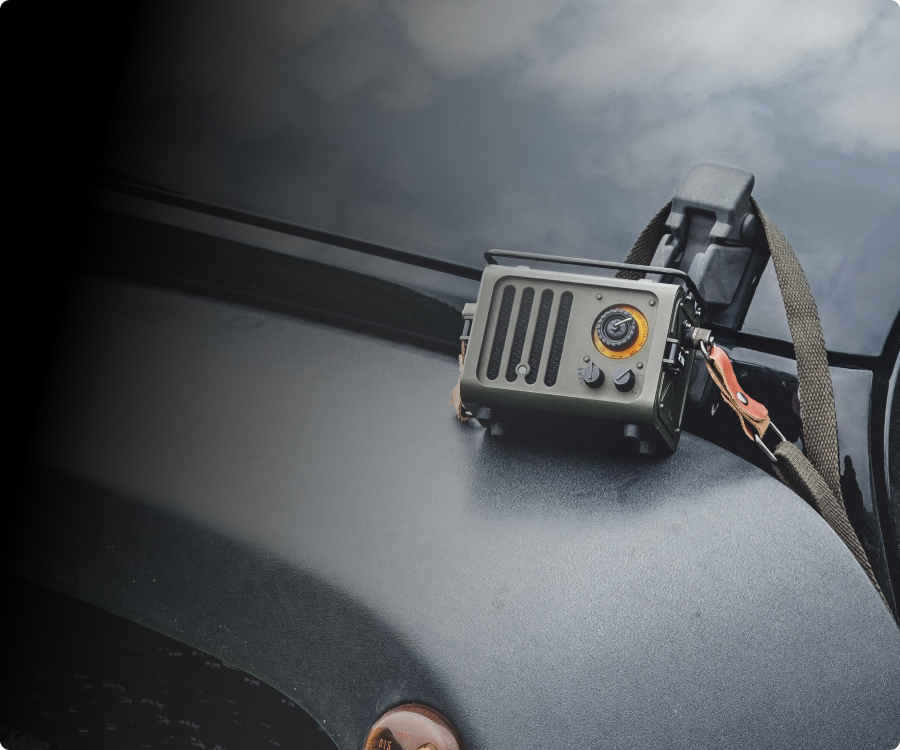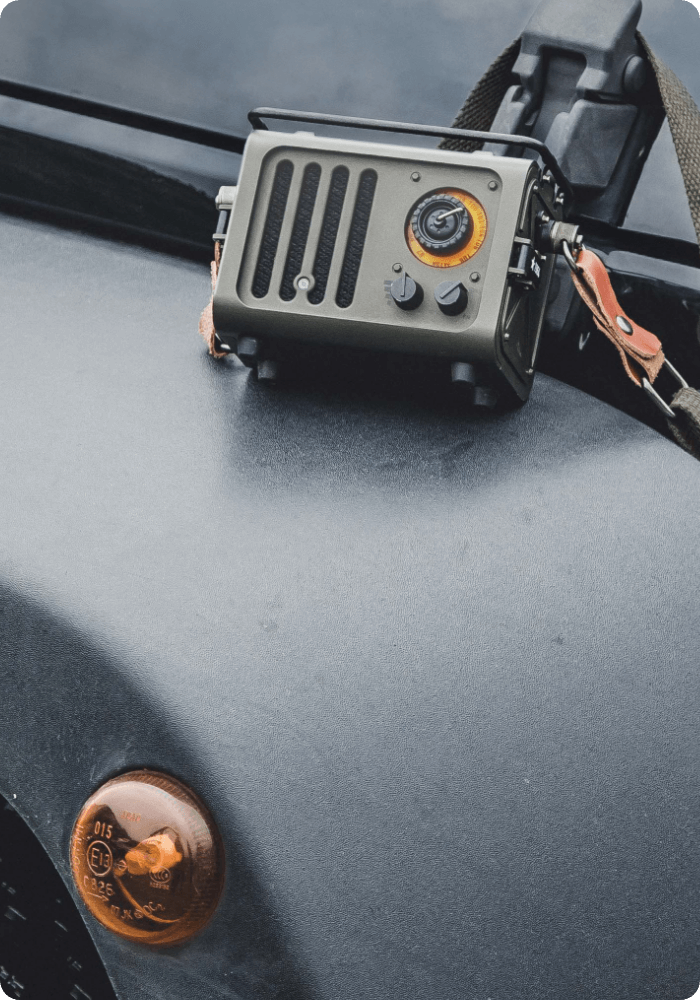 02
Long-lasting, Stable, and Durable Audio Experience
The Wild Jeep speaker combines longevity, connectivity, and resilience. With over 10 hours of battery life, stream endless music via stable Bluetooth. Wear-resistant materials offer lasting durability. But its true strengths are versatility, portability, and superior sound quality across Bluetooth, AUX, and FM - for an adaptive and exceptional audio experience wherever you go.
01
Military-Style Design
The Wild Jeep speaker, with its military-inspired aesthetic and elements of classic jeeps and armored vehicles, is more than a functional device. Its intricate design elevates it to a collector's grade artistic piece.
02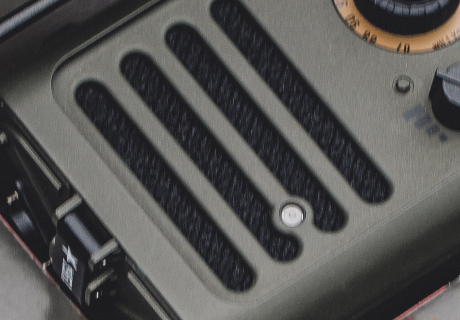 Off-road Vehicle Inspiration
The top of the speaker casing takes inspiration from the roof rack design of an off-road vehicle, exuding a sense of dynamism and ruggedness.
03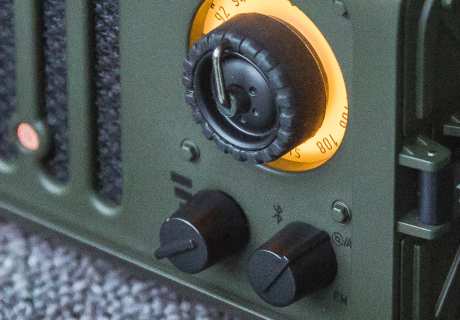 Gun-Metal Black Tuning Knob
Resembling a sturdy wheel with sharp lines, the tuning knob in gun-metal black releases an aura of wild power and beauty.
04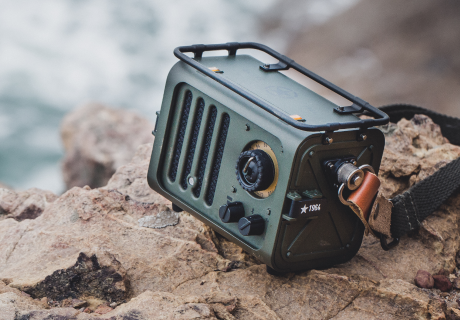 Armored Vehicle Elements
Elements reminiscent of armored vehicles are delicately incorporated into the design, endowing the speaker with an exceptional, formidable presence.
05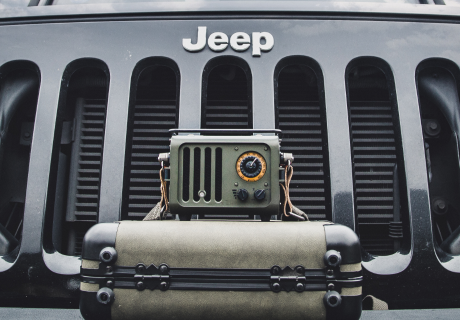 Military-Style Strap
The military-style strap adds a touch of boldness and liberation to the overall design.
06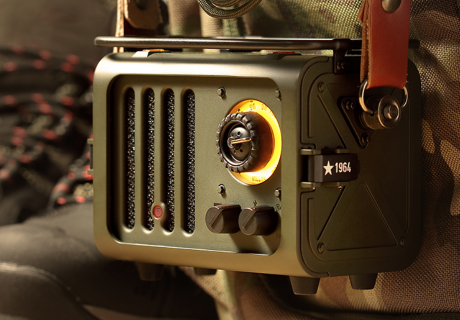 Superior Sound Quality
The Wild Jeep utilizes a unique electro-acoustic design, fine-tuned by a professional for exceptional sound clarity and quality.
07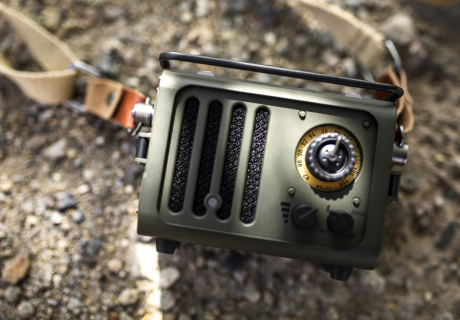 Versatile and Stable
The Wild Jeep is a 3-in-1 speaker, offering stable and uninterrupted audio through Bluetooth, AUX, and FM modes.
08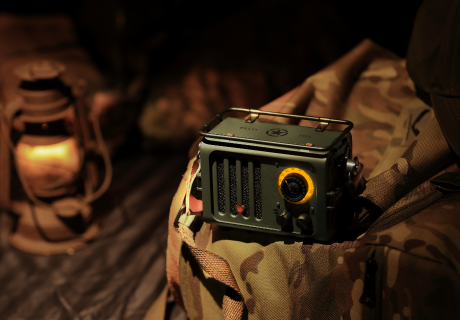 Portable, Compact, and Robust
The Wild Jeep speaker, with compact dimensions of 144mm x 87mm x 66mm and a weight of just 834g, is designed for easy portability. Constructed from durable, impact-resistant materials, this device is lightweight and sturdy. It is the perfect companion for outdoor activities such as picnics and camping trips with family, friends, or a partner.
09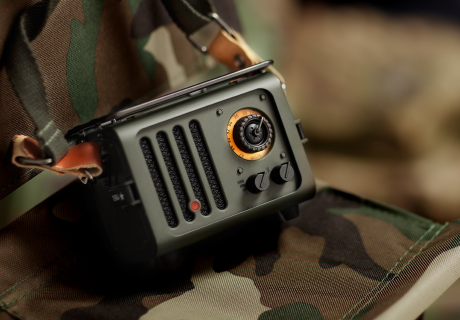 Modular and Customizable
Embodying versatility, the Wild Jeep speaker features a Lego-inspired design that allows easy assembly, disassembly, and customization, offering users a unique, personalized audio experience. It comes in a single color, but stay tuned for the upcoming feature of interchangeable shells.
010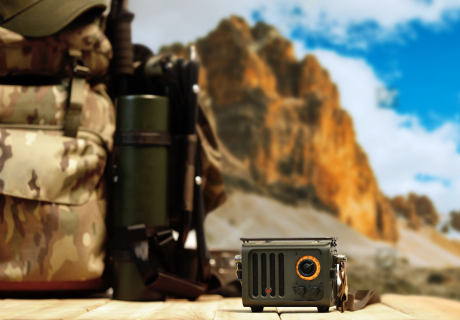 Extended Playtime
It has a built-in Li-Ion 800mAh rechargeable battery, ensuring up to 10 hours of playtime in radio mode and 6 hours in Bluetooth mode at volume. This makes it ideally suited for day trips or half-day outings. The device can be fully recharged in just 3 hours using the provided USB cable. 
011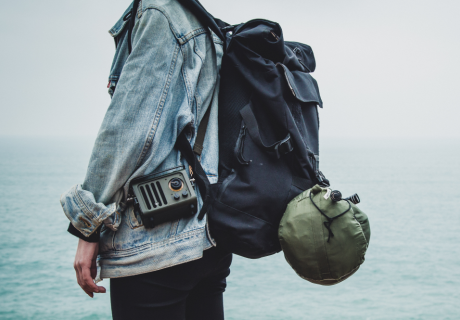 Easy to use
The Wild Jeep speaker simplifies usage with a combined power and mode knob, dedicated FM tuning, and clear indicator lights.
012
First-Class Radio Performance
The Wild Jeep speaker employs a top-tier radio chip and includes an antenna, ensuring excellent signal reception for optimal audio performance.
013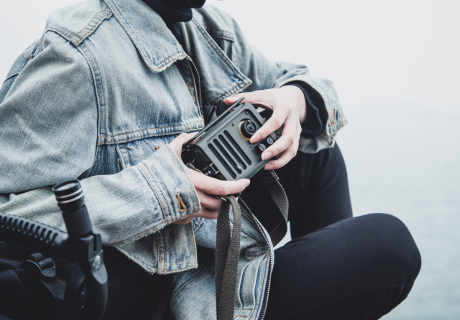 Exquisite Craftsmanship
It boasts an exclusive Radio series anti-counterfeiting nameplate. Its meticulous craftsmanship, beautiful wear-resistant design, and antioxidant properties are identifiable under a magnifying glass, emphasizing its authenticity and quality.
Utility
Its robust and durable design is the ideal companion for distilled outdoor experiences. Whether it's a family picnic, a casual outing with friends, or a romantic camping trip with your partner.
This speaker is more than a device—it's an art piece. Its unique, military-inspired design and superior sound make it a prized collector's item.
With its rugged, military-style design, this speaker is an exceptional gift for those who appreciate style and functionality.
Enjoy crisp, high-quality audio at home. Whether cleaning, cooking, or relaxing, this speaker creates an immersive audio environment. 
Amp up your workout sessions with this speaker. Its long battery life and stable Bluetooth connection ensure uninterrupted, motivating music.
Compact and portable, this speaker is an ideal travel companion. Enjoy your favorite music, podcasts, or FM radio stations on the go.
This custom speaker delivers robust sound and is perfect for parties and gatherings. Its long battery life ensures the music keeps going as long as the party does.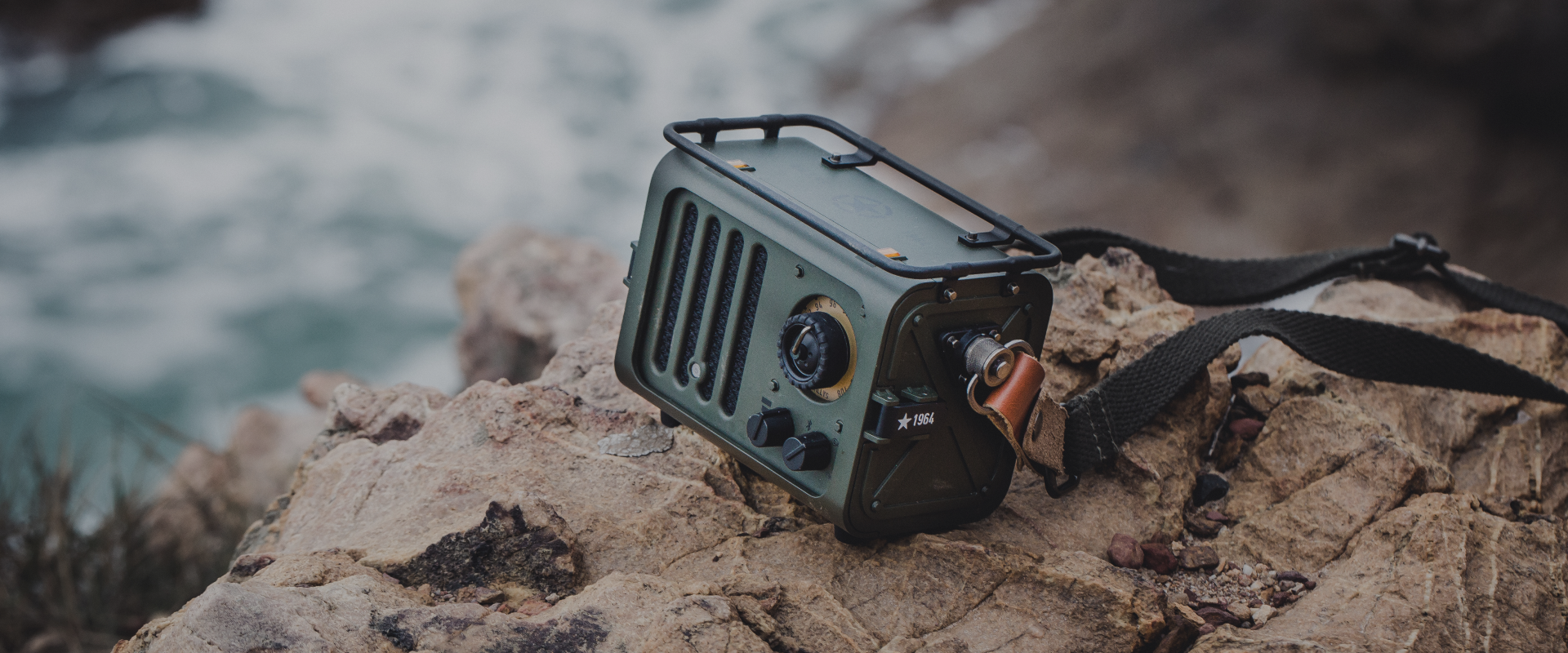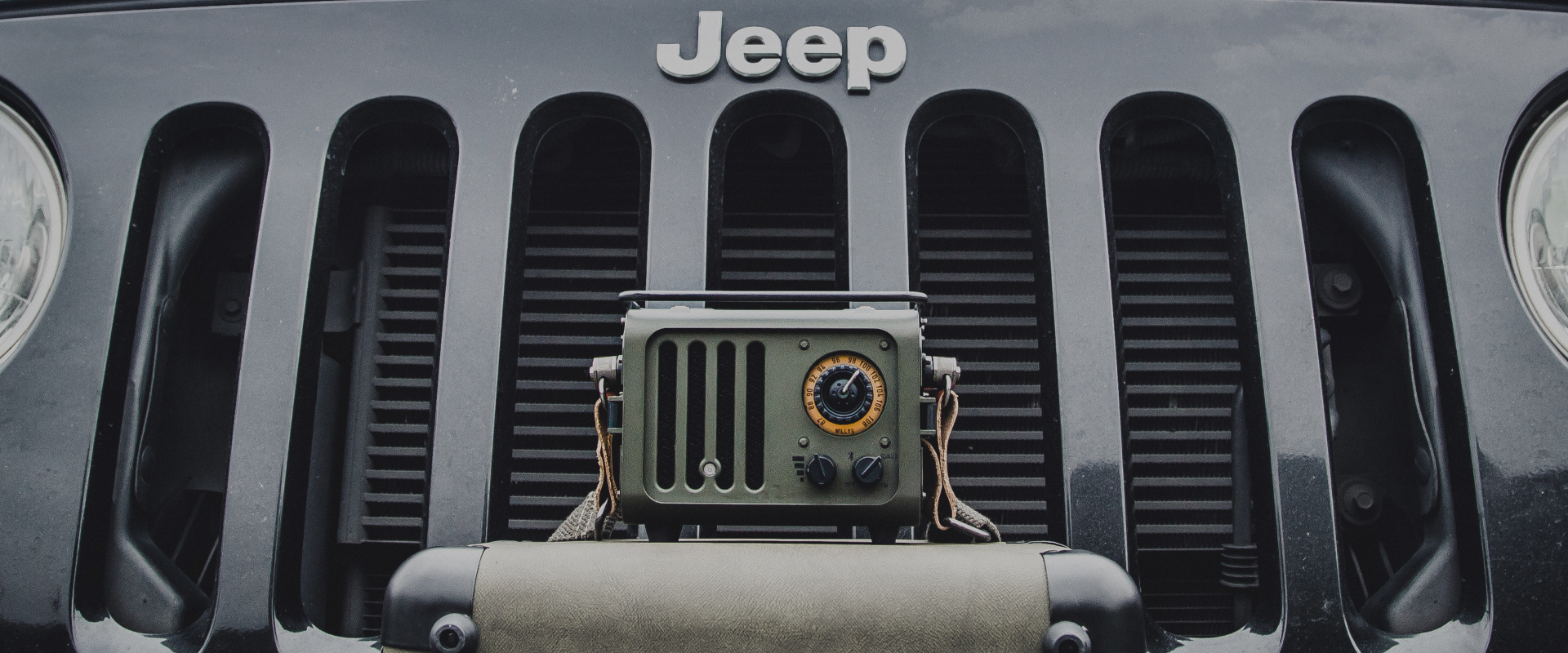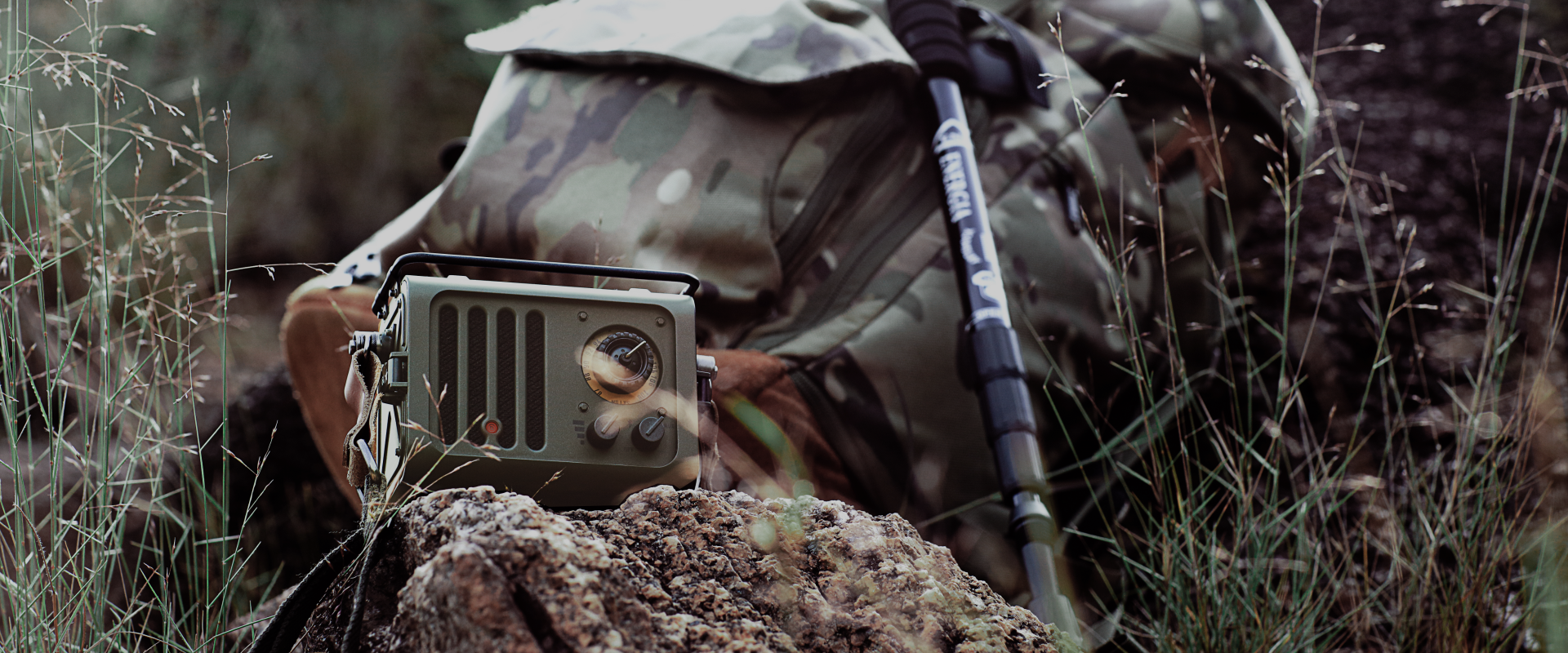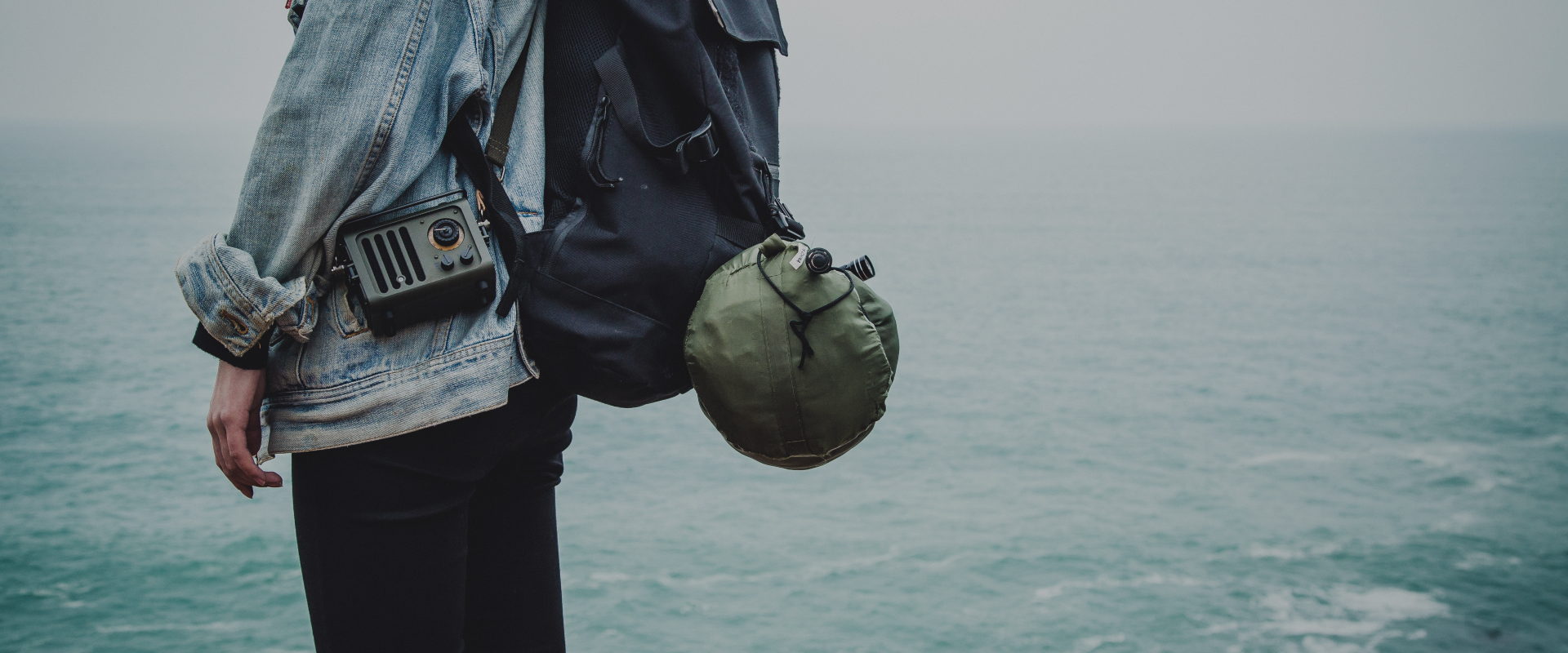 Refined Outdoor Activities
Artistic Collectible
Military-Styled Gift
Home Entertainment
Workouts
Travel
Parties
Receiving sensitivity
3UV
Frequency range
87-108MHz
Power
Bluetooth /AUXINPUT 8WFM 4.5W
Signal-to-noise ratio
>70dB
System frequency response
80Hz-20KHz
Product size
144mm*87mm*66mm
Net weight of speaker
about 834g
Charging voltage
DC 5V--IA
Battery
Features
FM Radio
Item Weight
Item Size
Package
Recommended For
Use scene restrictions
Connectivity Technology
Li-ion 3.7V 800mAh, Up to 10 hours
IPX5 Waterproof

0.55 lbs
9.45 * 6.5 *3.54 inches
Gift Box
Outdoor Gift
unlimited
Bluetooth5.0
Li-ion 3.7V 1000mAh
Technological aesthetic design

0.54 lbs
2.39*1.62*3.06 in
Gift Box
Outdoor Gift
unlimited
Bluetooth5.0
800mAh/7.4V
Amazing Stereo Sound & Loud Volume

about 834g
144mm*87mm*66mm
Gift Box
outdoor Gift
Unlimited
Bluetooth /AUXINPUT 8W FM 4.5W
Li-ion 3.7V 1000mAh
Cool light effects

0.55lbs
2.39*1.44*3.06 in
Gift Box
Outdoor Gift
unlimited
Bluetooth5.0
li-ion 3.7V 500mAh
waterproof capabilities and lightweight

0.41lb
2.97 * 1.40 * 2.32 in
Gift Box
Outdoor Gift
unlimited
Bluetooth5.0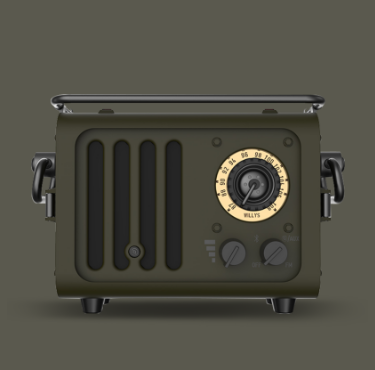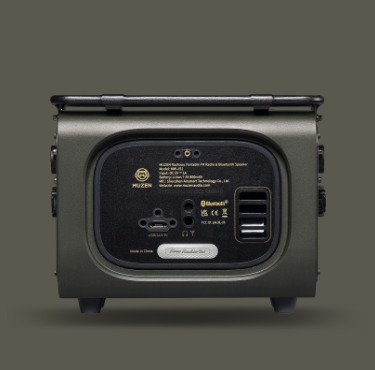 5
Multi-function USB port (charging, AUX INPUT)
The Wild Jeep is a highly versatile audio device that comes with custom-built speakers for superior sound quality. It can serve as a portable Bluetooth speaker, an FM radio, and even a power bank thanks to its Micro USB port. Whether you're at a party or on an outdoor adventure, the Wild Jeep gets the party started with its powerful audio performance.
Connecting your device to the Wild Jeep is quick and easy. Simply turn on the Wild Jeep, click the Bluetooth button on your device, and choose "Radiooo-series1" from the list of available devices. You should be connected in no time, making it a breeze to start streaming your favorite tunes.
The Wild Jeep is the epitome of portable design that doesn't compromise on sound quality. Its compact size ensures that it fits snugly into your backpack, making it one of the most portable speakers on the market. Yet, despite its size, it doesn't skimp on audio performance.
In fact, it houses custom speakers that deliver rich and powerful sound, making it a perfect option for music lovers who refuse to settle for less in their portable audio experience. Whether you're heading to the beach, hiking up a mountain, or simply lounging in the park, the Wild Jeep ensures that high-quality music is always within your reach.
Aside from its primary function as a speaker, the Wild Jeep is packed with added features to enhance your audio experience. It has a built-in FM radio for those who love tuning into their favorite stations, and a Micro USB port that allows it to serve as a power bank for quick phone charging on the go.
The Wild Jeep is available from various authorized sellers. To pick the most convenient purchasing option, visit the official Wild Jeep website. You can click on the "Buy Now" button and follow the instructions for placing an order.
The price of the Wild Jeep can fluctuate depending on time and the specific seller from which you choose to purchase. As such, we highly recommend checking the official Wild Jeep website or contacting an authorized seller for the most accurate and current prices.
At Wild Jeep, we believe in providing more than just high-quality portable speakers; we're committed to delivering an exceptional customer experience. This commitment extends beyond the point of sale. If you have any additional questions or need further assistance, our dedicated customer service team is always ready to help. We greatly value our service team and are always ready to meet customers and their satisfaction, which is reflected in our steadfast reputation in the audio business.
The Wild Jeep is equipped with custom speakers specifically designed to transform your Bluetooth audio experience. These speakers have been carefully engineered to deliver superior sound quality, ensuring a rich and powerful audio output that sets the Wild Jeep apart from other Bluetooth speakers on the market.
The Wild Jeep isn't just about delivering great sound - it's also designed with convenience in mind. That's where the Micro USB feature comes in. This allows the Wild Jeep to double as a power bank for charging your devices on the go, enhancing the overall portability of these speakers and making them a perfect companion for your outdoor adventures.