OTR wireless portable Bluetooth speaker - Vintage Classic
OTR offers a variety of cute and retro-designed wireless Bluetooth speakers to suit different tastes. They have four main series: OTR Metal, LINE FRIENDS, OTR Sticker, and OTR Wood Speaker.
These home Bluetooth speakers deliver great sound, from single units to a setup of multiple speakers for room-filling sound, suiting varied tastes and audio needs.
Go ahead and explore!
· Vintage Design
· 5W Power Output
· Long Battery Life
· Elegant Vintage Style
· Exceptional Sound Quality
· Retro FM Radio Design
· Unique Design
· Multiple Connectivity
· Long Battery Life
· Unexpectedly loud Sound
· Retro-Modern Design
· Easy Connectivity
Maestro speaker - Connoisseur quality, audiophile-approved sound
Revive the retro style with Maestro stereo speakers. Drawing inspiration from the 1960s designs, Maestro integrates modern technology with a timeless aesthetic, packing Bluetooth, radio, and 360° hi-fi stereo sound into wood or metal cabinets.
Maestro is not just a speaker, but a surround sound system that offers an immersive listening experience. Its 360-degree sound output ensures that, no matter where you are in the room, you're always in the sweet spot.
Maestro premium wireless speakers bring vintage charm to your music. Buy and rock out in retro style.
Get the Maestro Speaker
· Classic Elegance in Design
· Premium Sound Performance
· Customizable Audio
· Retro Elegance
· Audiophile Sound
· Artisan Craftsmanship
Pocket speaker: Bold color and Portable
Experience vibrant sound on the go with Button & Disco, the portable speakers that pack a punch. These compact yet powerful speakers blend bold colors with a rugged, vintage design, offering a colorful and musical addition to any adventure. Don't wait — let your life resonate with color and music today with these vibrant portable speakers!
Click on Purchase Button & Disco
· Portable and Compact
· Rich Sound
· Adorable and Colorful Design
· Retro Stylish Design
· Powerful Sound
· Compact and Portable
Vintage Vibes Goes Anywhere
MUZEN evokes mid-century nostalgia with authentic designs inspired by 1950/60s radios. Ornate grilles and brass knobs across models capture the feeling of vintage audio now portable. Metal accents and brass dials deliver authentic Americana style in multiple models, transporting you back in time. Every element creates a nostalgic listening experience fueled by mid-century charm in your palm, inspired by the iconic radios of the past.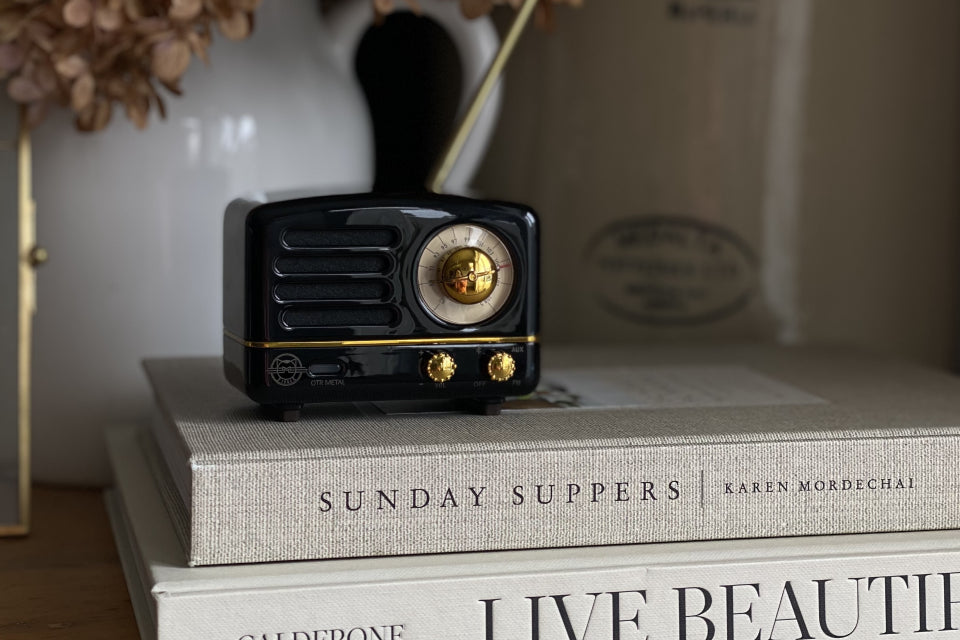 Amplified Americana: 1950s Sound, Modern Volume
The retro-wrapped MUZEN Home Premium wireless speaker series packs a surprisingly big sound into a small body. Underneath the vintage exterior, a powerful 5W amplifier drives extremely loud and crisp highs alongside robust deep bass - courtesy of a high-performance driver and enhanced bass, Offering a multi-room audio experience that truly rocks.
MUZEN HOME Bluetooth speaker lets you fully rock out to the latest remixes, mashups, and comedy - anywhere.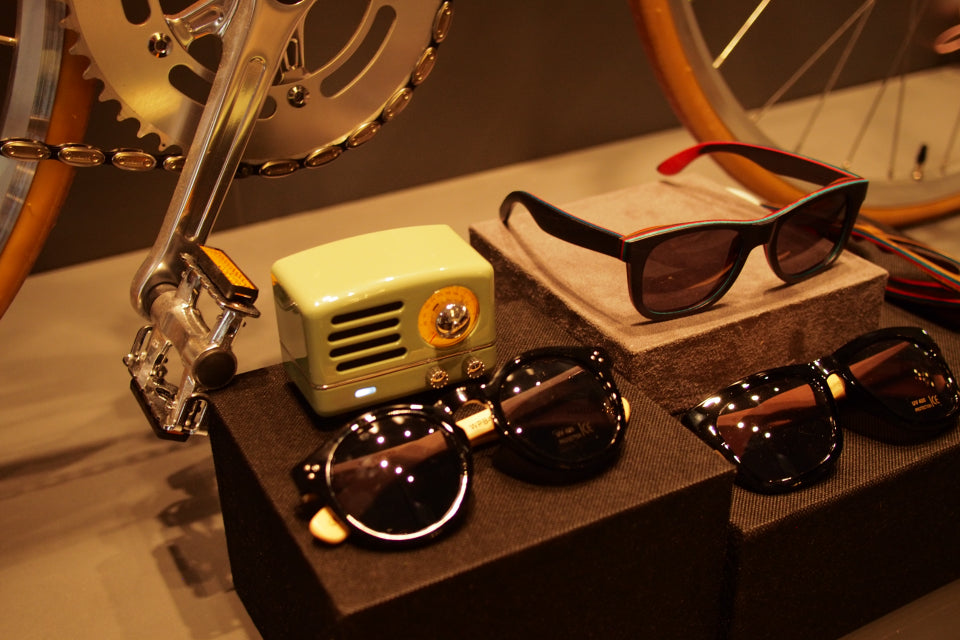 Battery
Features
FM Radio
Item Weight
Item Size
Package
Recommended For
Use scene restrictions
Connectivity Technology
Polymer lithium battery 1000mAH
Vintage aesthetics
0.94 lb
3.46 * 2.56 * 2.2 in
Gift Box
Indoor Gift
Unlimited
Bluetooth4.0, FM, Auxiliary
li-ion 3.7V 400mAh
Compact and portable

0.29 lb
2.48 * 1.85 * 1.18 in
Gift Box
Indoor Gift
Unlimited
Bluetooth4.2
Built-in high-performance lithium battery
cute design
0.96lb
3.46 * 2.56 * 2.2 in
Gift Box
Indoor Gift
unlimited
Bluetooth5.0, FM, Auxiliary
li-ion 3.7V 350mAh
adsorb to the surface of an object

0.11lb
2.91 * 2.09 * 0.85 in
Gift Box
Indoor Gift
Adsorbed on metal surface
Bluetooth5.0
800mAh /3.7V

86mm (L) × 33mm (W) × 57mm (H)
Gift Box
indoor
Unlimited
Bluetooth 4.2 (dual mode) supports BLE
Built-in Li-Ion 1000mAh rechargeable battery guarantees up to 10 hours of playtime in 65% volume"
Retro Design and elegance
7.5 lb
6.3 * 11.42 * 6.46 in
Gift Box
Indoor Gift
Unlimited
Bluetooth4.0, FM/AM, Auxiliary
"Built-in Li-Ion 1000mAh guarantees up to 10 hours of playtime in 65% volume"
3-in-1 Speaker
12.13 lbs
11.81*7.09*8.26 in
Gift Leather Box
Indoor Gift
unlimited
Bluetooth4.0, FM/AM, Auxiliary
The Maestro speaker series includes the MUZEN Original II and III Bluetooth speakers with a vintage radio design, 3-in-1 functionality, and high-quality sound.
Original II:
• Size: 30x18x20cm
• Offers superior audio performance with a compact, portable design
Original III:
• Size: 160mm*290mm*164mm
• Larger cabinet allows for fuller, richer reproduction and booming "boom box" audio reminiscent of original full-sized radios.
• Bigger drivers and amplifiers give it an expansive, authentic sound despite its retro style.
Both models exemplify what a "boom box" sound should be - offering excellent bass response with clean and bouncy lows, rich midrange, and detailed highs. This rich sound profile provides higher-quality audio that's hard to find in other speakers of their size.
 In essence, these models stand out as some of the best-sounding wireless speakers on the market today. They deliver a quality of sound that's not just heard, but felt, transforming your listening experience into something truly immersive.
Despite their powerful performance, the Maestro speakers have a compact design that fits comfortably in small to medium-sized rooms without taking up much space.
A: Most OTR speakers charge using a standard Type C cable. Some Maestro radio speakers charge using an AC adapter. Refer to the user manual for your specific model for setting instructions.
The OTR speaker comes in four distinct variants: OTR Metal, OTR Wood, OTR Sticker, and OTR Metal LINE FRIENDS. Each variant offers a unique aesthetic appeal, making them not only functional but also stylish additions to any setting.
Yes, all the speakers in the Home Indoor Series are compatible with Bluetooth-enabled devices, allowing you to stream your favorite music wirelessly from your smartphone, tablet, or computer.
Yes, the Pocket Disco speaker delivers powerful and authentic sound with a 3W*2 power output. It's perfect for small to medium-sized outdoor gatherings.
The Streamlight Charging Cable, which offers intelligent power-off protection to prevent overcharging, is included with the Pocket speaker models.
The OTR speaker features a robust build with various materials used based on the variant. For example, OTR Metal uses a solid metal construction, OTR Wood features a natural wood finish, and OTR Sticker and LINE FRIENDS versions use durable ABS+PC plastic.
The Pocket speaker models, such as the Button and Disco, are incredibly compact and lightweight, making them easy to carry with you wherever you go.
The speakers in the Home Indoor Series maintain the traditional knob control experience, offering easy operation and a quick Bluetooth connection.
To maintain your MUZEN speaker's longevity and sound quality, keep it in a dry and clean environment, avoid exposure to extreme temperatures, and use the Streamlight Charging Cable to prevent overcharging.
All speakers in the Home Indoor Series are built with high-quality, durable materials, making them some of the best wireless speakers on the market. For instance, the OTR speakers have a robust build, ideal for portable use. Variants like the OTR Metal use sturdy metal, and the OTR Wood utilizes natural wood for a unique aesthetic while still ensuring durability. Their rugged construction and thoughtful design make them highly resilient, perfect for taking your music on the go.
The OTR series features a quick and straightforward Bluetooth connectivity process. You can easily pair it with your Apple Music account on Bluetooth-enabled devices like smartphones, tablets, or computers.
While MUZEN speakers do not feature smart speaker capabilities or voice assistant integration, they excel in providing superior audio quality, making them best Bluetooth speaker available.
MUZEN focuses on crafting speakers that deliver exceptional sound quality and a nostalgic aesthetic. Their Bluetooth connectivity allows for seamless pairing with various devices, enabling you to enjoy your favorite music effortlessly.
Although MUZEN speakers don't support voice commands, their user-friendly controls and high-quality audio output make them a top contender in the market of portable Bluetooth speakers. If you're looking for speakers that offer a balance of unique design, robust sound, and reliable Bluetooth connectivity, MUZEN speakers are an excellent choice.
MUZEN Maker Picks
Play Community Creations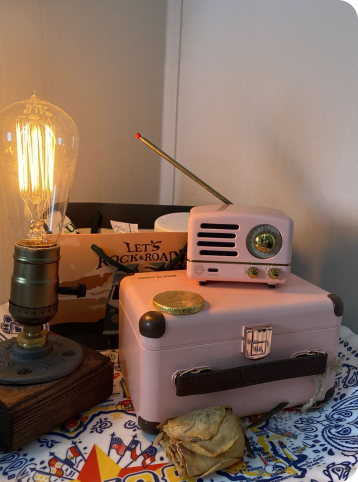 Maria Elena O.
Mi nueva pieza en casa es hermosa , no esperaba tanta belleza , es tan pequeña que cabe en la Palma de mi mano , pero tan fascinante que cabe en mi corazón , su estuche es parte de su belleza y asta la bolsa de papel no te puedes desasear de ella , se vuelve parte de tu decoración .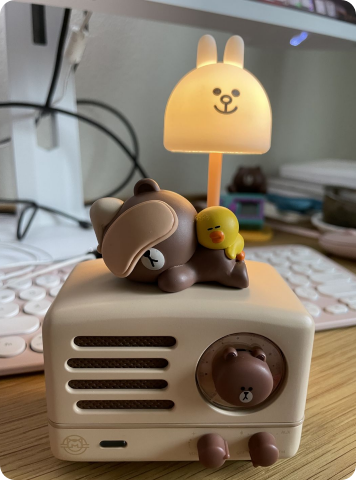 Emily C.
This is my second muzen speaker and I love it! As soon as I saw the collaboration with Line, I couldn't resist! The quality is great and the sound is lovely. So glad I splurged on this!
Bojean
This is an awesome radio/sound portable machine. It was alot smaller than I imagined from the pictures but it is adorable and sounds really good. Plus the size makes it easy to carry around from room to room. Packaging is also very high end and cute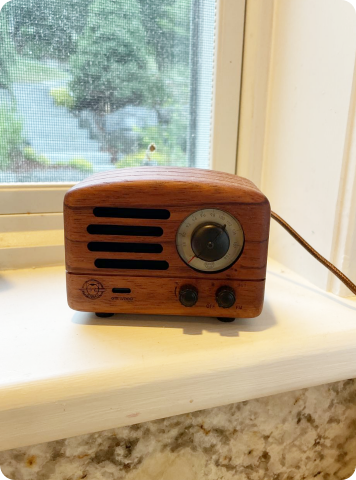 Brenda W.
My little speaker is adorable and the sound is perfect while I'm in my kitchen.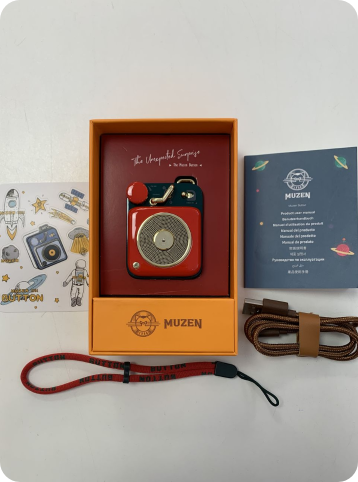 Jen M.
Excellent product. Terrific sound. Sells really well.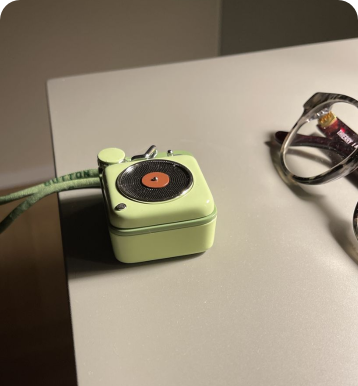 Susan A.
I have already bought four of these in different colors, and plan to give them as holiday gifts. The sound is awesome for something so compact. I have it with me on a trip to Europe; great for traveling. Highly recommend it.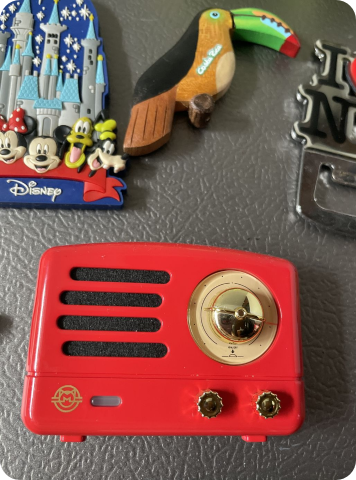 Karina S.
It doesn't sound perfect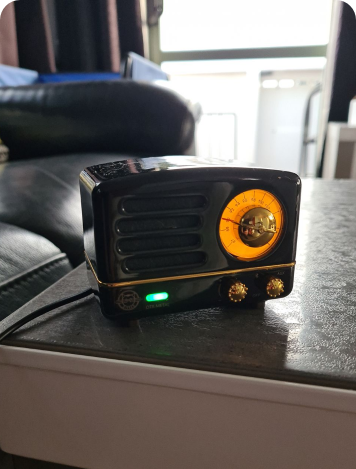 Jennifer S.
The product arrived within a day and the packaging was beautiful!!The sound quality is impressive, I was worried due to the radio being small that it might lack decent quality but this radio is incredible! Takes me back to the 60s with a modern touch. Love it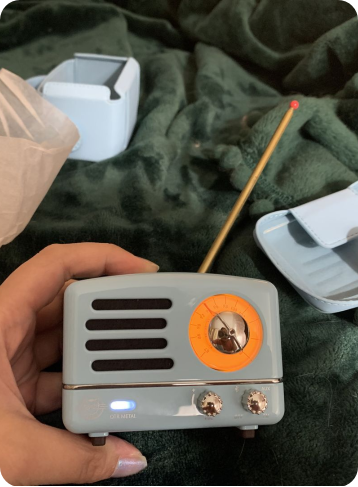 Mia W.
It's AWESOME I LOVE ITTTT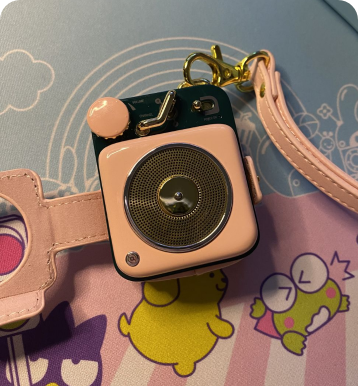 Isabelle J.
i love it so much!! tiny but very loud, it's everything!! i showed my family and they all wanted it for themselves lol