I don't know about you, but I have seen many Bluetooth speakers on the market. Some are large, medium, and small, but I have yet to see anything like the MUZEN OTR Metal Portable FM Radio Red Bluetooth Speaker.
Now, don't let the size of this Muzen OTR Metal Portable FM Radio Bluetooth Speaker fool you; this speaker packs a lot of power.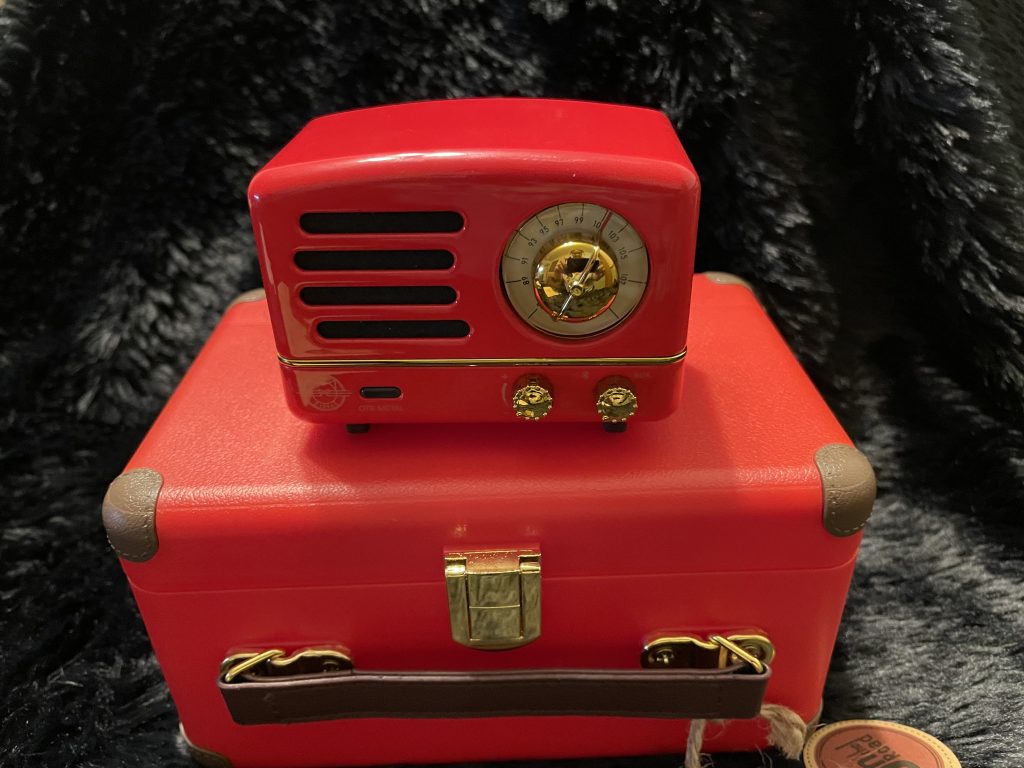 Even though it's a Bluetooth speaker, it also allows you to connect to traditional radio…..which is even more remarkable.
The transition to connecting your computer, tablet, or phone to the Muzen OTR Metal Portable FM Radio Bluetooth Speaker is streamless. The cool thing about the Muzen OTR Metal Bluetooth speaker-radio is its unique vintage look that resembles the sixties. Its stylish retro features include an analog dial, an old-fashioned metal finish, a speaker, and an antenna that helps you to tune into your local FM station. You have three visible dials to touch, two smaller ones near the bottom and a larger one up top, and you can switch back and forth from Bluetooth to FM radio endlessly. Now the larger dial is your frequency dial that's for tuning the radio station, again similar to how radios in the past used to function.
You can also connect to other devices through AUX, and customize your listening experience from the Muzen OTR Metal Portable FM Radio Bluetooth Speaker.
Listening to your favorite tunes has become much more accessible at home or on the go. I love that this retro MUZEN OTR Metal Portable FM Radio Bluetooth Speaker comes inside its adorable case with everything you need.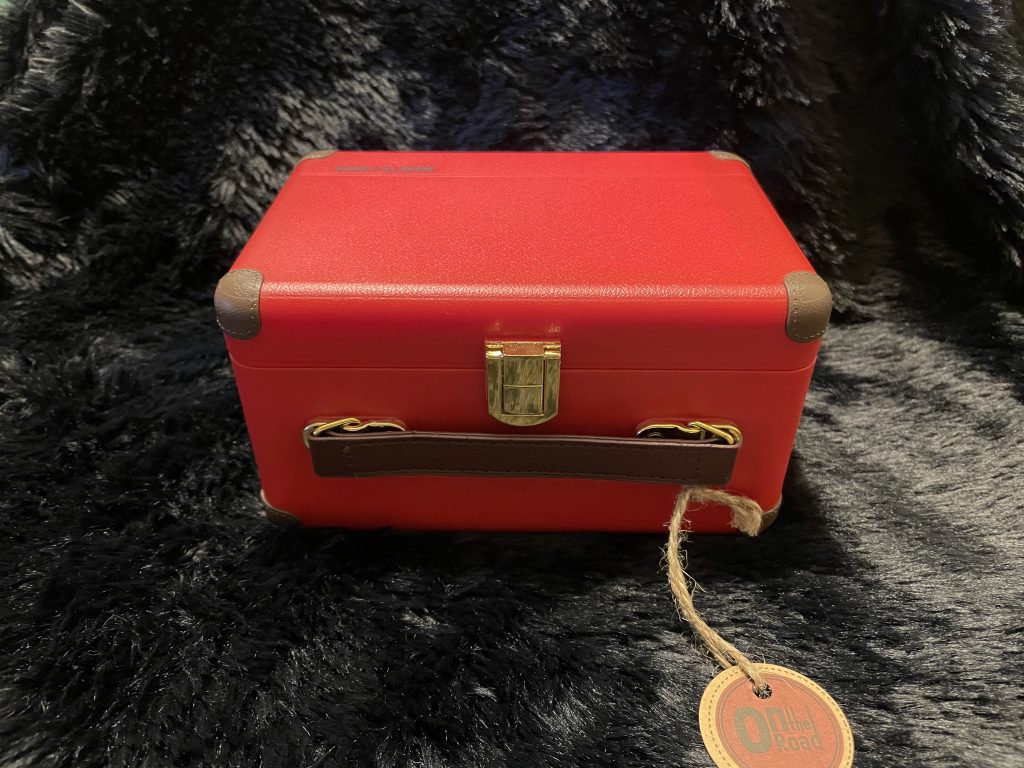 The technology within this speaker is impressive and will surely make everyone happy with its clarity and sound.
Before long, everyone will be up jamming away to their favorite tunes.
The speaker is notably smaller than any Bluetooth speaker I've ever seen, but I can say it can "STAND ON ITS OWN" with the technology within. It's nothing like the old fashion radios our parents had back in the day; even though it looks like one of those retro radios, it is totally different; it has 21st-century technology! 
So easy to carry around in your backpack or purse because it's so small, heck you can even place this speaker in its tote bag and carry it along. Muzen has even provided a few cool sheets of stickers to help you decorate your cute luggage tote that the Muzen OTR Metal comes in!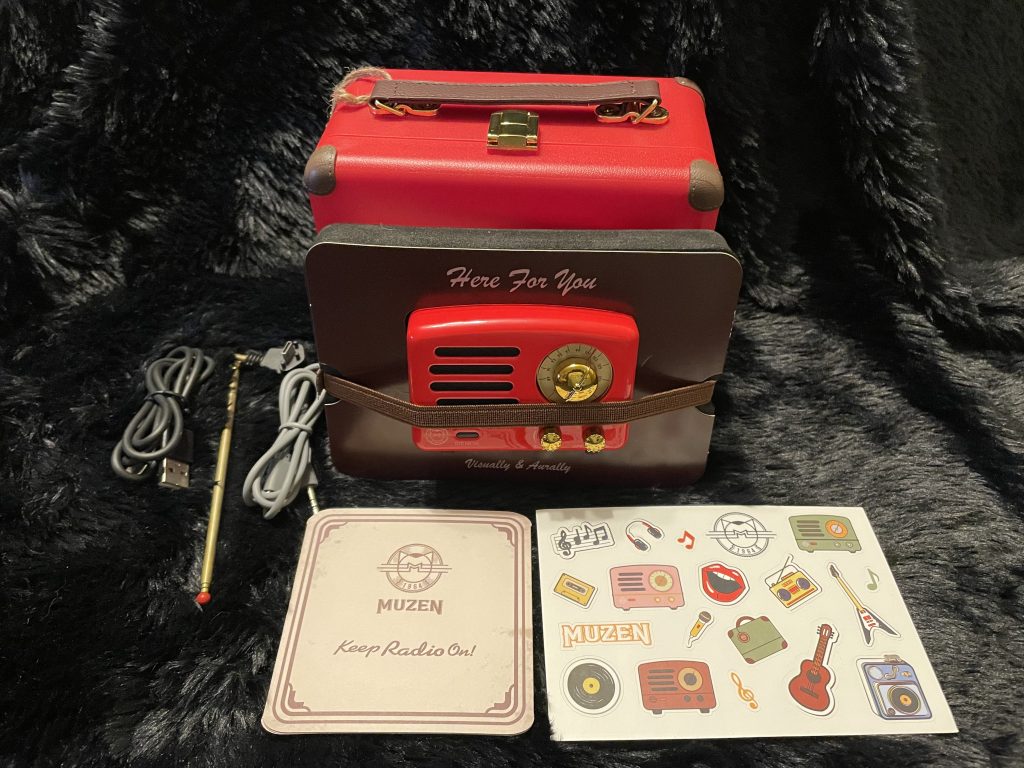 You have up to 10 hours of playtime with a Built-in Li-Ion 1000mAh rechargeable battery and a volume range of 65% volume. With the included Type-C cable, you can fully recharge it in 2-3 hours.
But hold on, the Muzen OTR also comes with an AUX output allowing you to blast music directly. Switching on the speaker radio will switch on the light of the radio dial and the tiny LED light near the base of the Muzen OTR.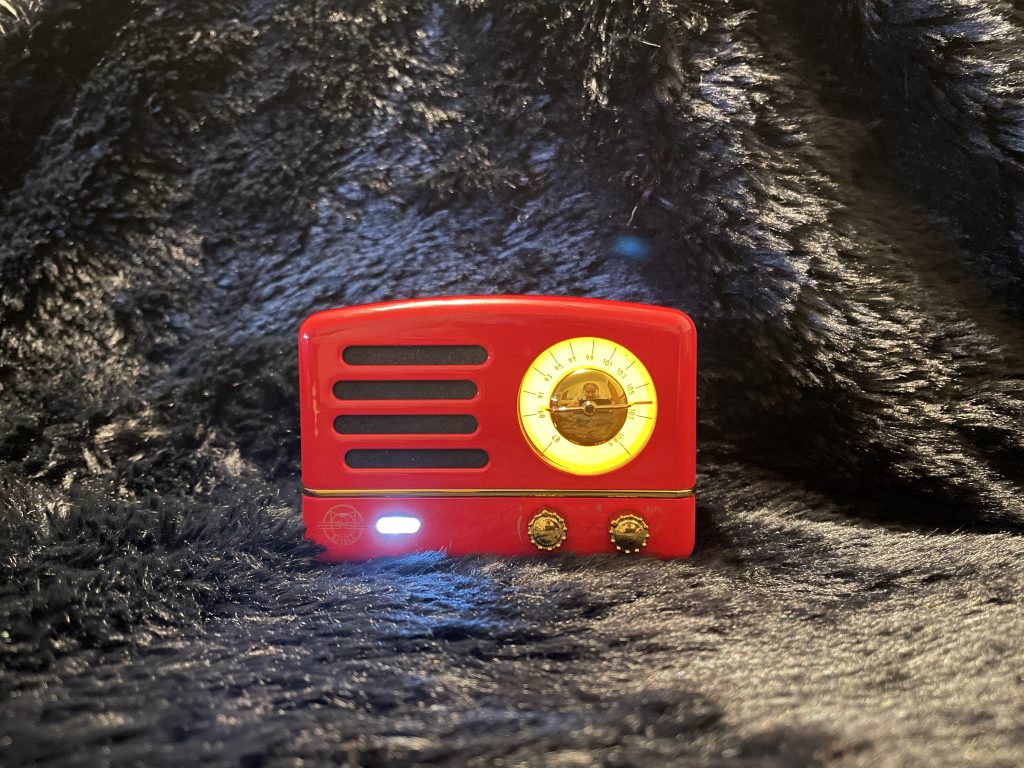 The Muzen OTR Metal is also notably heavier than it looks, weighing in at 440g despite its size of 88.1mm x 60.9mm x 49mm.
Being made of metal, the Muzen OTR Metal is also significantly heavier than it looks, weighing in at 440g despite its size of 88.1mm x 60.9mm x 49mm.
I love that there is no distortion when playing your Metal Portable FM Radio Bluetooth Speaker; it can blast your tunes at a reasonable volume without losing clarity. Just keep in mind that there is no strong bass within this unit; I noticed that while I was streaming a few heavy bass songs from my iPhone.
The Muzen OTR Metal is a remarkable vintage-looking speaker that can also function as a radio and produce quality music despite its compact size. It is available in many cool colors like red, green, pink, and blue, here and on Amazon.
The price tag is $139, which is okay for such a unique Bluetooth speaker. It's perfect at home, on your office desk, apartment, or while hanging out on a trip or picnic!
Don't forget to connect with MUZEN via Facebook | Twitter | Instagram |Pinterest| to keep up with the latest.