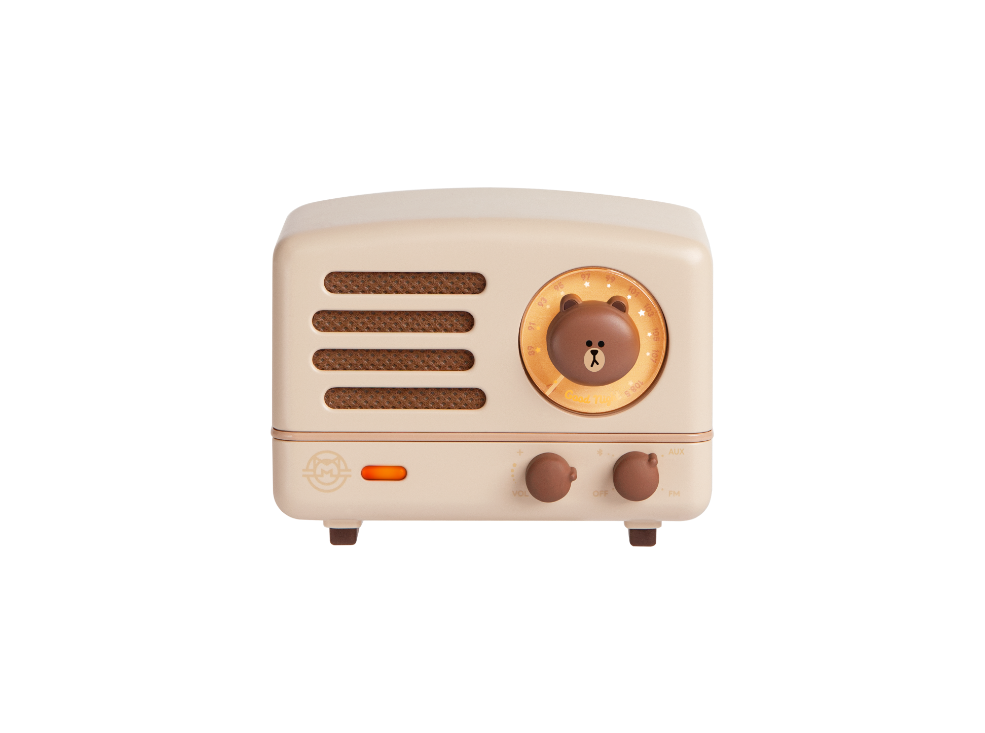 MUZEN OTR Metal LINE FRIENDS Portable FM Radio Bluetooth Speaker
$99.90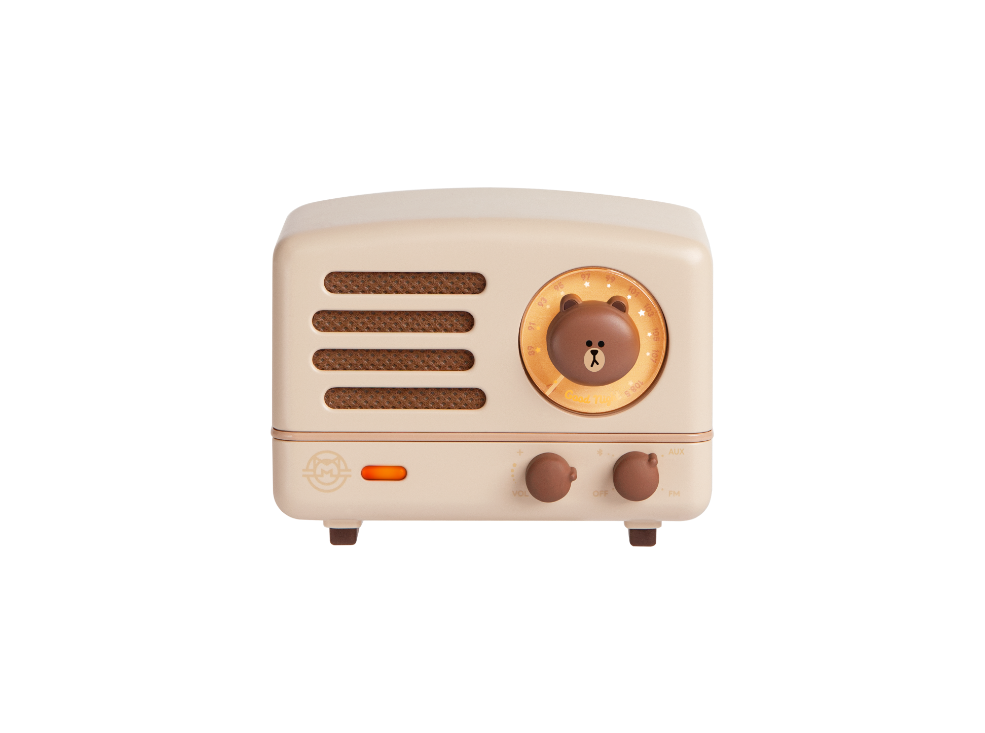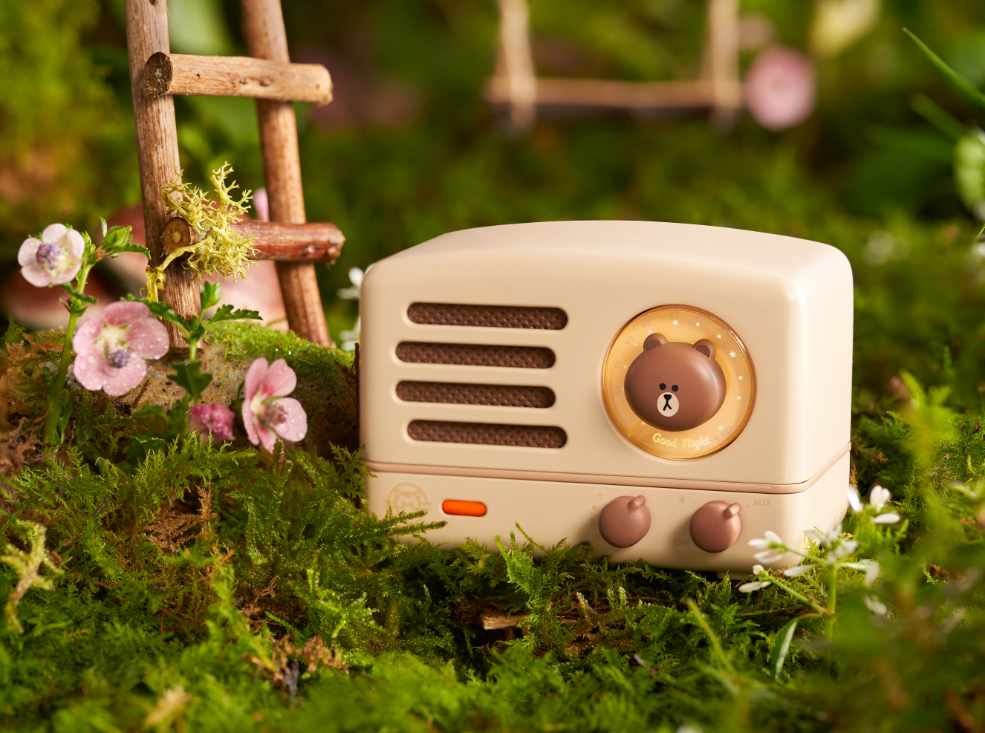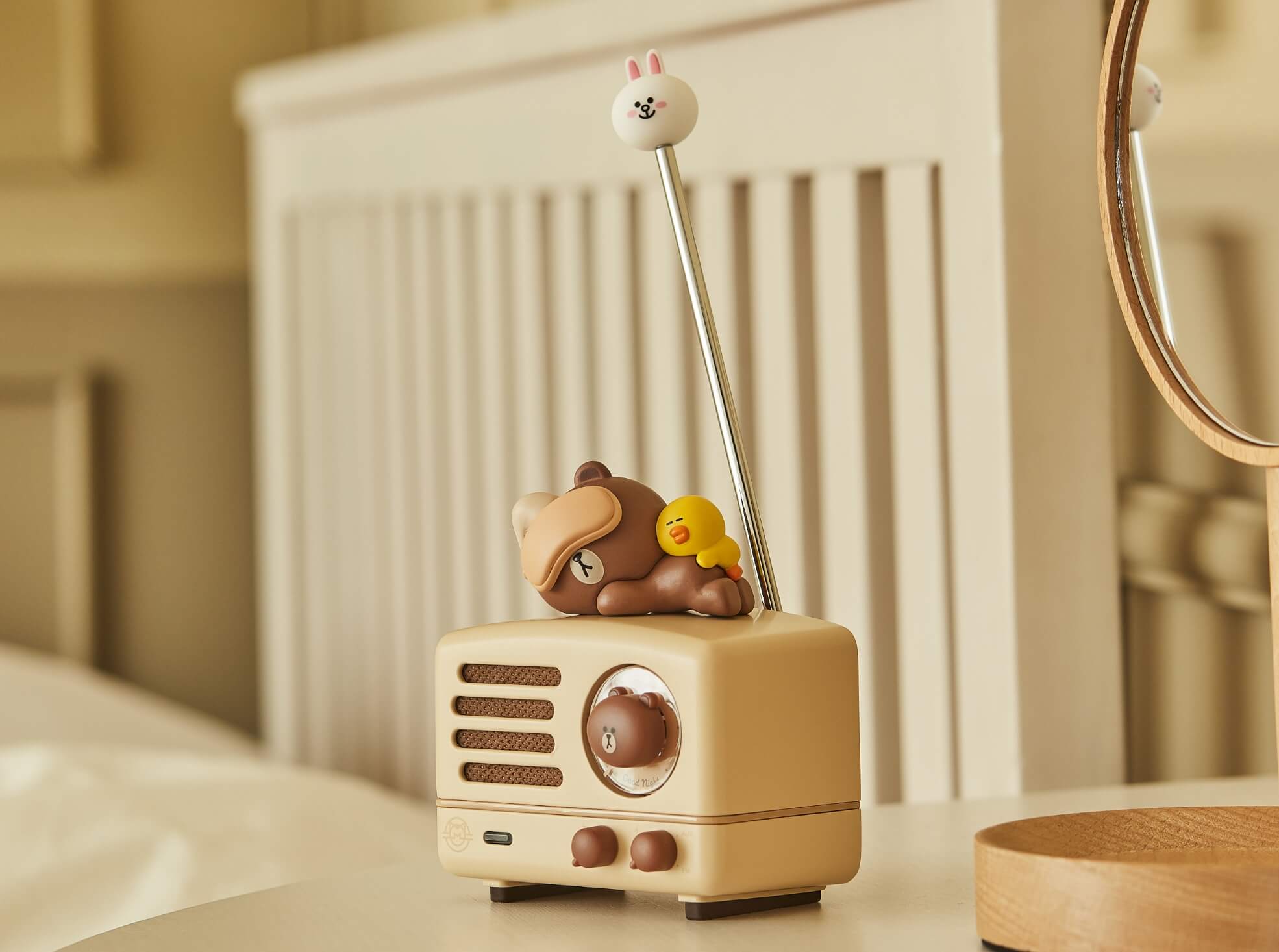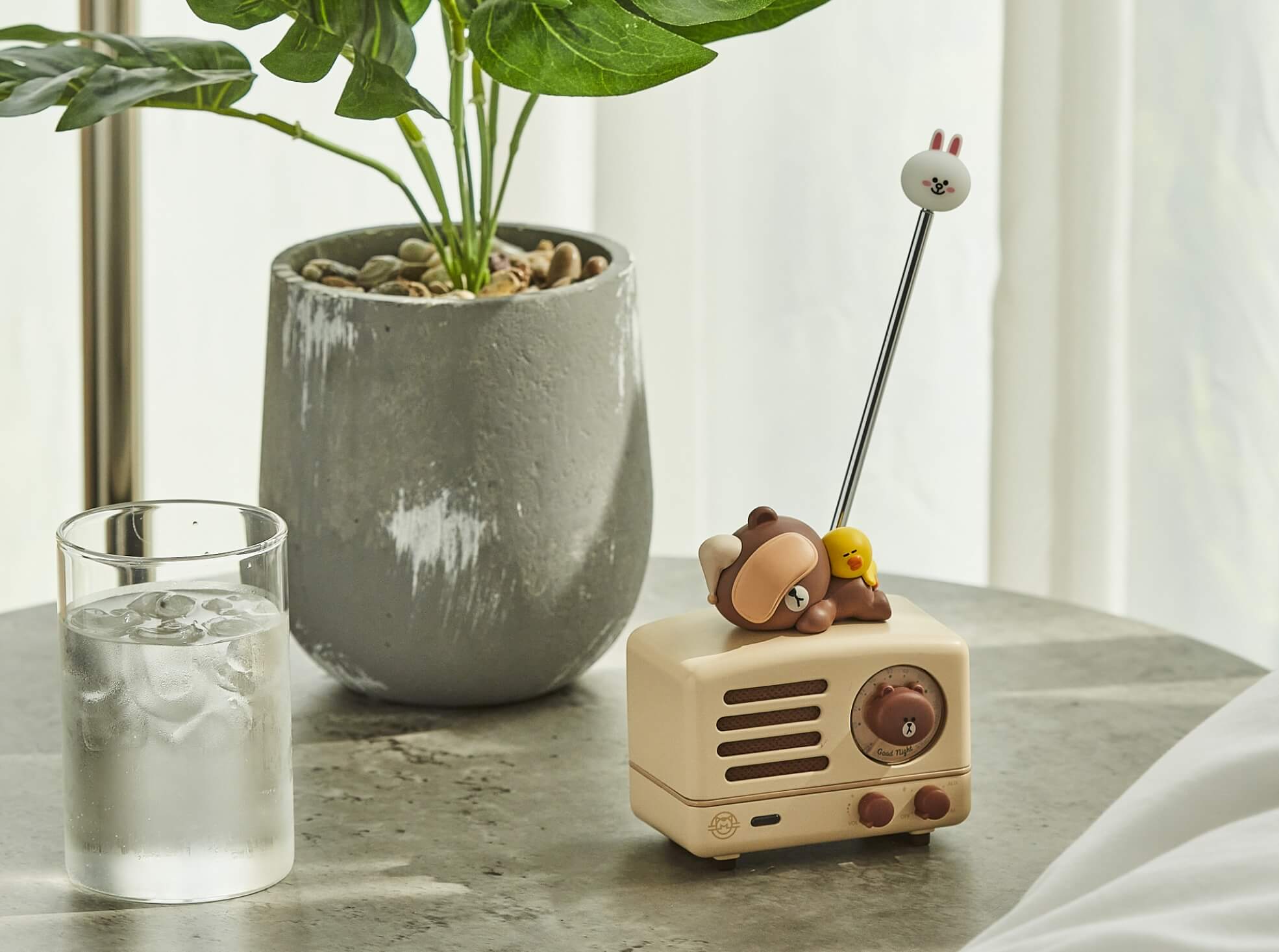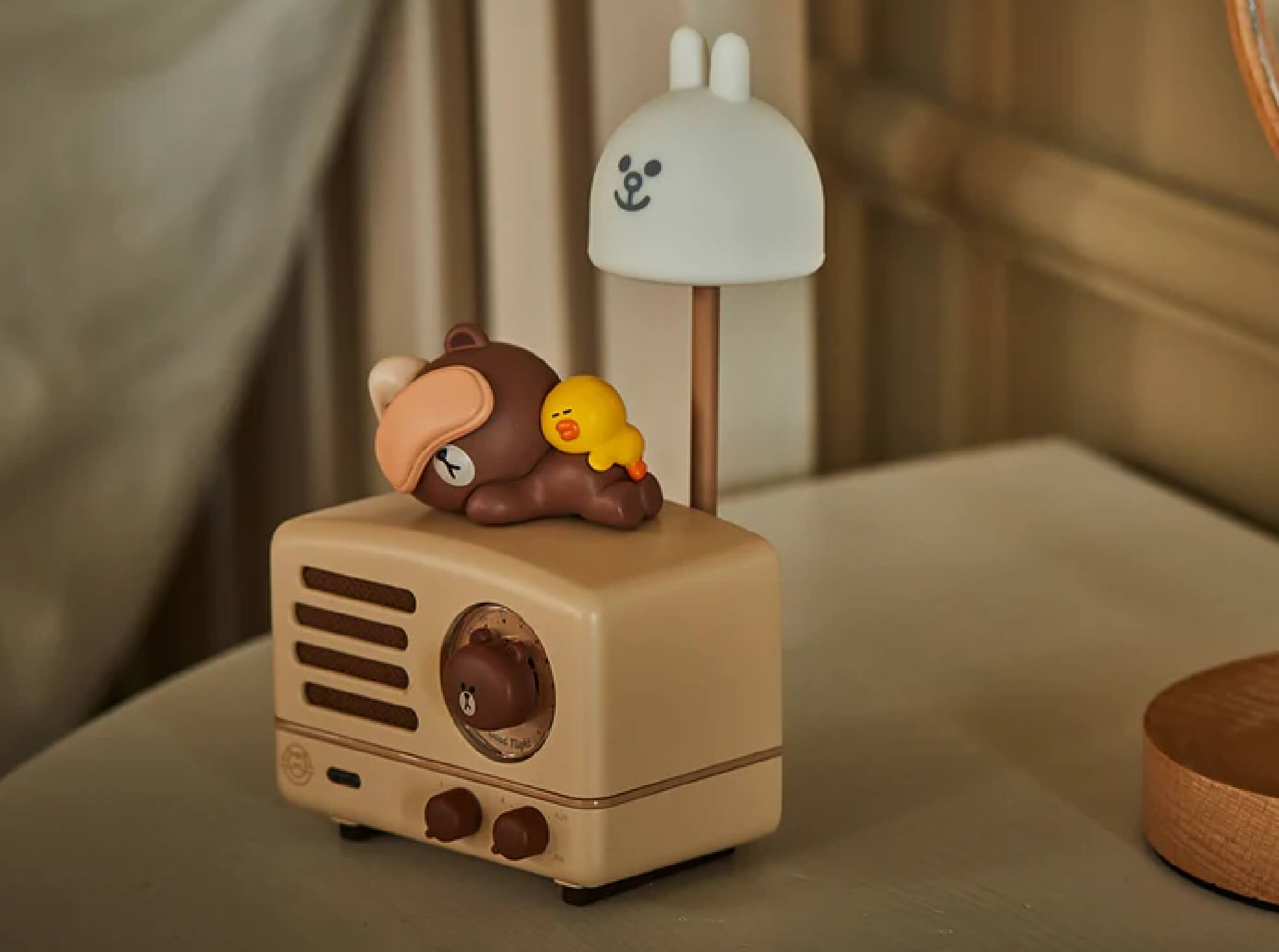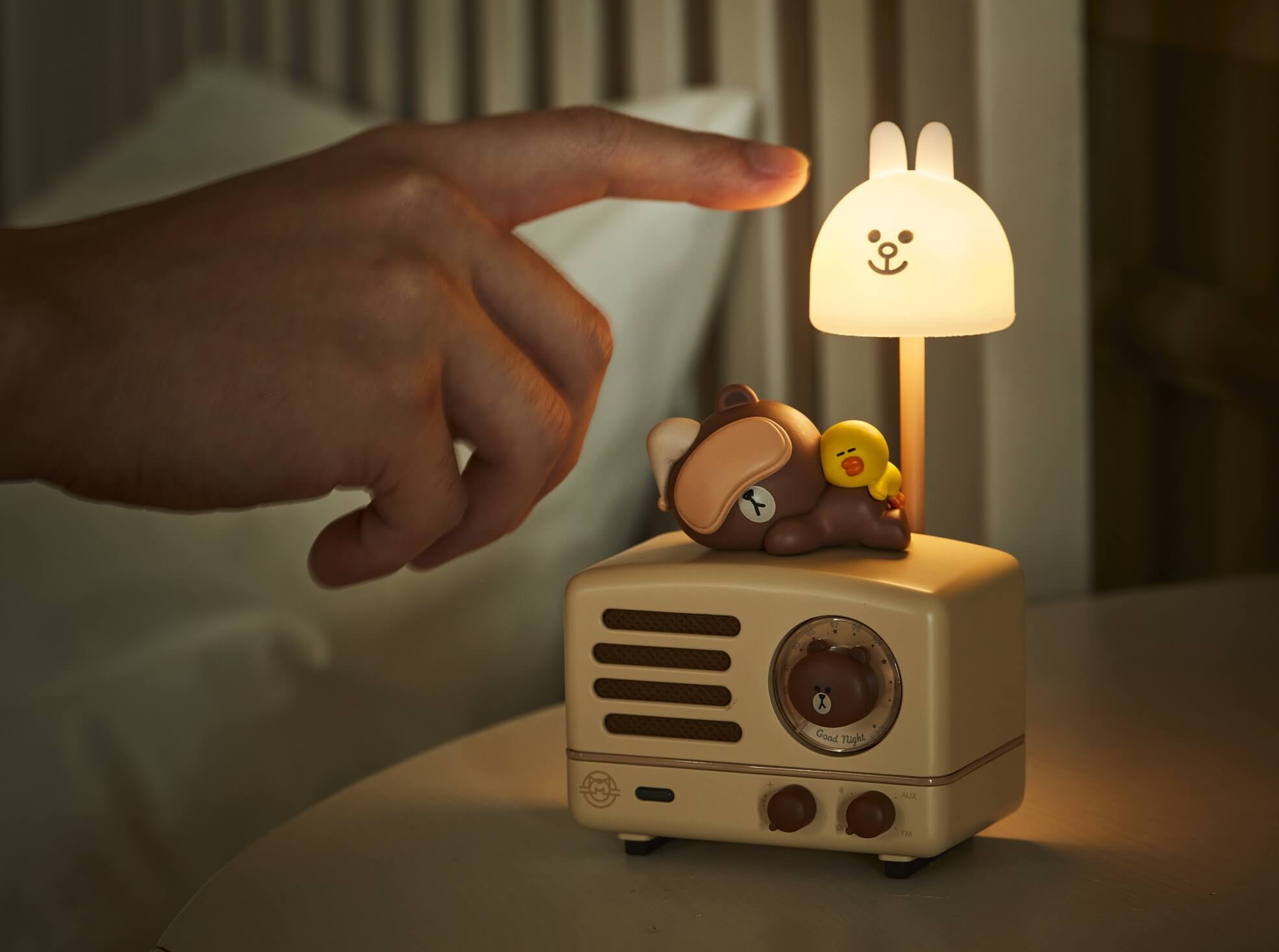 MUZEN OTR Metal LINE FRIENDS Portable FM Radio Bluetooth Speaker
Free Fast Shipping
Price match promise
1:1 Expert Support
Financing Options
Unique Design: Adorable, vintage-inspired design featuring characters BROWN and SALLY.
Multiple Connectivity: Supports FM, AUX, and Bluetooth modes for flexible music playback.
Long Battery Life: High-performance lithium battery offering up to 10 hours of use.
Portability: Compact and lightweight for effortless carry.
Sound Quality: Delivers loud, clear sound despite its small size.
Special Features: Includes a mechanical volume knob and Bluetooth 5.0.
Themed Accessories: Comes with cute, themed accessories for added charm.
Comforting Morandi Shades: Creamy Morandi tints in a matte metal finish, featuring a unique BROWN knob, custom dial, and a "good night" feature
Ideal Gift: Cute, functional, and has a ready-to-gift carrying case.
- Carrying Case × 1
- OTR Metal Speaker × 1
- Sticker × 1
- AUX Cable × 1
- Type-C Charging Cable × 1
- Manual × 1
- Tote Bag × 1
- Theme Card × 1
- Luggage Tag × 1
No repairs/service from US warehouses.

12 month warranty:
Missing parts/minor faults: Partial refund
Function issues (won't charge, Bluetooth faults): Replacement
After 12 months:
50% discount code for new purchase.
No repair or replacement.
Please see our warranty page for full details on warranty coverage, exclusions, and limitations.
Home Delivery: US and Canada
US: Free 3-10 working days
Canada: Free 5-10 working days
International: 30-60 working days. Freight forwarder required.
Please see our shipping page for more details.
Returns
Free returns for 30 days from delivery.
Free return only if product is defective upon receipt.
For other refund requests, customer pays return shipping. Shipping costs are non-refundable.
Check our returns page for full policy details.
Making Melodies With Warmth - OTR LINE FRIENDS
01
Charming Handcrafted Design
02
Support FM / AUX / Bluetooth
04
Charming Handcrafted Design
You are presenting the BROWN MUZEN OTR LINE FRIENDS Handicraft Bluetooth Speaker, a fusion of "LOVELY, DREAMY, WARM" feelings and superior sound technology. This joint creation by MUZEN OTR and LINE FRIENDS enriches your daily life with BROWN and music.
Supporting FM, AUX, and Bluetooth 5.0, it delivers crystal-clear audio through DSP full-range speakers. With a 10-hour battery life, it lights up your nights and accompanies you on a relaxing journey, making it the perfect companion and gift.
Amp Up Your Day
and Space with a Touch of Fun!
Kickstart your day, journey back to childhood, groove with nature,
and jazz up your space - all in one cute package!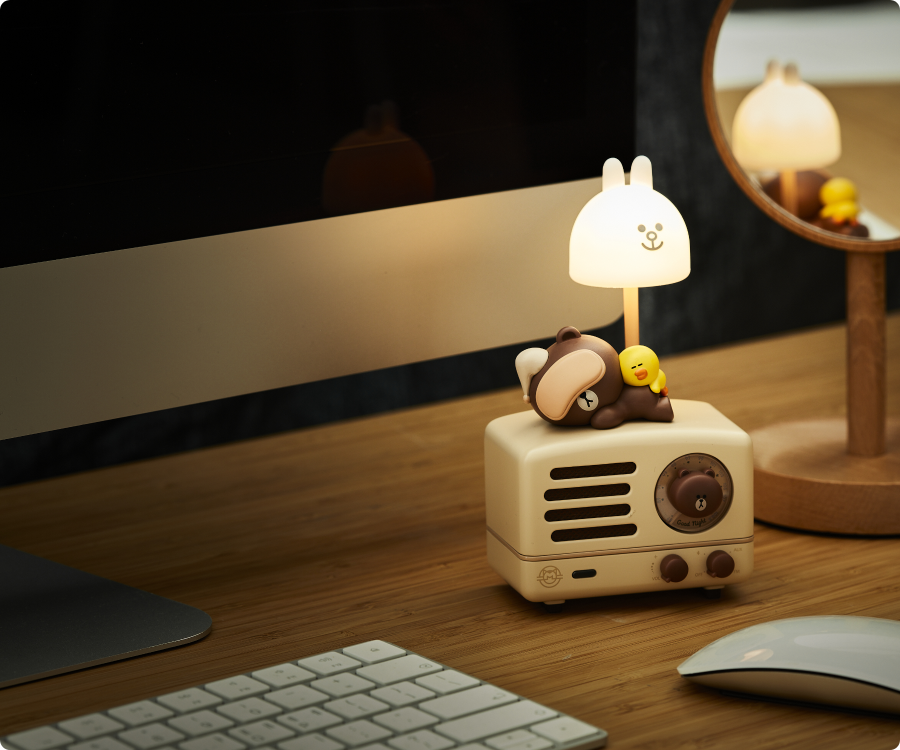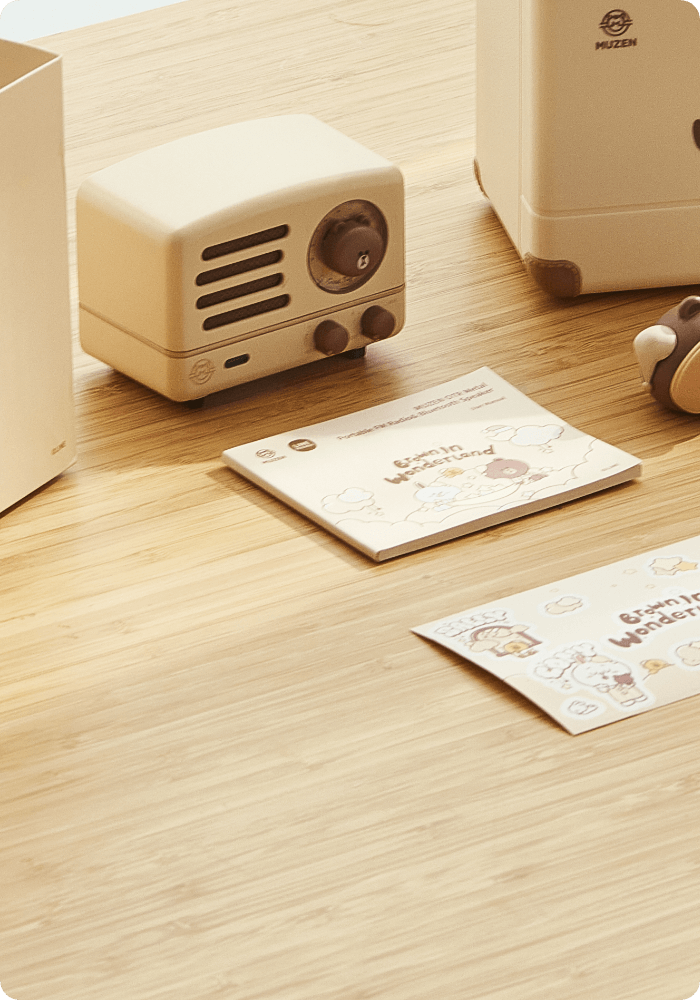 01
Lovely Design and Superior Sound Quality
Experience the unique design fusion and superior audio with the BROWN MUZEN OTR LINE FRIENDS Handicraft Bluetooth Speaker. Boasting a charming BROWN and SALLY design in healing Morandi colours, it's not just a speaker but a delightful decoration. Its DSP full-range speakers deliver crystal-clear, powerful sound, making it a standout in its class.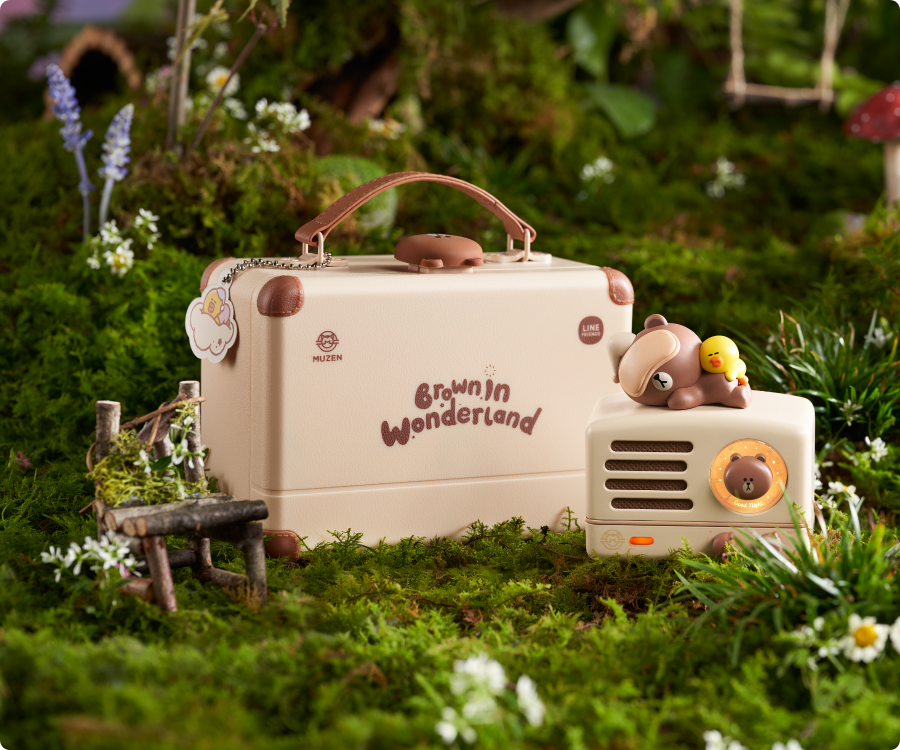 02
Versatility and Longevity in a Compact Design
The BROWN MUZEN OTR LINE FRIENDS speaker adapts to diverse occasions with FM, AUX, and Bluetooth modes. Tuning in to FM radio is a breeze with a bear dial twist. Enjoy up to 10 hours of playtime. It is equipped with a high-performance lithium battery.
01
Cute Handicraft
BROWN and SALLY bring a touch of coziness and relaxation. Perfect for setting a tranquil ambience for sleep.
02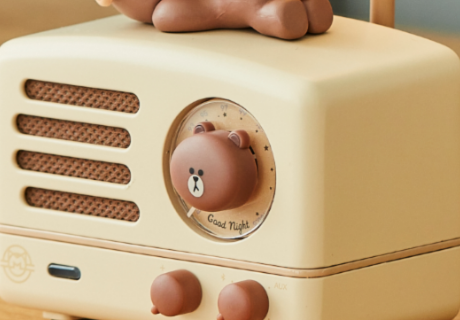 Healing Morandi Color
The creamy Morandi colour, matte full metal paint, and custom details like the translucent "good night" feature add a charming aesthetic touch.
03
High Volume
Immerse yourself in a world of clear, powerful sound in the comfort of your home or even outdoors. Benefiting MUZEN's latest audio technology and DSP full-range speakers.
04
FM Radio Dial and Volume Knob
Conveniently tune into your favourite FM radio station and adjust the volume with a simple twist of the knob.
05
Perfect Indoor Decoration
The cute design makes it a perfect interior decoration, while its DSP full-range speakers provide an excellent listening experience.
06
10-Hour Battery Life
Enjoy up to 10 hours of uninterrupted usage time on a full charge with a high-performance lithium battery.
07
Bluetooth 5.0 and AUX Support
Its mechanical knob and Bluetooth or AUX input make it easy to control and adjust at any time.
08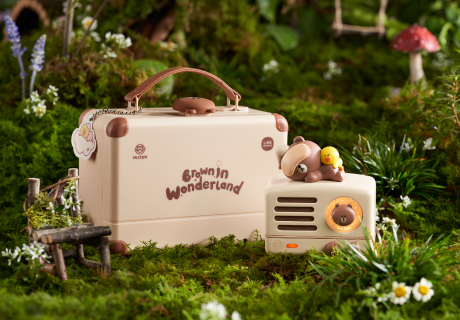 Ideal Gift
Present the adorable BROWN MUZEN OTR Speaker as the ultimate gift, offering joy, companionship, and comfort in life's journey. It's more than a speaker; it's a friend.
09
Outdoor Companion
Whether you're on a sunny forest picnic or a journey to the clouds, the speaker brings the purest sound of nature to your ears.
Utility
Lulls you to sleep with soothing music and a cute, comforting design.
The retro design and soft voice transport you back to happy childhood memories.
Enhances room aesthetics with its Morandi colour palette and charming features.
Offers a quick, relaxing music break in the workplace with easy access to your favourite FM stations.
Light and portable, it turns travel delays, and hotel stays into enjoyable music sessions.
Packaged thoughtfully, it is a unique, surprising gift for special days.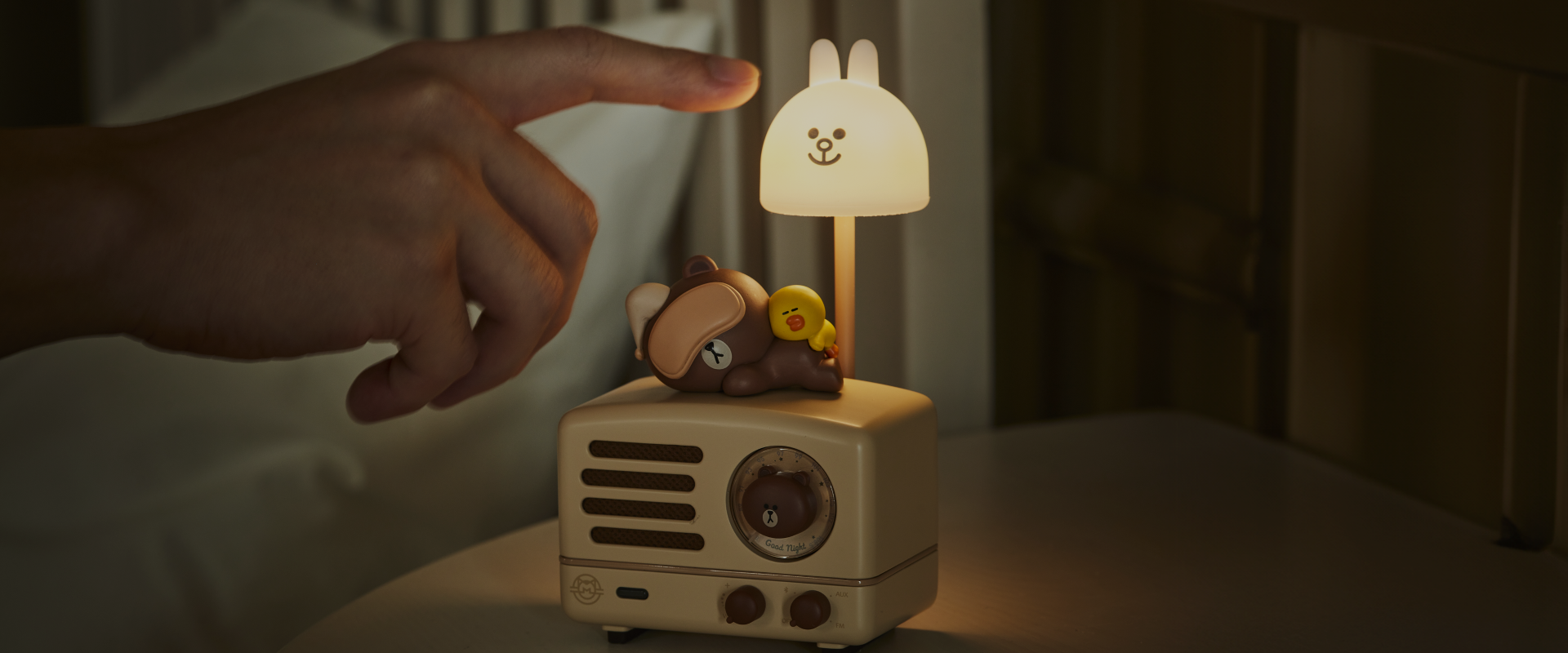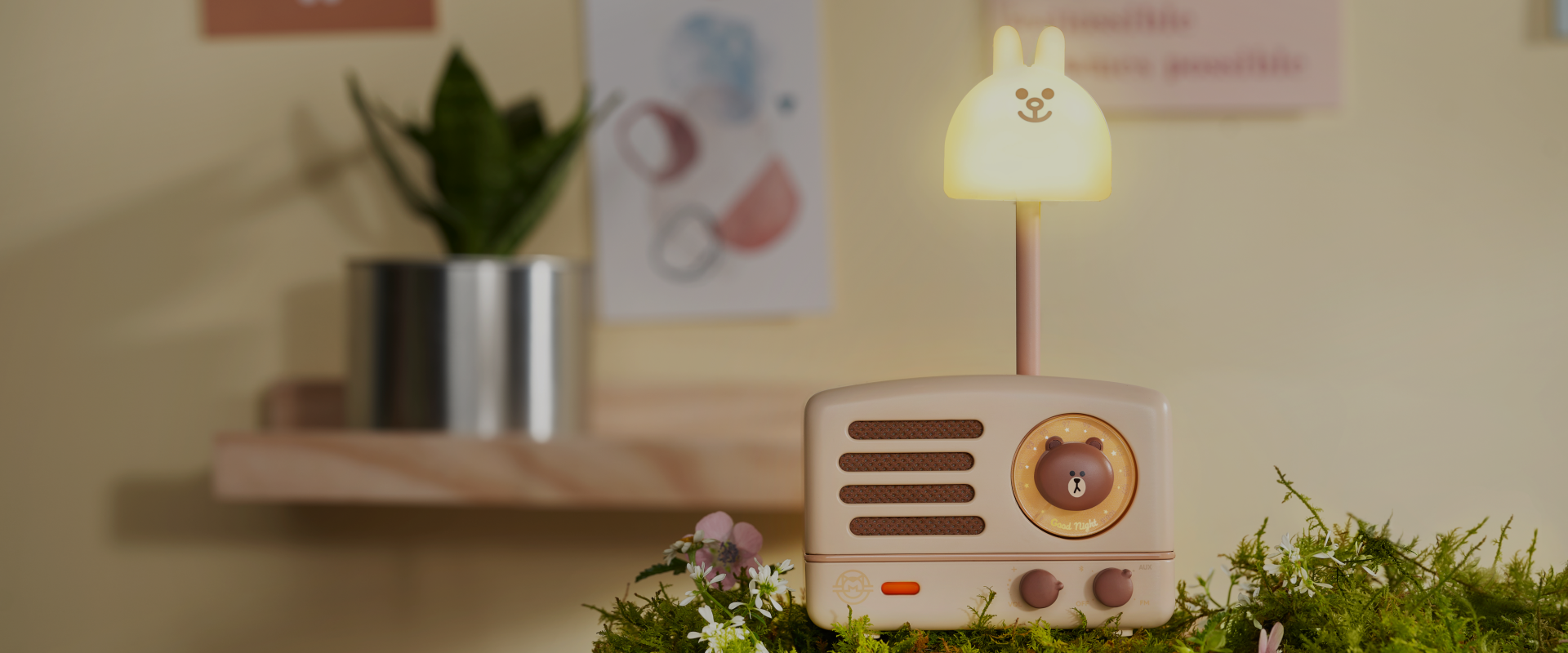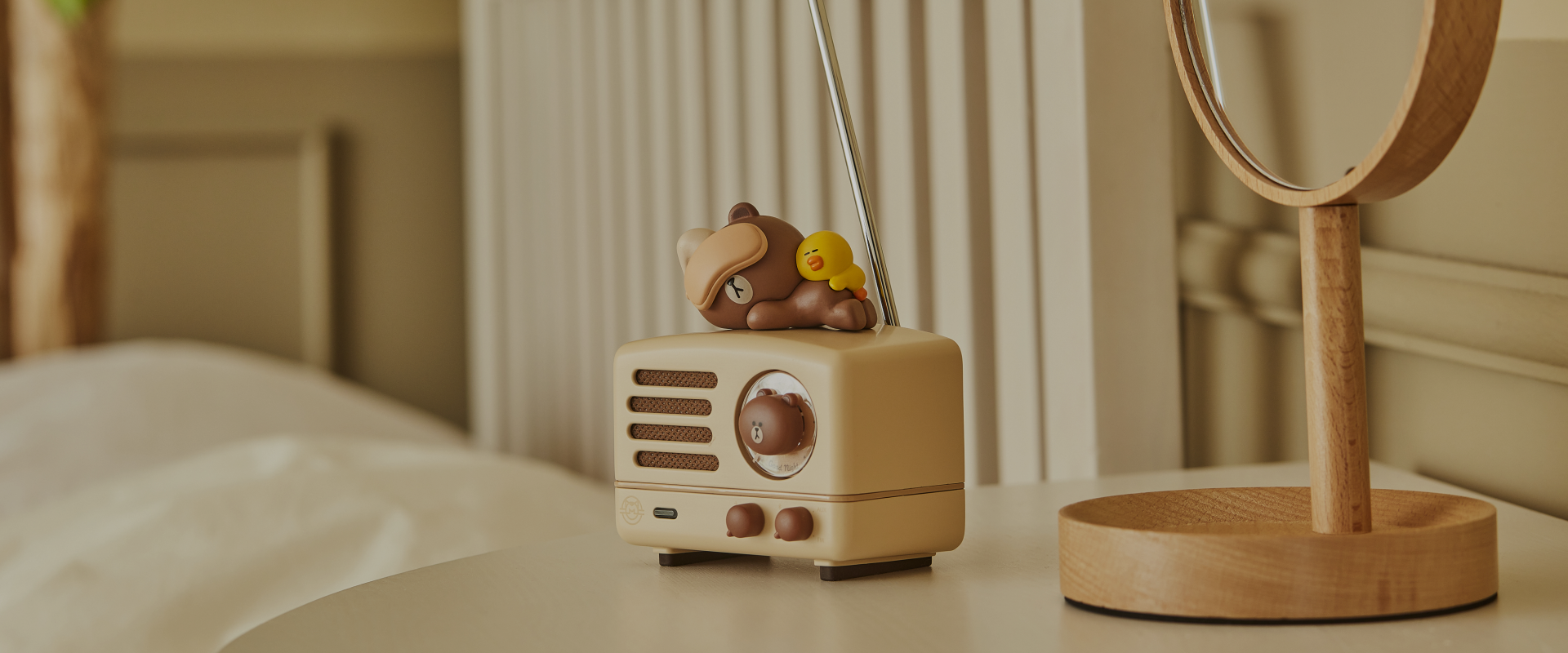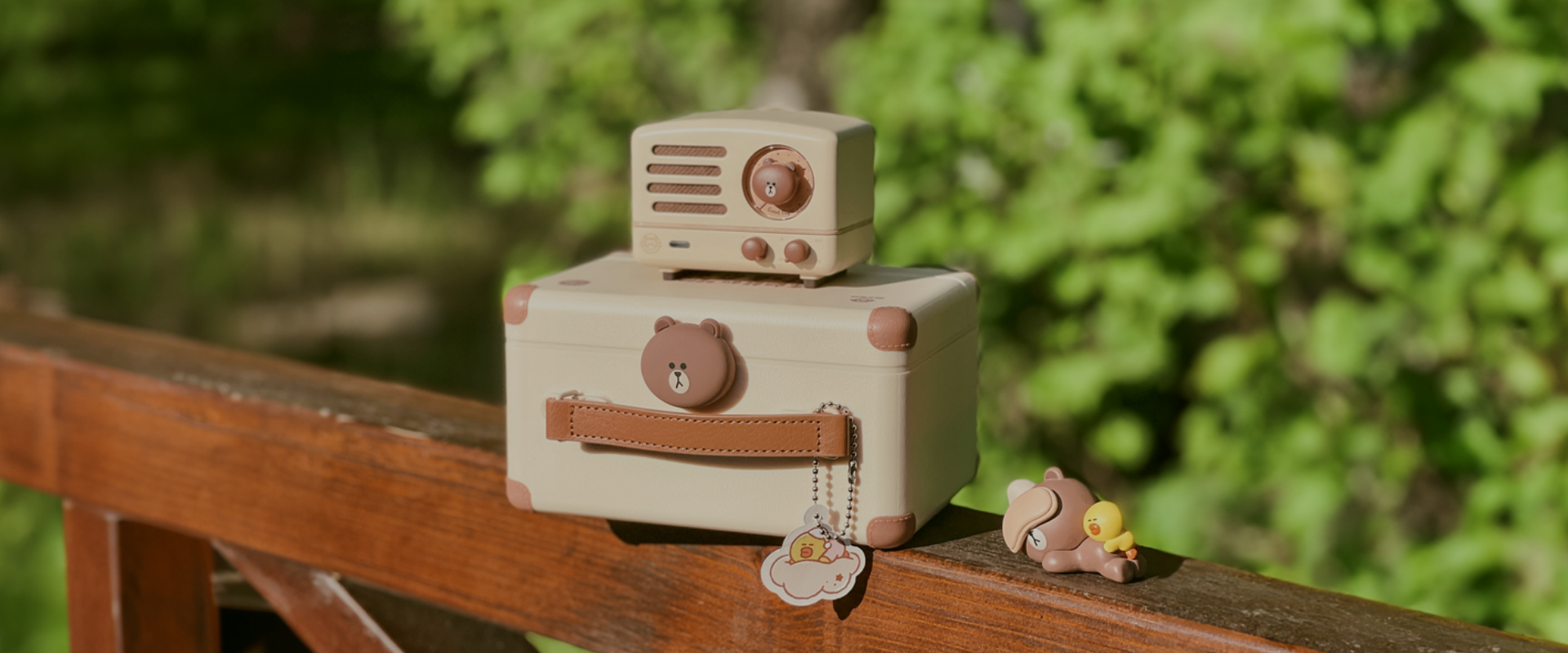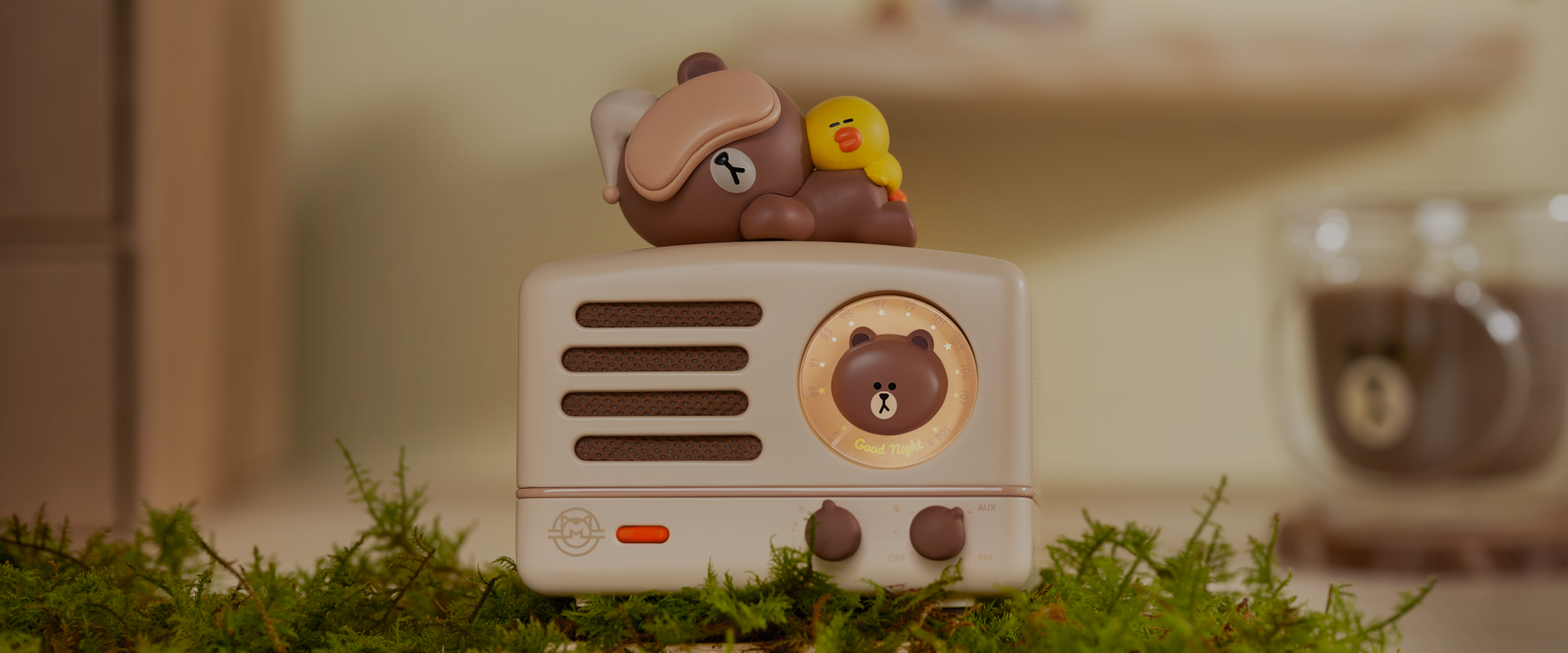 Bedtime Companion
Childhood Nostalgia
Artistic Home Decor
Office Relaxation
Travel Companion
Gift
SHOW
Explore our 'Influencer Reviews'! Learn from popular influencers who've tried our products. Their insights can guide your purchase. Don't miss their candid reviews!
Max.Power Output
5W/Bluetooth; 2W/FM Radio
Frequency Range
FM 87-108.5MHz
Bluetooth Coonection Distance
Distances10m/Distance < 32.8Ft
Bluetooth Maximum EIRP
< 10Dbm
Peaker
1.57in/40mm neodymium iron boron full frequency speaker
Product Dimension
3.46X2.56X2.2in/88X65X56mm
Net Weight
About 436G/0.96Lb
Altitude
Below 3000 meters
Recommended environment for use
Indoors
Battery
Features
FM Radio
Item Weight
Item Size
Package
Recommended For
Use scene restrictions
Connectivity Technology
Polymer lithium battery 1000mAH
Vintage aesthetics
0.94 lb
3.46 * 2.56 * 2.2 in
Gift Box
Indoor Gift
Unlimited
Bluetooth4.0, FM, Auxiliary
li-ion 3.7V 400mAh
Compact and portable

0.29 lb
2.48 * 1.85 * 1.18 in
Gift Box
Indoor Gift
Unlimited
Bluetooth4.2
Built-in high-performance lithium battery
cute design
0.96lb
3.46 * 2.56 * 2.2 in
Gift Box
Indoor Gift
unlimited
Bluetooth5.0, FM, Auxiliary
li-ion 3.7V 350mAh
adsorb to the surface of an object

0.11lb
2.91 * 2.09 * 0.85 in
Gift Box
Indoor Gift
Adsorbed on metal surface
Bluetooth5.0
800mAh /3.7V

86mm (L) × 33mm (W) × 57mm (H)
Gift Box
indoor
Unlimited
Bluetooth 4.2 (dual mode) supports BLE
Built-in Li-Ion 1000mAh rechargeable battery guarantees up to 10 hours of playtime in 65% volume"
Retro Design and elegance
7.5 lb
6.3 * 11.42 * 6.46 in
Gift Box
Indoor Gift
Unlimited
Bluetooth4.0, FM/AM, Auxiliary
"Built-in Li-Ion 1000mAh guarantees up to 10 hours of playtime in 65% volume"
3-in-1 Speaker
12.13 lbs
11.81*7.09*8.26 in
Gift Leather Box
Indoor Gift
unlimited
Bluetooth4.0, FM/AM, Auxiliary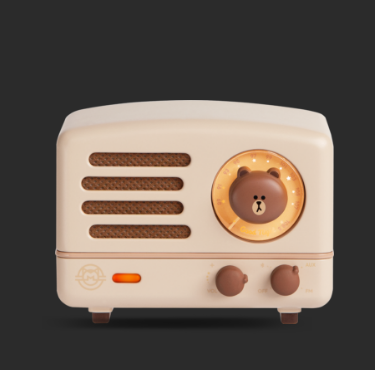 3
Power and function selection switch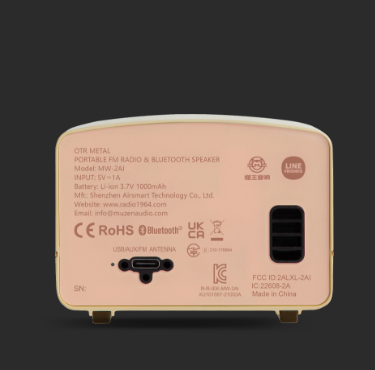 6
Multi-functionalTYPE-C socket (Charging,AUX in,Antenna in)
7
Charging status indicator light
The speaker offers multiple modes of connection, including FM radio, AUX input, and Bluetooth. You can switch between these modes effortlessly, allowing you to play your favorite music freely and choose the one that suits the occasion best. If you're in the mood for some great content, you can easily turn on the FM radio feature and enjoy a variety of entertaining options.
The "good night" feature is a translucent button that emits a warm and soothing light to help you relax and unwind before bed. Combined with its cute design and healing Morandi color, the speaker is the perfect companion for a cozy and restful night's sleep. Let BROWN, SALLY, and music accompany you to sleep and enjoy a relaxing journey.
 The MUZEN OTR Metal LINE FRIENDS Portable FM Radio Bluetooth Speaker comes with a variety of accessories in its packaging, including a carrying case, an AUX cable, a Type-C charging cable, a manual, a sticker, a tote bag, a theme card, and a luggage tag. This comprehensive set of accessories makes it a great gift for anyone who loves music and appreciates high-quality sound in a stylish and compact package. The adorable BROWN speaker is designed to bring joy and happiness to its owner, no matter what challenges they may face in life.
Listen In
Hear how others are rocking out with our speakers.
Dany Taylor
Adorable, very cute details perfect size, easy to connect and carry on.Fast shipping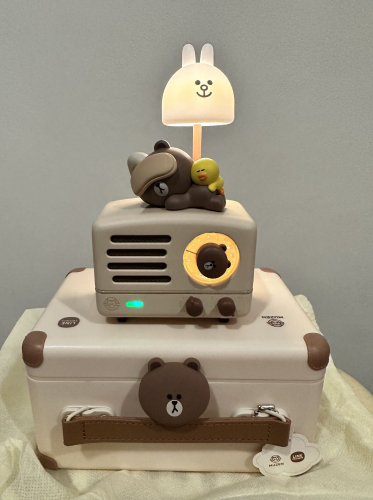 Cheryl S
Super cute and handy Bluetooth speaker. Small but powerful. My 3rd Muzen speaker.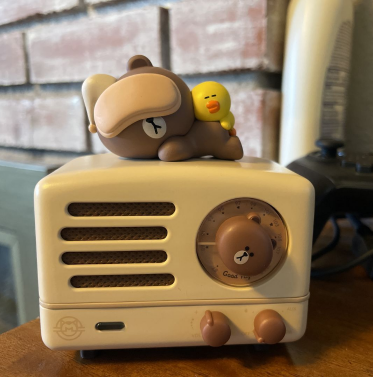 Lesley Q
The speaker is super cuter. I have been fan of line friends many years and it's such a nice combination. The bear on the top is good touch and I also purchased antenna to fully use the FM function. I love it *o*
Maria T
This was a gift to my daughter and she love it!
Amy M
It's just as advertised. It's super cute and it has a loud punch!! The night light is super cute and nice to have on your nightstand or desk. It doubles as an FM radio antenna and it works! All functions of the radio work as intended. One of my favorite purchases for sure. I would definitely like to buy other Muzen products!
Stephy S
So adorable and the sound is really loud! Love that its FM/AM plus a Bluetooth! Has some weight to it as well!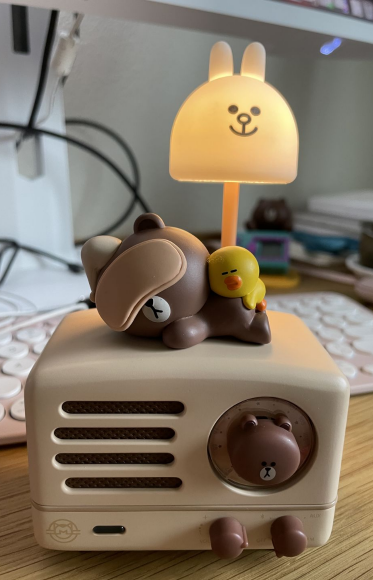 Emily C
This is my second muzen speaker and I love it! As soon as I saw the collaboration with Line, I couldn't resist! The quality is great and the sound is lovely. So glad I splurged on this!