Fridge Magnets: More Than Just Decoration
Most people associate fridge magnets with simple decorative pieces that hold up photos or notes on their refrigerators. However, these small, powerful magnets can also be used for more creative purposes. By attaching magnets to various objects, you can create a unique installation that doubles as a sound system. The MUZEN OTR Sticker Bluetooth Speaker takes this idea to the next level by incorporating a mini speaker into a magnetic sticker that can be attached to any surface.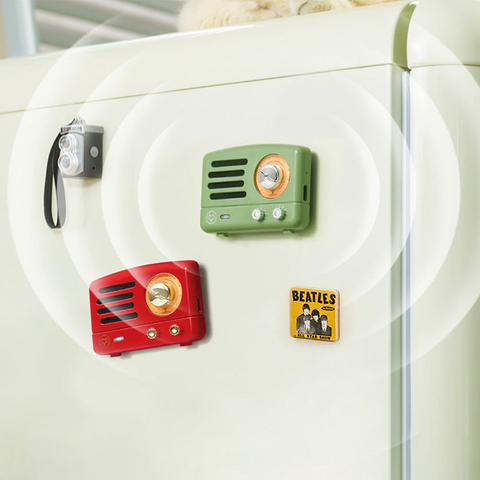 Bluetooth Speakers: Portable and Powerful
Portable Bluetooth speakers have become increasingly popular over the years, and for good reason. With their wireless connectivity and compact size, they offer an easy way to enjoy high-quality sound on-the-go. But what if you could combine the portability of a mini speaker with the magnetic power of fridge magnets? The MUZEN OTR Sticker Bluetooth Speaker does just that - it's a mini speaker that doubles as a fridge magnet, allowing you to enjoy music in any room of your house.
Installation Art: Bringing Sound to Life
Installation art is a form of art that involves creating immersive environments that engage the viewer's senses. By incorporating sound into these environments, artists can create a truly unique and captivating experience. The MUZEN OTR Sticker Bluetooth Speaker allows you to do just that - by attaching the speaker to different surfaces, you can create interesting new scenes to listen to music. For example, you could attach the speaker to a plant or a piece of furniture, creating a surreal soundscape that brings your space to life.
Unique Acoustic System: Generating Resonance with Attachment Objects
One of the unique features of the MUZEN OTR Sticker Bluetooth Speaker is its acoustic system, which generates resonance with attachment objects. This means that the sound waves produced by the speaker interact with the object it's attached to, creating a richer and more immersive listening experience. By experimenting with different objects, you can create a variety of different sounds and textures that will bring your space to life.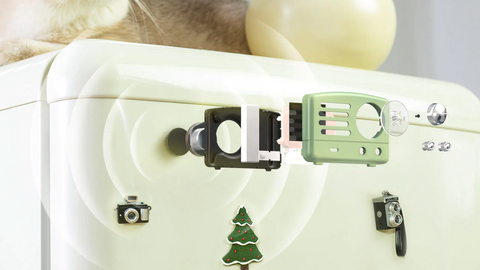 Long-Lasting Battery Life for the Small Size
Despite its small size, the MUZEN OTR Sticker Bluetooth Speaker boasts an impressive battery life. This means that you can enjoy 5 hours of uninterrupted music without having to worry about constantly recharging the device. And with its Type-C charging, you can easily recharge the speaker in just a few hours, making it a convenient and hassle-free addition to your home.
Conclusion: The Power of Magnetic Sound
In conclusion, fridge magnets and Bluetooth speakers are more than just simple gadgets - they can be used to create unique and immersive installation art that transforms any space into a musical wonderland. The MUZEN OTR Sticker Bluetooth Speaker takes this idea to the next level by combining the versatility of fridge magnets with the portability and power of a mini speaker. With its unique acoustic system, long-lasting battery life, and Type-C charging, it's the perfect addition to any home looking to add a touch of creative flair to their music listening experience. So why not try out the power of magnetic sound for yourself and see how it can transform your space?