In today's world, technology and music have become inseparable companions. As we spend more time streaming music, playing video games, and watching movies on our devices, the demand for high-quality audio has never been greater. And with the rise of the cyberpunk genre, the need for audio equipment that can match the futuristic aesthetic has also become a necessity. This is where the MUZEN Cyber Cube Premium Fidget Spinner RGB Bluetooth Speaker comes in, offering the perfect combination of style and functionality.
As a leading audio equipment brand, we understand the importance of providing products that cater to our customers' needs. The Cyber Cube Premium Fidget Spinner RGB Bluetooth Speaker was designed with the modern consumer in mind, combining cutting-edge technology and sleek design to create a unique audio experience.
The first thing you'll notice about the Cyber Cube is its stunning cyberpunk-themed RGB LED light. The lights pulse and shine to the beat of your music, offering a visual experience that is as captivating as the audio itself. The lights change color and theme depending on the bass, adding a new level of excitement to your listening experience. With the Cyber Cube, you'll never want to listen to music without it again.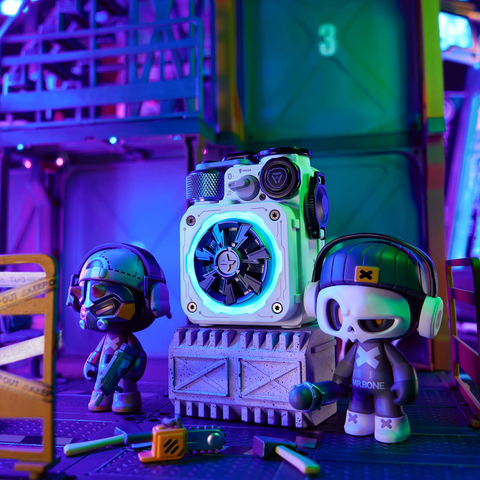 Aside from its visually impressive design, the Cyber Cube is also incredibly functional. The fidget spinner design, inspired by spacecraft, allows you to release nervous energy and relieve anxiety while enjoying your music. The speaker's palm-sized, lightweight design (only 245g) makes it perfect for one-handed use, making it convenient for any occasion.
The Cyber Cube is also equipped with high compatibility Bluetooth 5.0 technology, allowing you to connect wirelessly to all Bluetooth-enabled devices. With a range of up to 10 meters, you can enjoy your music without worrying about being tethered to your device.
And don't let its small size fool you; the Cyber Cube packs a punch with its 5W total amplifier power, offering a clear and powerful sound. With a loudspeaker of 4Ω and an SNR of over 70dB, you can expect an immersive audio experience that will leave you feeling like you're at a concert.
But the Cyber Cube isn't just a speaker; it's also a rugged portable device that can withstand any outdoor adventure. Its IPX-5 waterproof and dustproof rating ensures that the speaker will continue to work even when wet or exposed to dust. Additionally, it has a built-in flashlight, making it perfect for camping, hiking, or any other outdoor activity. And if you're worried about keeping it secure while on the go, you can easily attach it to any backpack or bag with a lanyard (which needs to be purchased separately).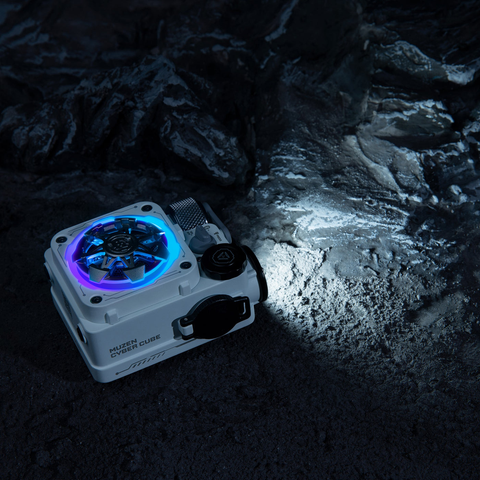 One of the biggest advantages of the Cyber Cube is its long playtime. The built-in 1000mAh high-capacity battery allows for up to 4 hours of music on a single charge. And with the Type-C cable included, you can quickly and easily charge the speaker when needed.
In conclusion, if you're looking for a speaker that combines style, functionality, and portability, the MUZEN Cyber Cube Premium Fidget Spinner RGB Bluetooth Speaker is the perfect choice. With its cyberpunk-themed RGB LED light, fidget spinner design, high compatibility Bluetooth 5.0 technology, and rugged portable build, you'll never have to compromise on your listening experience again.
Whether you're hosting a Bluetooth party or just looking to immerse yourself in your favorite gaming soundtrack, the Cyber Cube will elevate your audio experience to the next level. So why wait? Unleash your inner cyberpunk today and experience the power of RGB with our latest Bluetooth Speaker!