Cyberpunk is a subgenre of science fiction that emerged in the 1980s and has recently experienced a resurgence in popularity due to its unique and edgy style. Cyberpunk is characterized by a mix of high-tech and low-life, featuring dystopian societies, advanced technologies, and a gritty, rebellious aesthetic. In this blog, we'll take a closer look at the cyberpunk aesthetic movement and explore how it has influenced the world of technology, specifically Bluetooth wireless speakers.
The Cyberpunk Aesthetic
The cyberpunk aesthetic is characterized by its combination of high-tech and low-life elements. It often features dark, dystopian environments, futuristic technologies, and gritty, punk-inspired fashion. Cyberpunk is a subculture that celebrates individuality, nonconformity, and rebellion against authority, making it a popular movement among young adults.
The cyberpunk aesthetic has influenced many different forms of media, including movies, video games, and music. The music associated with the cyberpunk aesthetic is often electronic or industrial, with a focus on creating a futuristic, dystopian soundscape. This music often features heavy use of synthesizers, drum machines, and other electronic instruments.
The Rise of Cyberpunk in Technology
Bluetooth wireless speakers have become a staple in the world of technology, providing users with a convenient and portable way to listen to their favorite music on the go. However, with the rise of cyberpunk, manufacturers have begun to incorporate this aesthetic into their products.
One product that perfectly captures the cyberpunk aesthetic is the MUZEN Cyber Cube Premium Fidget Spinner RGB Bluetooth Speaker. This sleek and stylish device combines cutting-edge technology with a distinctive cyberpunk-inspired design to create a truly one-of-a-kind gadget that is perfect for gamers, music lovers, and anyone who wants to add a touch of cyberpunk style to their life.
At its core, the MUZEN Cyber Cube is a high-quality Bluetooth wireless speaker that delivers rich, immersive sound that is perfect for gaming, streaming music, or watching movies. With Bluetooth 5.0 technology, the Cyber Cube easily connects to all Bluetooth-enabled devices, providing a fast and reliable connection with a range of up to 32 feet. And with a total amplifier power of 5W and a loudspeaker that delivers clear and powerful sound, this speaker is sure to impress even the most discerning audiophile.
But the Cyber Cube is much more than just a great-sounding speaker. It also features a built-in fidget spinner that is perfect for stress relief and anxiety reduction. Inspired by spacecraft design, the fidget spinner provides a fun and engaging way to release nervous energy while you listen to your favorite tunes or play your favorite games. And with its palm-sized, lightweight design, the Cyber Cube is easy to use with one hand and can easily fit in your pocket or bag, making it the perfect companion for on-the-go gaming or music listening.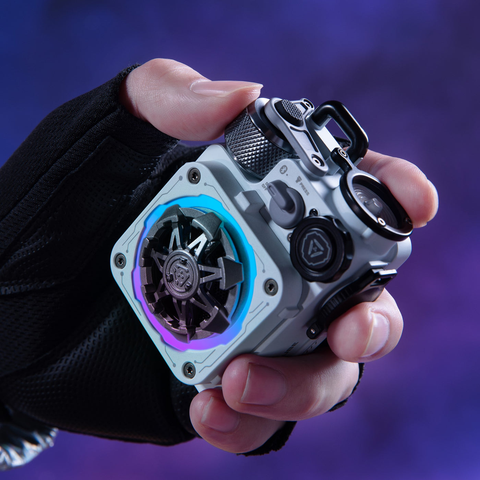 Of course, one of the most striking features of the MUZEN Cyber Cube is its cyberpunk-inspired design. The device is available in two distinct colors - gray and white - and features a striking RGB LED light that is perfectly in line with the cyberpunk aesthetic. The LED light is designed to pulse and shine to the beat of your music, creating a truly immersive and engaging experience that will transport you straight into the world of cyberpunk.
In addition to its RGB LED light, the Cyber Cube also features a rugged metal housing that provides protection against dust, water, and other environmental hazards. The device is IPX-5 waterproof and dustproof, making it the perfect companion for all of your outdoor adventures. And with a built-in flashlight, the Cyber Cube is always ready to help you navigate even the darkest environments.
With its long-lasting 1000mAh battery, the Cyber Cube delivers hours of music playback on a single charge, so you can keep the party going no matter where you are.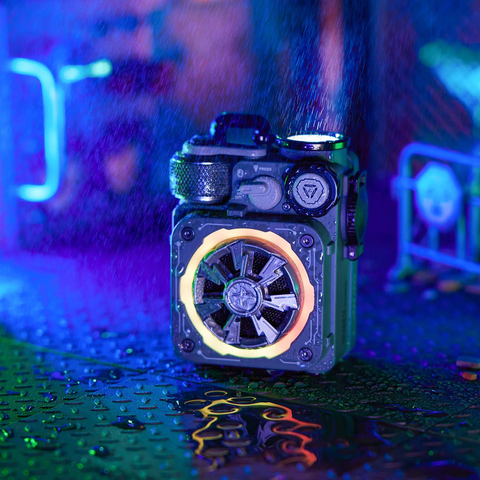 In conclusion, the rise of cyberpunk culture has brought with it a whole new wave of innovative and exciting gadgets, and the MUZEN Cyber Cube Premium Fidget Spinner RGB Bluetooth Speaker is a perfect example of this. With its unique blend of cutting-edge technology, cyberpunk-inspired design, and fidget spinner functionality, this device is sure to impress anyone who loves gaming, music, or just wants to add a touch of cyberpunk style to their life. So why not grab a Cyber Cube today and experience the future of music and gaming for yourself?