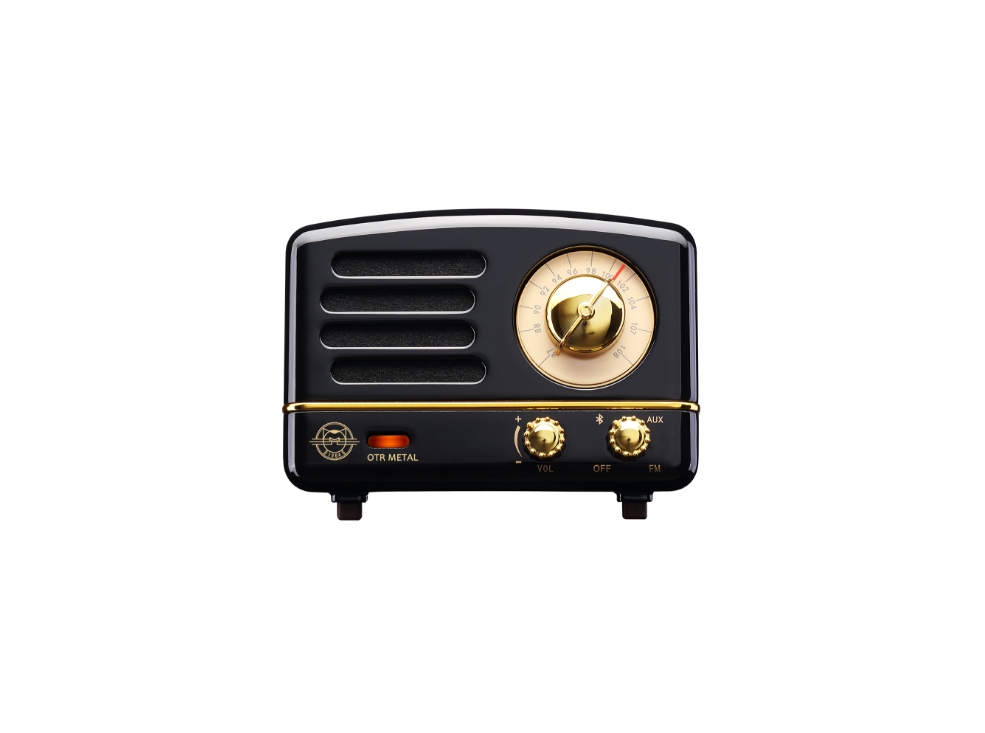 MUZEN OTR Metal Wireless Portable FM Radio Bluetooth Speaker
$79.99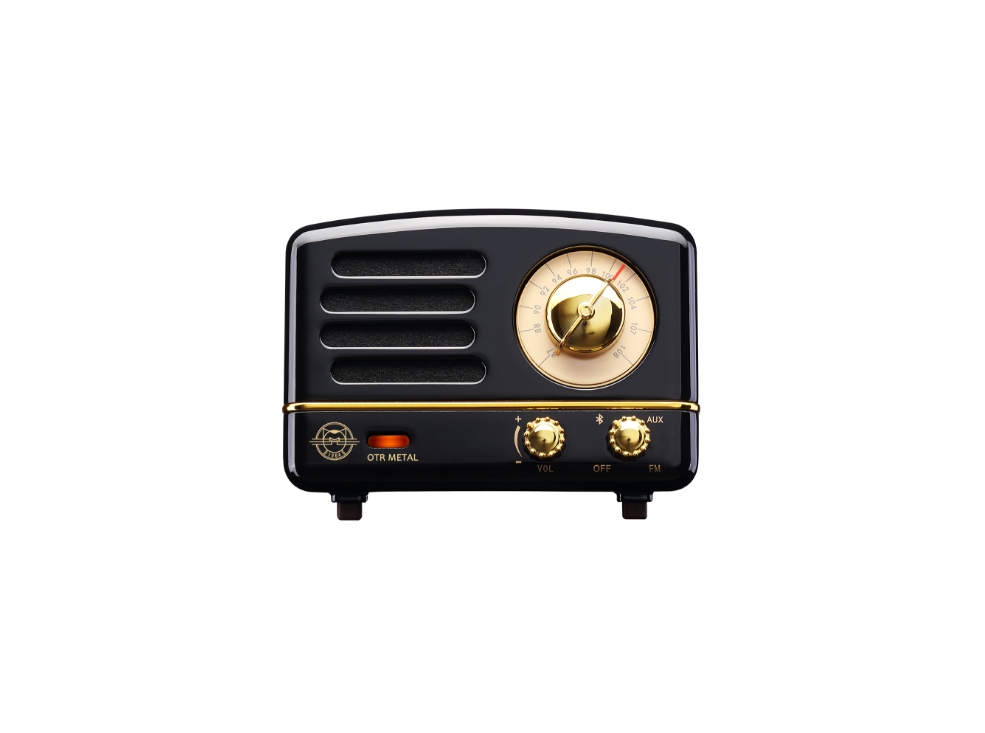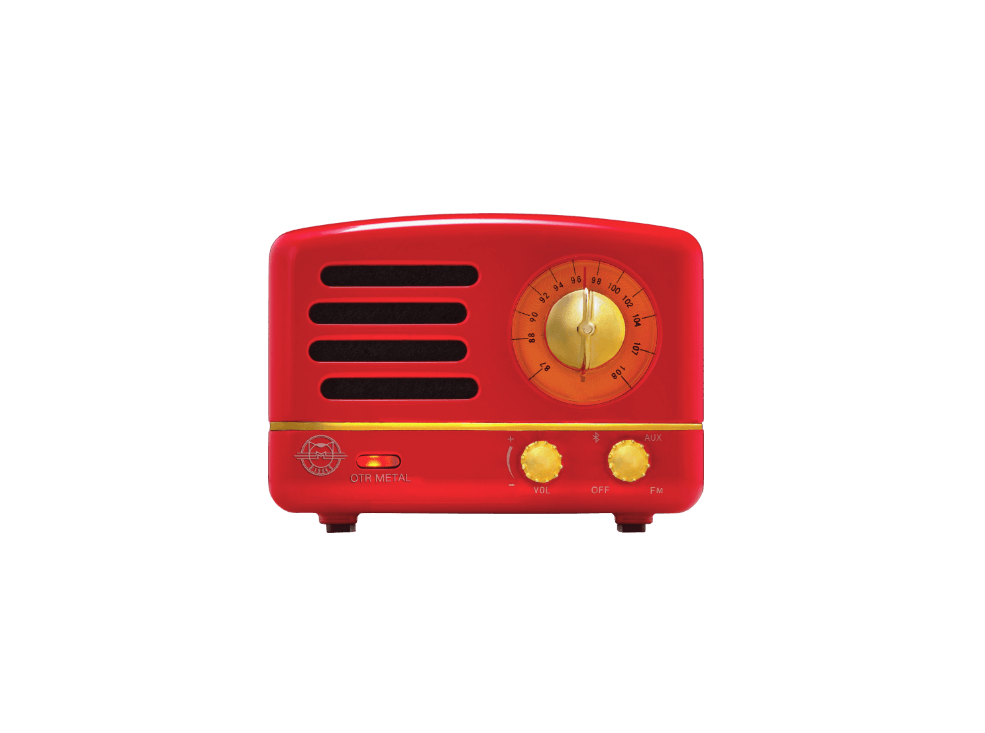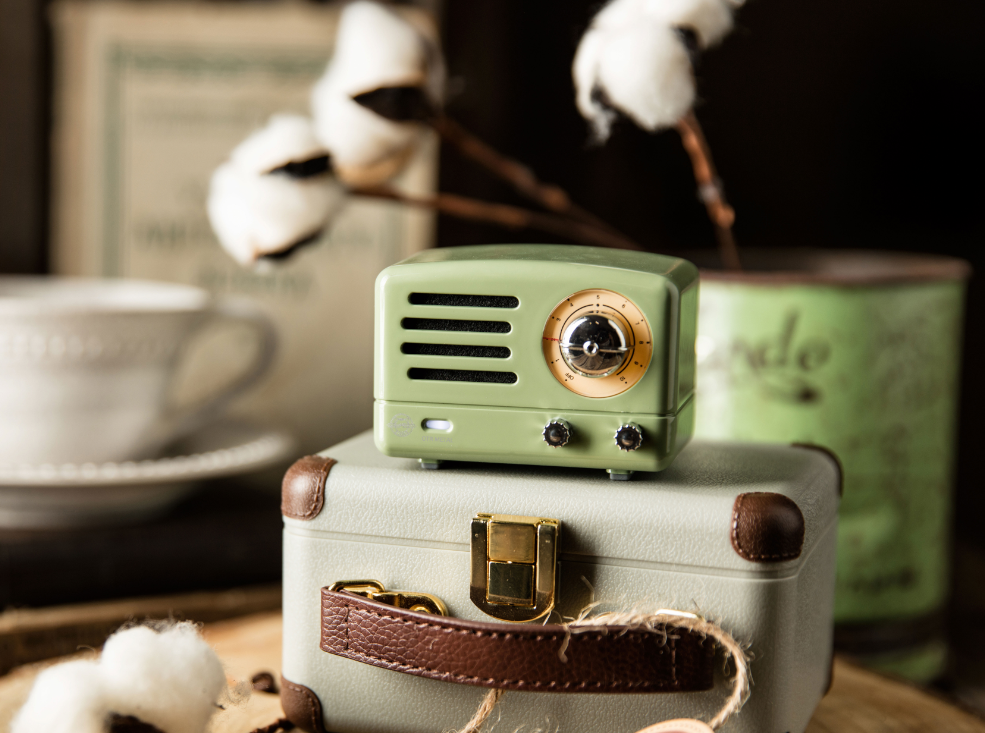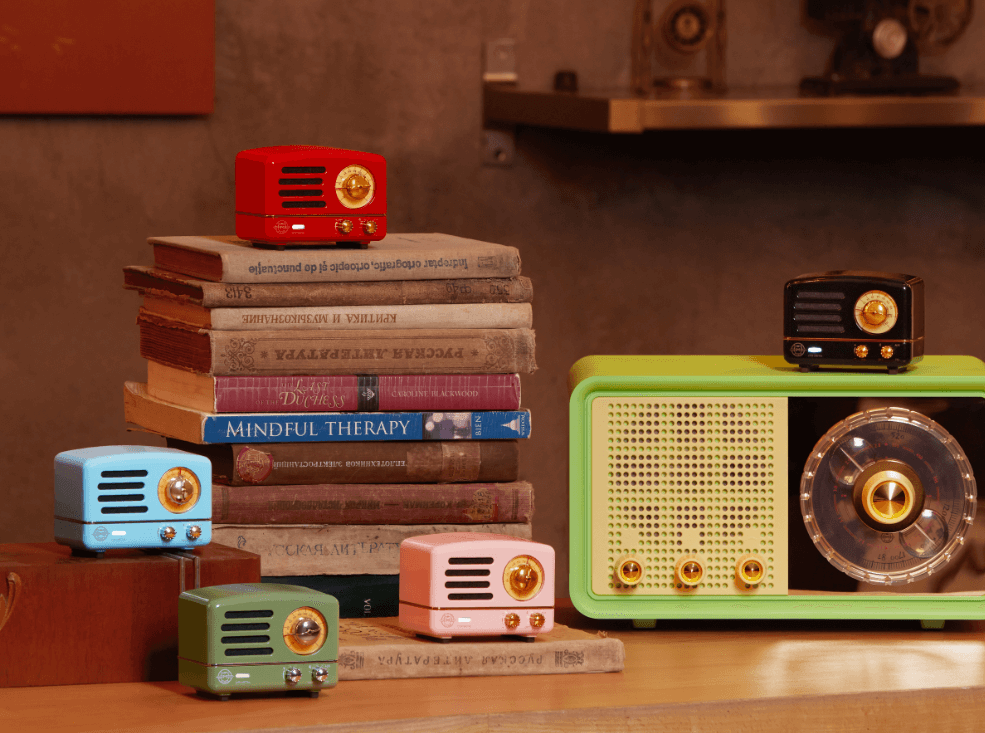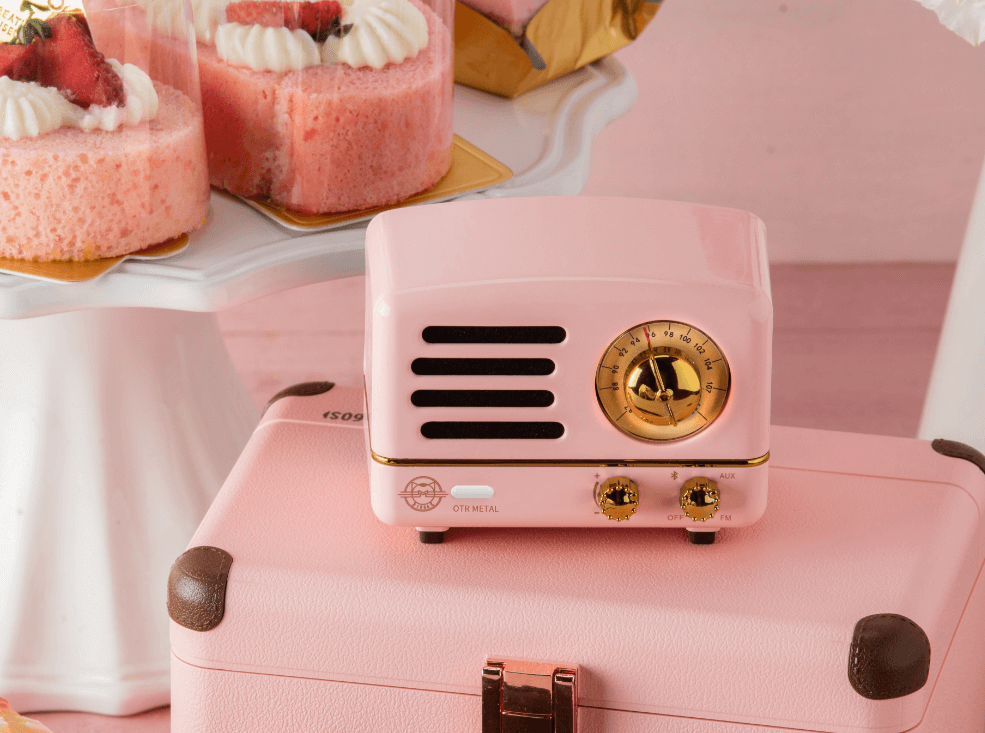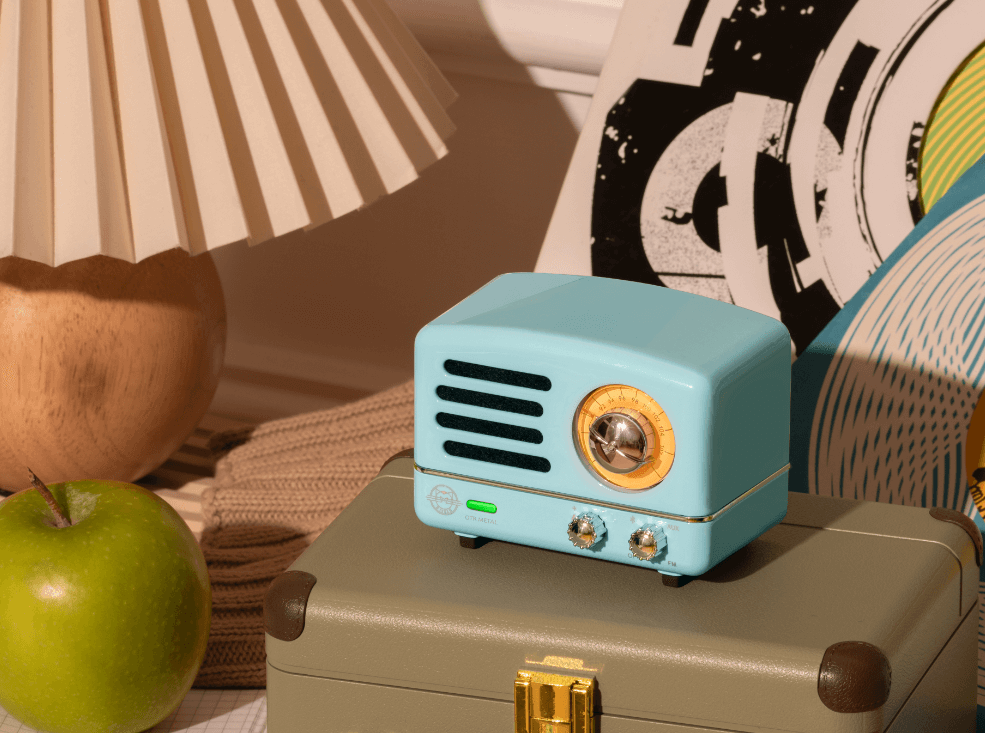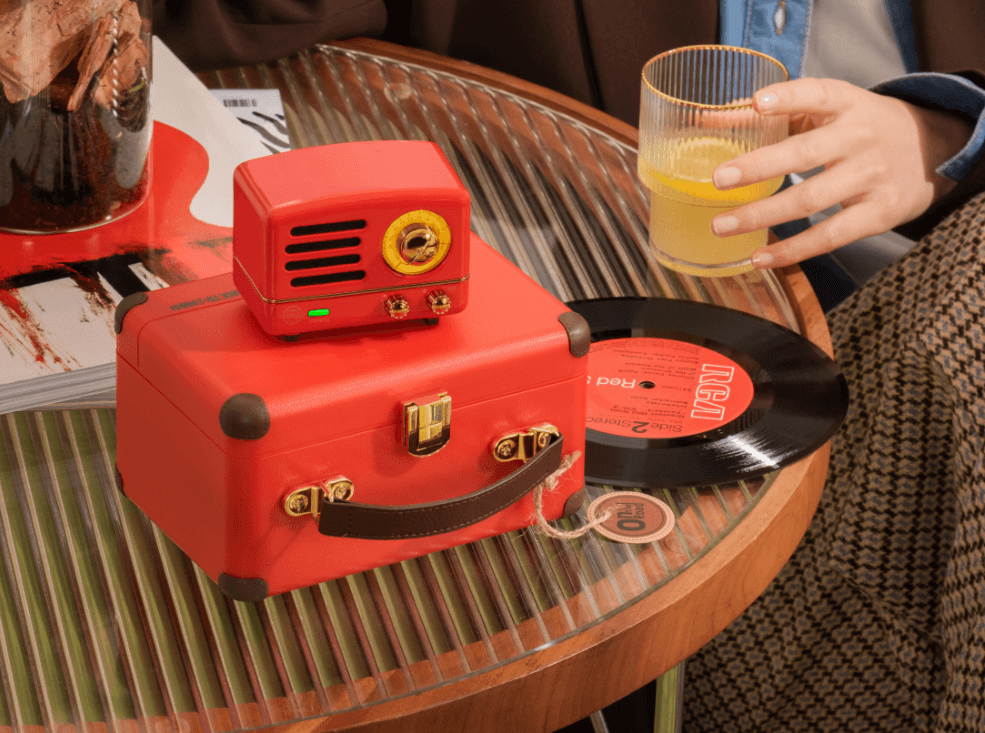 MUZEN OTR Metal Wireless Portable FM Radio Bluetooth Speaker
Free Fast Shipping
Price match promise
1:1 Expert Support
Financing Options
Vintage Design:Retro metal enclosure and rotating dial with rugged build for 1960s authenticity and durability. I complement any office/home decor, from casual to corporate.
5W Power Output:Delivers full stereo sound and surprisingly powerful bass from a miniature Bluetooth speaker. Do not worry about sound distortion and low volume.
Long Battery Life:Up to 10 hours of playback on a single charge. It has a built-in rechargeable battery.
Multiple Connectivity Options:The Speaker offers several connectivity options. Connect via Bluetooth, FM Radio, or auxiliary input.
Compact Size:The tiny yet mighty design is packed with a big sound performance.
Handy FM Radio Functions:FM radio to browse stations and adjust the volume. 
Carry case x1
OTR metal speaker x1
Sticker x1
Antenna x1
AUX cable x1
Brand catalog x1
TYPE-C charging cable
Manual x1
No repairs/service from US warehouses.
12 month warranty:
Missing parts/minor faults: Partial refund
Function issues (won't charge, Bluetooth faults): Replacement
After 12 months:
50% discount code for new purchase.
No repair or replacement.
Please see our warranty page for full details on warranty coverage, exclusions, and limitations.
Home Delivery: US and Canada
US: Free 3-10 working days
Canada: Free 5-10 working days
International: 30-60 working days. Freight forwarder required.
Please see our shipping page for more details.
Returns
Free returns for 30 days from delivery.
Free return only if product is defective upon receipt.
For other refund requests, customer pays return shipping. Shipping costs are non-refundable.
Check our returns page for full policy details.
The Pocket-Sized Bluetooth speaker with radio FM Powerhouse
This tiny audio powerhouse packs a mighty punch.
03
LONG HIGH FIDELITY AUDIO LIFE
06
MULTIPLE CONNECTION OPTIONS
The ultimate MUZEN OTR Metal packs a mighty punch. This mini throwback unit cranks out 5W of full stereo sound from a high-performance driver and bass circuitry that produces surprisingly massive lows for such a tiny speaker. It won a CES Innovation Award for its crystal-clear audio and seriously bass-heavy sound that bursts from this pint-sized unit.
Wireless Bluetooth and FM connectivity, a rugged metal casing, an old-school analog dial, and up to 10 hours of battery life combine retro 1960s style with modern award-winning audio tech. In short, the OTR Metal packs authentic vintage looks and modern audio muscle into one sweet little package.
Astonishing Audio.
Wherever Retro Takes You.
A portable Bluetooth speaker inspired by retro radios,
the MUZEN OTR Metal FM radio speaker goes wherever vintage style takes you -
on your desk, on the go, or anywhere in between.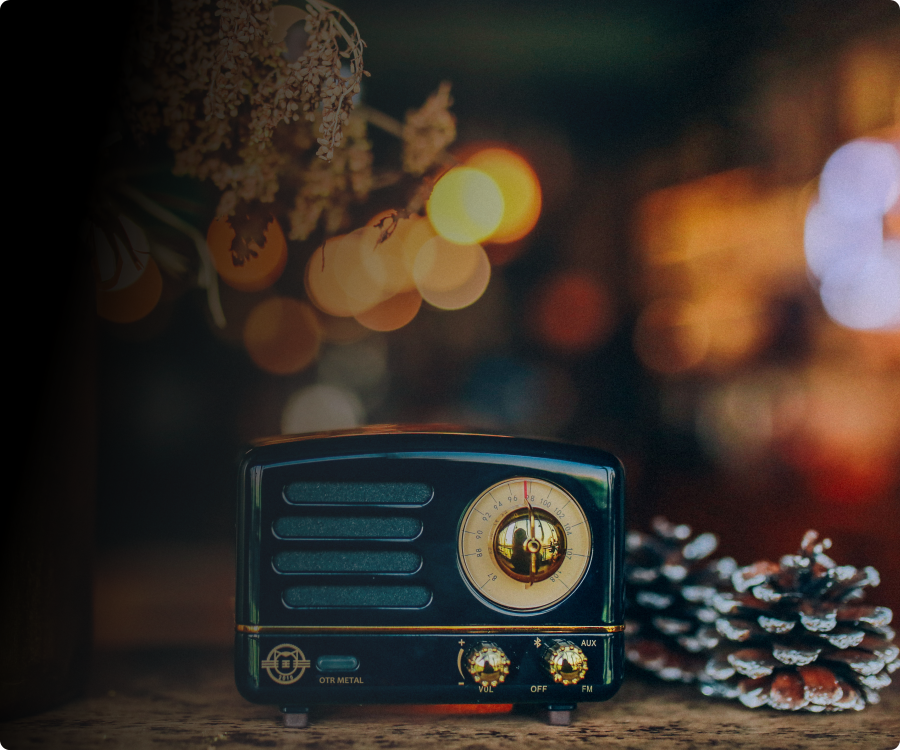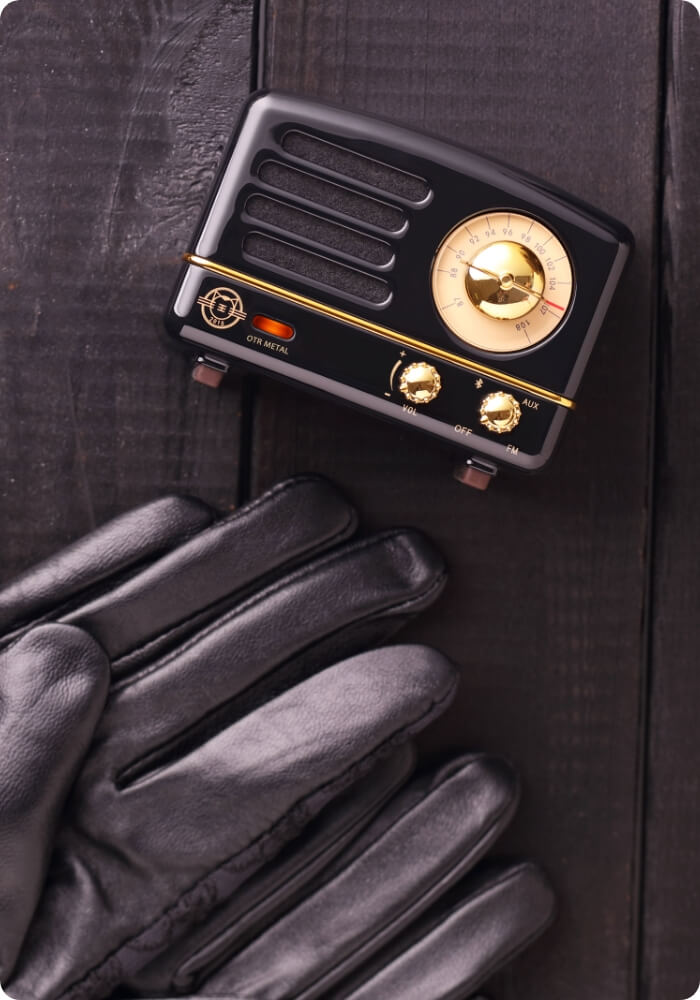 01
Timeless Tunes in a Timeless Design Clear, Balanced Sound
This pint-sized OTR metal Bluetooth speaker is powered by 5W of full stereo sound from a large rare-earth magnet driver, detailed mids, and surprisingly big lows that fill the room. Whether streaming via Bluetooth or tuning into FM radio, the mini hi-fi produces tunes with a depth and richness that exceeds expectations for its petite retro design. The vintage aesthetics combine modern audio tech to provide an acoustic experience that belies its compact size.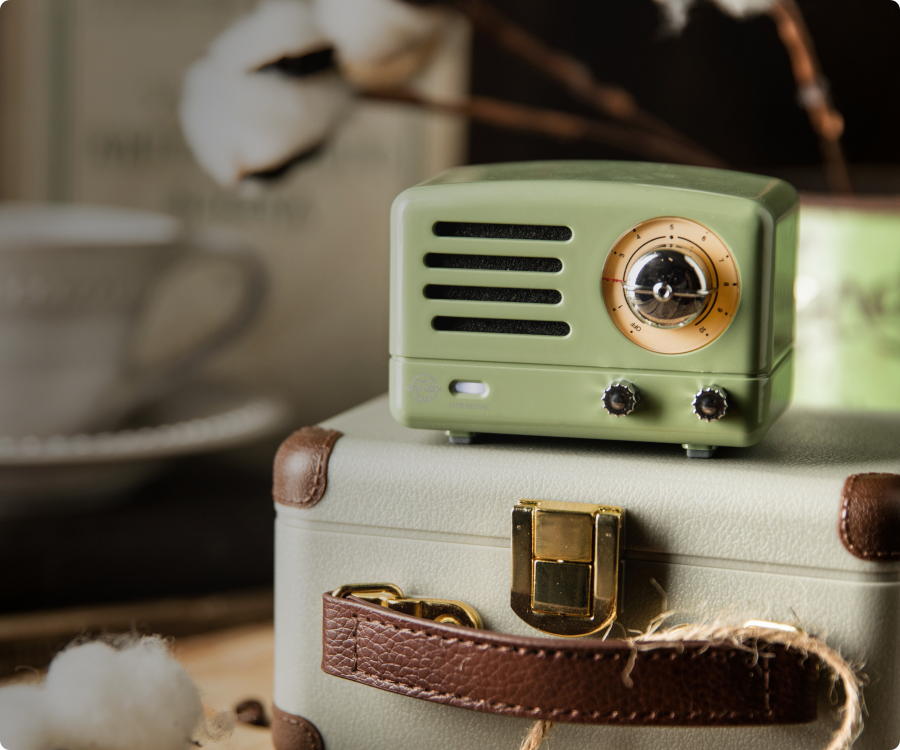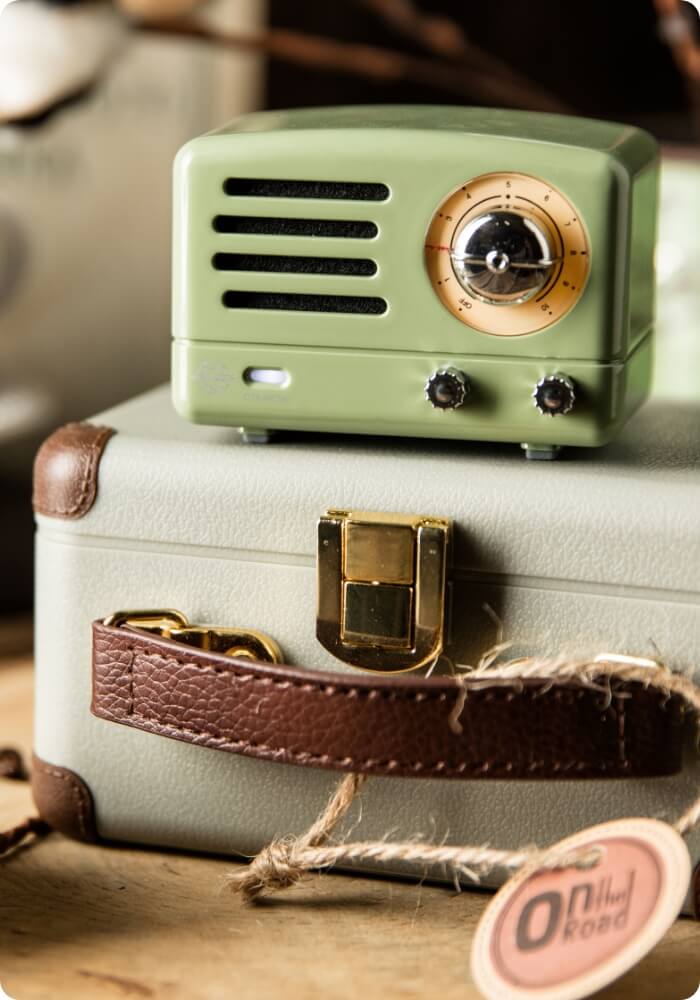 02
Solid Audio, Solid Construction
Crafted from solid zinc alloy, the OTR Metal's rugged metal chassis protects sensitive components while resisting wear - brass joints and firm connections minimize sound leakage for years of crisp audio. This design exemplifies heirloom craftsmanship through vintage-inspired yet clear, balanced sound.
Find the One That's You
We hope you all can find your perfect MUZEN OTR speaker and join us in enjoying some sweet tunes.
Let's add some color to our lives with the power of music, you all!
01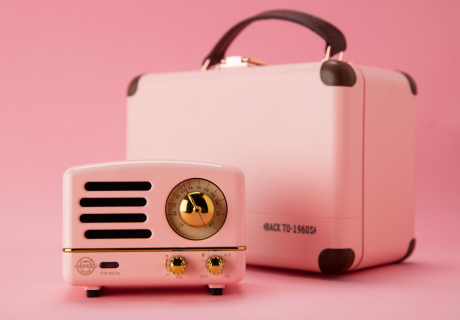 Timeless Mid-Century Design
The whole body of the MUZEN OTR Metal Bluetooth speaker is super groovy, finished with a solid one-piece alloy. Designed as a 1964 radio shape, OTR Metal will bring out your inner hippie spirit.
02
High-Fidelity ,Clear Voice
5W full stereo powered by the rare-earth driver - Experience the best in mobile audio with our FM radio
Bluetooth speakers. The sound quality is outstanding, with deep bass that you can feel and loud output that maintains clarity even at high volumes. Whether you're looking to hear your music in a new light or want to feel the beat at your next party, our speakers are the answer.
03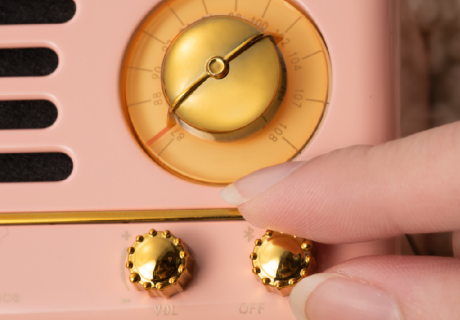 Connect Any Way You Want/Flexibility Meets Hi-Fi
The OTR Metal pairs via Bluetooth 5.0 from up to 33 feet for easy wireless music from any device. The old-school dial tunes crisp FM radio, and an aux jack lets you plug in other devices.
This versatile speaker delivers distortion-free sound, whether wirelessly streaming music or tuning into radio stations indoors and out.
04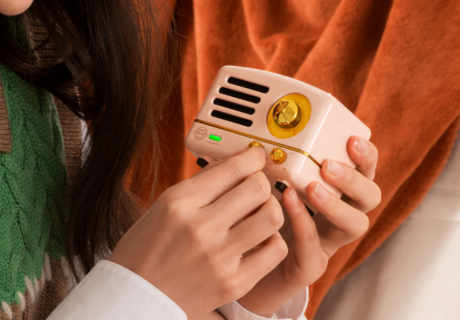 Pocket Sized
This mini portable speaker rocks. The pocket-sized 3.5-inch OTR delivers tunes anywhere you roam.
05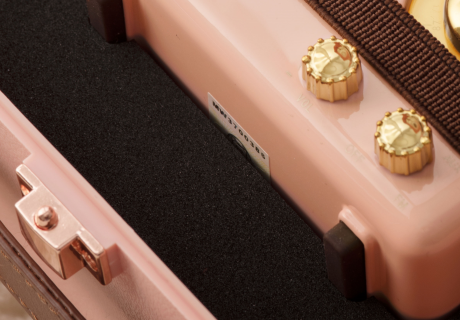 Up to 10 Hour Playtime
The built-in Li-Ion 1000mAh rechargeable battery provides up to 10 hours of playtime at 65% volume. Fully recharge in just 2-3 hours using the included Type-C cable.
Please note: The blue MUZEN OTR Metal Bluetooth speaker charges via a USB cable interface.
06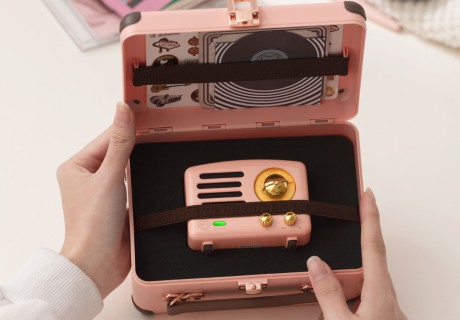 The Perfect Retro Gift
The included gift bag, paper box, and hard shell carrying case allow you to present the OTR Metal Bluetooth speaker as an ideal gift for music and retro design enthusiasts.
07
Easy Connectivity
Connect your smartphone, tablet, PC, or other compatible devices via Bluetooth or the USB port. The speaker is capable of remembering your **device.
Utility
Enjoy high-quality, distortion-free sound with this compact speaker, a durable speaker, and your ultimate pocket companion for outdoor escapades.
This speaker blends vintage charm with modern sound technology, enhancing your home or office ambiance. It's an asset to be owned for its ability to seamlessly merge with your interior decor while providing excellent audio performance.
Bring vibrancy to your gatherings with this Bluetooth speaker, offering superior sound quality and long-lasting playtime.
Revive the joy of tuning into your favorite stations with this speaker's FM radio function, connecting you to a world of music and information.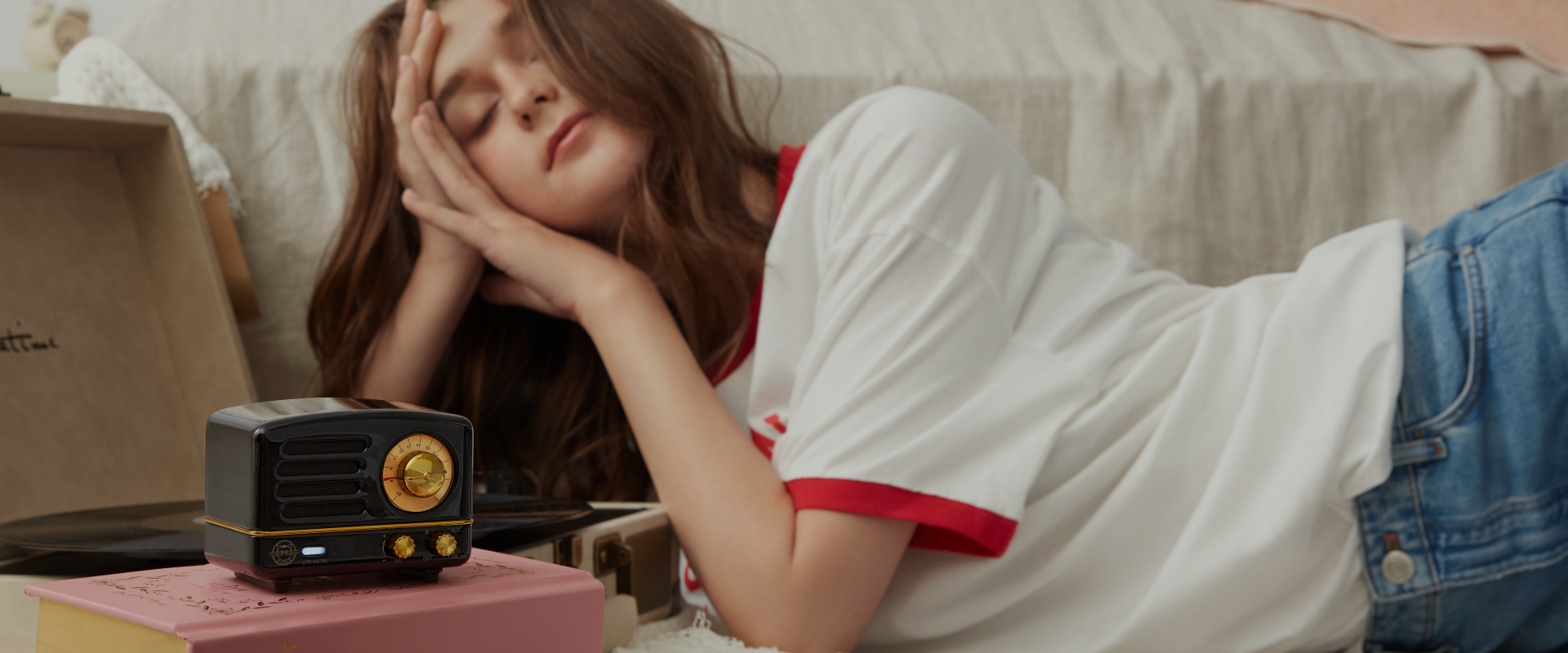 Outdoor Enthusiast
Home or Office
Party-Goer or Host
Music Purist or Radio Enthusiast
SHOW
Explore our 'Influencer Reviews'! Learn from popular influencers who've tried our products. Their insights can guide your purchase. Don't miss their candid reviews!
Frequency range
FM 87-108.5MHz
Max. power output
5W/Bluetooth; 2W/FM Radio
Bluetooth connection distance
distance≤10m/distance≤32.8ft
Bluetooth maximum EIRP
<10dBm
Speaker
1.57in/40mm neodymium iron boron full frequency speaker
Product dimension
3.46X2.56X2.2in/88X65X56mm
Net weight of speaker
about 834g
Net weight
about 436g/0.96lb
Altitude
Below 3000 meters
Recommended environment for use
Indoors
Battery
Features
FM Radio
Item Weight
Item Size
Package
Recommended For
Use scene restrictions
Connectivity Technology
Polymer lithium battery 1000mAH
Vintage aesthetics
0.94 lb
3.46 * 2.56 * 2.2 in
Gift Box
Indoor Gift
Unlimited
Bluetooth4.0, FM, Auxiliary
li-ion 3.7V 400mAh
Compact and portable

0.29 lb
2.48 * 1.85 * 1.18 in
Gift Box
Indoor Gift
Unlimited
Bluetooth4.2
Built-in high-performance lithium battery
cute design
0.96lb
3.46 * 2.56 * 2.2 in
Gift Box
Indoor Gift
unlimited
Bluetooth5.0, FM, Auxiliary
li-ion 3.7V 350mAh
adsorb to the surface of an object

0.11lb
2.91 * 2.09 * 0.85 in
Gift Box
Indoor Gift
Adsorbed on metal surface
Bluetooth5.0
800mAh /3.7V

86mm (L) × 33mm (W) × 57mm (H)
Gift Box
indoor
Unlimited
Bluetooth 4.2 (dual mode) supports BLE
Built-in Li-Ion 1000mAh rechargeable battery guarantees up to 10 hours of playtime in 65% volume"
Retro Design and elegance
7.5 lb
6.3 * 11.42 * 6.46 in
Gift Box
Indoor Gift
Unlimited
Bluetooth4.0, FM/AM, Auxiliary
"Built-in Li-Ion 1000mAh guarantees up to 10 hours of playtime in 65% volume"
3-in-1 Speaker
12.13 lbs
11.81*7.09*8.26 in
Gift Leather Box
Indoor Gift
unlimited
Bluetooth4.0, FM/AM, Auxiliary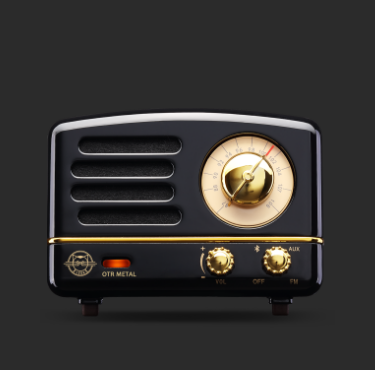 3
Power and function selection switch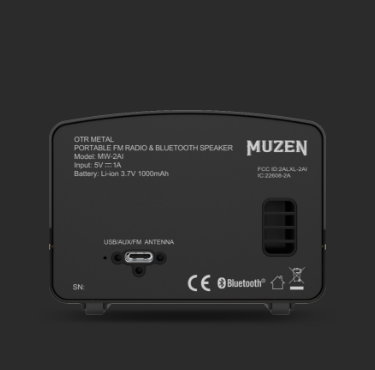 6
Multi-functionalTYPE-C socket (Charging,AUXin,Antenna in)
7
Charging status indicator light
Yes, the MUZEN OTR Metal Portable FM Radio Bluetooth Speaker has a built-in FM tuner which allows you to navigate through stations with a knob and even connect to other devices through AUX to customize your listening experience.
Yes, the MUZEN OTR Metal Portable FM Radio Bluetooth Speaker is designed for outdoor use with its loud volume and latest sound production and processing audio technology. You can take it with you on your outdoor adventures without worrying about sound distortion or low volume. It's also a portable mini Bluetooth speaker that you can easily pocket and take with you wherever you go.
Yes, you can use the MUZEN OTR Metal with non-Bluetooth devices through its AUX functionality. Simply plug in the AUX cable to the AUX port on the speaker and the headphone jack on your device, and you'll be able to enjoy your music through the speaker.
To switch between Bluetooth speaker and FM radio modes on the MUZEN OTR Metal Portable FM Radio Bluetooth Speaker, you can use the knob located on the top of the speaker. Turn the knob to the left or right to change modes. When in Bluetooth mode, the speaker will automatically connect to the last device used. To search for FM radio stations, tune the dial to your preferred frequency range. The speaker will then pick up FM radio stations based on your location.
The sound quality of the MUZEN OTR Metal Bluetooth speaker is outstanding. It is deafening with crisp sound and strong deep bass, powered by a 5W full-bodied stereo realized through a high-performance driver and a unique enhanced bass. Its design computes optimal sound projection and fidelity. The speaker is a winner of the CES Innovation Awards, which confirms its high-quality audio performance.
You can remotely connect your mobile devices like your phone to the OTR Speaker via Bluetooth. Alternatively, you can also connect your PC or other compatible devices to the speaker via the USB port. The speaker has the capability to remember your device, simplifying the reconnection process for subsequent usage.
The OTR Speaker offers remarkable value for money due to its versatility, features, and competitive price. It delivers high-quality audio, has extensive connectivity options, and has a stylish design that combines modern technology with vintage aesthetics. We also provide a money-back guarantee if you're not satisfied, reflecting our confidence in the product's quality.
The OTR Speaker has a Type-C USB cable that lets you easily recharge its battery. Simply plug it into any USB charging port, such as one on your computer or a USB power adapter. It provides up to 10 hours of playtime at 65% volume, which should support most of your daily needs.
The OTR Metal Speaker comes in a variety of colors, including blue, black, pink, green, and red. This allows you to choose one that best matches your style or decor, adding a touch of personal flair to your audio experience.
Listen In
Hear how others are rocking out with our speakers.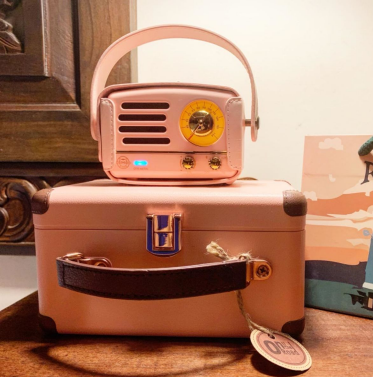 Corinne C
Really cute product with fantastic packaging. Now I want more colours!
Michele K
My sister in law owns a little cottage and when I stopped in I immediately notice this little pink vintage radio. I thought it was just a decorative item… but just had to see if the buttons worked. Low and behold, it did! I just LOVE tiny items and this was a MUST HAVE! Ordered mine that day in my favorite color, green! I can't get over the preciousness and excellent quality. It's the PERFECT statement piece and it's the real deal!LOVE… LOVE…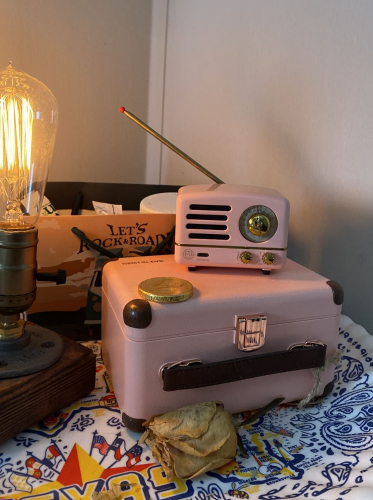 Maria Elena O
Mi nueva pieza en casa es hermosa , no esperaba tanta belleza , es tan pequeña que cabe en la Palma de mi mano , pero tan fascinante que cabe en mi corazón , su estuche es parte de su belleza y asta la bolsa de papel no te puedes desasear de ella , se vuelve parte de tu decoración .
Mengru L
I LOVE the color of this speaker, it has 4 different mode and I wasn't expect it has FM but turns out it does! It really bring me back to my childhood memories on the Sunday afternoon listen to random FM!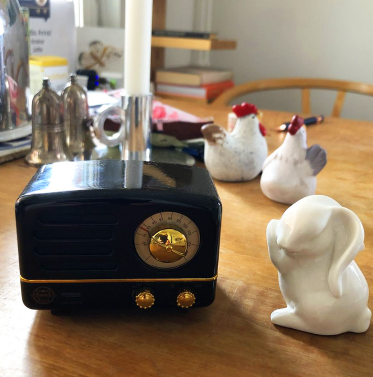 Mrs J
It was a gift to a cousin of mine a she is over the moon. Just loves it. I have a green one since a few years ago. Love that one too. Joanna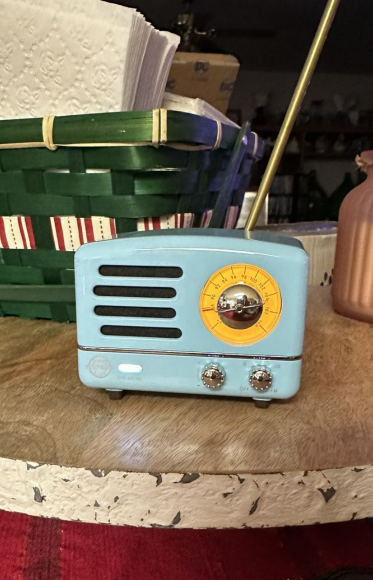 Sylvia S
I'm enjoying the look & sound! My sister is asking me about it, she thinks it looks super cute!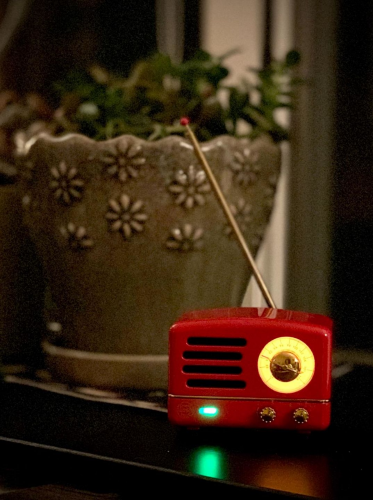 Pj & E
Well worth the price tag! It's hefty (heavy and solid). Knobs are tiny, but feel solid. Love the packaging details. They went out their way to make it cute, nostalgic, and protected. Sound really great!